Tag: Moda Salonica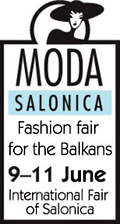 Business news

Leading companies, manufacturers and importers of ready-made clothes, accessories and faux bijoux participate in the largest fashion event in Salonica presenting their collections for Autumn - Winter 2007/2008.

Fashion News S.A. in cooperation with HELEXPO organizes the fair, with the support the Chamber of Small and Medium Sized Industries of Salonica.

This event provides immediate information of the fashion trends in women's wear, men's wear, and casual wear as long as the fashion trends for the accessories and faux-bijoux.