Tag: Mrs World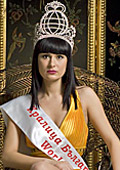 Competitions & awards
At the beginning of the year Stanislava Stratieva-Koleva was selected to be the most beautiful married Bulgarian for 2009.

She is 32 years old from Stara Zagora. She is married and has a 2-year old daughter. She is a journalist and in 2006 she was named the "Most stylish worldly person" from the media.

On 22 November Stanislava will show her intellect and charm in the biggest world contest for married ladies "Mrs. World".