Tag: Spring 2012
Fashion collections
After showing his Spring 2012 collection on the Milan runways in October, Roberto Cavalli presented it at the First Ever Tel Aviv Fashion Week.

"I'm hoping that Tel Aviv fashion week will show the world the Israel that I love," said Cavalli. "It's a beautiful city full of life with people full of life who enjoy fashion and culture just like Europeans, Americans, the Japanese... I'm happy I could support this new venture by showing in Tel Aviv."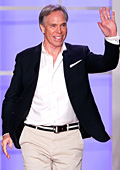 World fashion
Tommy Hilfiger's Spring 2012 Women's Collection was a fun, contemporary fusion of "pop art" and "modern prep".

Color blocking, wide '60s shapes, pop art-inspired camouflage, stripes, leather in unexpected colors, and boys basics with a feminine touch gave classic American styles a modern touch.

Accessories in bright colors, including penny loafers with a stacked heel, narrow belts, and shoulder bags, added a finishing touch to the innovative clothes.