Tag: Y-3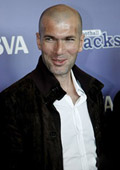 Fashion collections
Former star footballer Zinedine Zidane stars in a campaign as a model.

French football legend Zinedine Zidane is back in play as a model of the famous Japanese designer Yohji Yamamoto and his new collection for Fall/Winter 2010 Y-3.

Zidan stars in a moody, black and white series of images to promote the smort-inspired Y-3 collection which is a collaborative project between Yamamoto and adidas.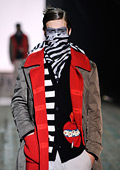 World fashion
Y-3 is on the run from the gloom and doom of the world. Armed with tongue-in-cheek humor, splashes of bright color, and intriguing aesthetic contrasts, the label's Autumn/Winter 2010-11 collection brought a healthy dose of fun back to the runway. Presented on Sunday, February 14th, as part of New York fashion week, the show sought an escapist route to the future of sport style.

Y-3 has always melded technology with tradition, and never has that been more apparent. For Fall, the label known for sport elegance took inspiration from bespoke English tailoring, reinterpreting classic shapes in futuristic materials, or alternately, classic materials in futuristic shapes. Front-row guests included Ciara, Justin Theroux, Alison Brie, Terry Richardson, and Tallulah Harlech.