Tag: barbed wire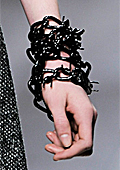 Accessories
Burberry turned the barbed wire in a stylish jewelery and watches.

The new collection of the British brand included series of watches and a bracelet, which reminds a simple barbed wire, but ... made of gold.

Decorative studs on the bracelet are far less dangerous than the ordinary spiked barbed wire. They make the accessories unique.

The price of each one of them is around 475 pounds.