Tag: beautiful women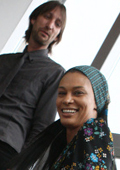 Models and photomodels
As reality television begins to dominate the airwaves, fashion fiends, young professionals and hip urbanites around the globe are hungry for an uncensored look at today's hottest celebrities, the places they've gone and the people they've seen.

Fashion model Chrystal Callahan is feeding the media frenzy by giving them all that and more with the release of a limited edition coffee table book titled "Diary of a Fashion Model in Chechnya."

Toronto-born Callahan has been in the public eye for years - first as one of the world's most beautiful women among the faces of Vogue magazine, and, more recently, as a television presenter on Chechnya's state-run "Grozny TV" after an invitation from Minister of Press and Information Shamsail Saraliev.