Tag: bondage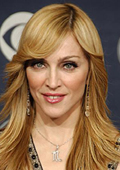 Fashion collections
Givenchy Haute Couture designer Riccardo Tisci made the outfit Madonna wears in the opening act of the second leg of her 'Sticky and Sweet' world tour - which kicked off in London on Saturday (04.07.09) - and was determined to make her look as electrifying as possible.

He said: "The new costume is super couture, sensual, Goth, bondage.

"What I wanted for the opening was to give a very iconic view of Madonna. She's wearing an outfit that will make history. I wanted to do something even stronger than what he designed for her in the tour's first leg because she wants to be stronger."