Tag: climate changes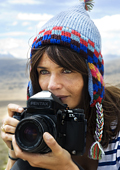 Models and photomodels
The supermodel Helena Christensen urged world leaders to take action to combat climate changes.

When opening an exhibition of her works, Christensen said that the conference on climate changes in December provides a real opportunity to change course in the world.

She recently visited Peru with the charity "Oxfam" to see firsthand the effects of global warming. The resulting documentary photography of the visit reflects the reality of everyday life of the Peruvian province.