Tag: cobalt blue
Underwear and Swimwear
This autumn, David Beckham is introducing new styles and fresh trends to his David Beckham Bodywear range for H&M, again with a focus on comfort, fit and function. The collection launches globally on August 21 in all H&M stores that carry menswear, as well as online.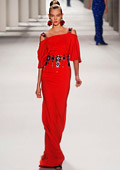 Collections
'There is no reference to the past - I'm trying to go to the future!' said world famous fashion designer Carolina Herrera about her Fall/Winter 2014 womenswear collection.
Carolina offers to ladies both daywear and eveningwear.
For days - volume with rounded shoulders on top (to emphasize a tiny waist), over slim skirts and pants in brown, navy and royal blue; for nights - prints in geometric patterns and rusty shades of blue, bronze and orange.