Tag: cow hide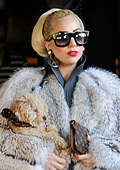 Lifestyle chronics
Lady Gaga has defended her decision to wear fur.

The singer has stepped out in two animal style ensembles recently while carrying a dog but refuses to get into details about why she feels it's OK to don an animal's exterior for fashion.

She explained: "I am choosing not to comment on whether or not the furs I purchase are faux fur-pile or real because I would think it hypercritical not to acknowledge the python, ostrich, cow hide, leather, lamb, alligator, 'kermit' and not to mention meat, that I have already worn."