Tag: gems
Fashion Guide
Diamonds are one of the most sought after gemstones in the world today. Their scintillating beauty and brilliant flashes of colour have been identified as 'fire' in ice. Natural cut diamonds are rare gemstones and have acquired quite a price tag in the precious metals and gems market.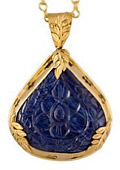 Accessories
Donna Distefano's jewelry line features gorgeous gems created without unnecessary environmental destruction and without human rights violations.

The Fair Trade-certified pieces are custom-made and hand-wrought in the New York studio of the company with eco-friendly refining, substance purification, and recycled metals.