Tag: hills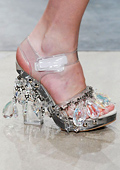 Accessories
The new shoes collection of Prada shown on Milan Fashion Week symbolizes the end of recession, according to many fashion experts.

In the new Miuccia Prada's shoes collection consist plenty of magnificence- glittered stones and crystals decorate the clothes and shoes.

The shoes for spring-summer 2010 are with semi-transparent hills which lighting in every step.