Tag: motorcycle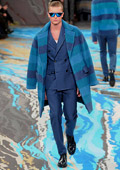 Collections
The Fall-Winter 2014/2015 menswear collection of the famous French fashion house Louis Vuitton, presented on January 16, 2014 during the Paris Fashion Week, is typically luxurious.
It's very gentlemanlike - silhouettes are clean and classic, the color palette includes lots of deep blues, some beige and bronze, gray, brown, camel, eggplant purple, burgundy and inevitable black. In contrast with sleek silk in garments are used alpaca and vicuña.
Models and photomodels
Keira Knightley slips into a beige bodysuit and mounts a vintage motorcycle for a Chanel commercial on Sunday afternoon at Concorde Place in Paris, France.

The 25-year-old British actress has a new movie, Never Let Me Go, out in limited release on Sept. 15. The flick co-stars Carey Mulligan and Spider-Man star Andrew Garfield.