Tag: new songs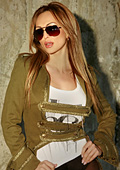 Accessories
Gloria is on her way to rock the summer with her new single "Kiss me more".

The singer once again trusted KWIAT sunglasses to complement her great vision and the military style, that Gloria had chosen for the video of her new hit.

The pop-folk singer was the face of KWIAT in 2007 in the most successful campaign of the mark so far.