Tag: pencil skirts
Collections
Since its inception in 2012, is PatBo as the particular universe of Patricia Bonaldi, where the expression of your creativity gains strength, and their boldest ideas take shape. PatBo born as a balance: brought free, cool and sexy naturally spirit, presenting a fun and authentic way a modern and independent woman, while Patricia Bonaldi, first mark the group that takes the same name as the designer maintains its attributes classic and traditional.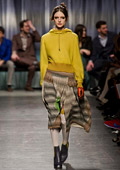 Collections
Famous Italian fashion house Missoni known for its colourful knitwear designs presented its Fall-Winter 2014/2015 womenswear collection on February 23, 2014 in Italy during the Milan Fashion Week.
'A very feminine girl in men's oversize outerwear', said brand's designer Angela Missoni about her new collection before the show's start. But the main accent was the innovative way in which the designer worked her textures - mostly via pieces that look woven but are actually knits.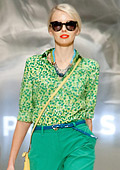 Fashion shows
The Australian brand Sportscraft presented their Spring-Summer 2013 collection on the catwalk of Mercedes-Benz Fashion Festival Sydney 2012 on August 24, 2012 in Sydney, Australia. The brand is established in 1914 and its one of Australia's oldest fashion brands.

Polka dot skirts and pencil skirts, summer floral dresses, block colours, cropped pants were featured.