Tag: vamp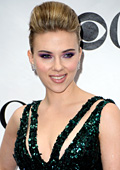 Fashion collections
Scarlett Johansson may be has stunning looks but when it comes to selling cosmetics, there is no such thing as natural beauty.

Actress Scarlett Johansson, the face of the Italian fashion label D&G, has been subjected to heavy retouching for the new makeup ad of the popular brand.

The new look of the star is a stark contrast to last year's Marilyn Monroe-inspired look, where an angelic Scarlett shows off red lips, posing against white satin sheets.