Virginia Zdravkova and KWIAT promote 25 models of sunglasses in three continents
The summer accessories are a combination of fashion style and high technology
Virginia Zdravkova and KWIAT Company made the first Bulgarian collection of sunglasses.
This accessory fashion line includes 25 models of completely different sunglasses.
They are a perfect combination of fashion style and high quality. The collection was designed for people seeking not only high-technology workmanship but stylish aesthetics as well.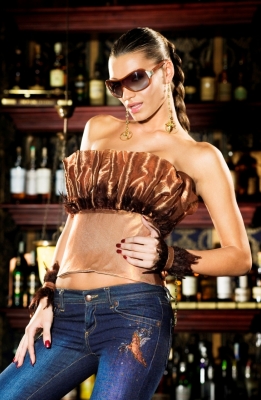 Since the end of April the sunglasses under the Bulgarian brand VIRGINIA by KWIAT will be launched simultaneously in 5 world fashion centers – Moskow, Dubay, Los Angeles, Las Vegas and Amsterdam.
The models are completely different in shapes and colours. The sunglasses are arranged with Swarovski crystals in red, golden, silver, black or chameleon - the same as the colours of their rims. The gems are manually set up that makes every model unique. The VZ logo is built up in all sunglasses lens.

Also every model is accompanied by a jewel gift, a Swarovski necklace in harmony with the sunglasses colour.

The fashion trends in sunglasses include models with metal and plastic rims and a range of light, dark, gradating and mirror lens.
The rims are made of high-quality plastic materials or a firm light metals. All models have an anti-allergic covering. The lens are strengthened against breaking, cracking or scratching. Also they are supplied with UVA, UVB and UVC protection.


Hits: 14785 | Leave a comment