Tag: KWIAT
Fashion shows
Bulgarian fashion designer Veselka Krachunova will present her label's latest collection during the 6th edition of Fashion Week Las Vegas (16-20 February 2015).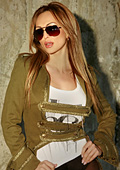 Accessories
Gloria is on her way to rock the summer with her new single "Kiss me more".

The singer once again trusted KWIAT sunglasses to complement her great vision and the military style, that Gloria had chosen for the video of her new hit.

The pop-folk singer was the face of KWIAT in 2007 in the most successful campaign of the mark so far.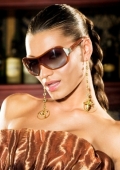 Accessories
The summer accessories are a combination of fashion style and high technology.

Virginia Zdravkova and KWIAT Company made the first Bulgarian collection of sunglasses.

This accessory fashion line includes 25 models of completely different sunglasses.

They are a perfect combination of fashion style and high quality. The collection was designed for people seeking not only high-technology workmanship but stylish aesthetics as well.