Five boutiques in Viena ordered garments from MARKAM Fashion for Spring/Summer 2007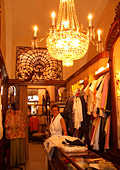 At the exhibition that took place from 4 to 7 May, on which many world known companies participated, including Betty Barcley, Gerry Weber, Tom Tailor etc.

The orders include garments from the collection Spring/Summer 2007.
The production of fashion clothing under the brand of MARKAM starts in the beginning of 1990. Today the company is one of the biggest producers of high quality ladies' wear in Bulgaria.
Fashion house "MARKAM" is the holder of Fashion academy award for fashion business and entrepreneurship "Fashion Merkurii 2006".

Hits: 7559 | Leave a comment