"Galinel" held a "Gipsy wedding" fashion show on the stage of the Ancient Theatre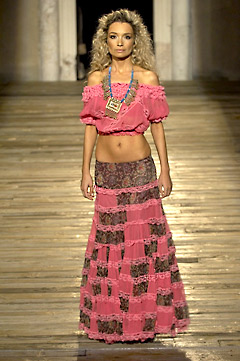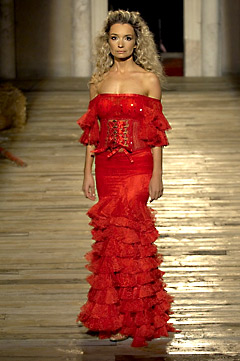 On the 31st of May Galinel Fashion House held a real "Gipsy wedding" on the stage of the Ancient Theatre. The elegant dresses of the Company's new collection glittered against the background of the stage of the ancient ruins turned into a Gipsy camp for the show. The ovations went to the typical full-length Gipsy skirts presented by the top-models Iren Onteva and Violeta Zdravkova.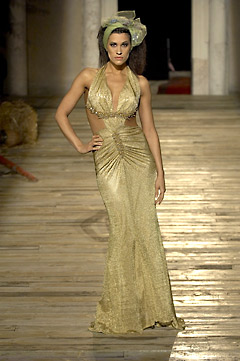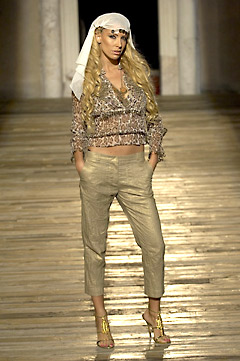 First theme – tiger and golden
Golden flax, 100% tiger silk and over 200-year-old jewelry from Uzbekistan. "Batwing" tunics with hand-encrusted accessories filled with the Gipsy spirit of old times and short trousers with sports pockets reminiscent of adventures … "Gipsy" skirts, made of over 25 meters of 100% silk, catching the slightest possible puff of wind and elastic bodies, subsequently decorated with embroidery and elements of ancient times, executed in "absurd" color combinations – lilac and emerald, crimson and violet… "Breech" trousers with special insertions for creating "special" visual effects and vests with "American shoulder line" and necks reaching down to the "sweetest" part of the woman's breast…Tunic dresses of minimal length and long fairy sleeves...
The second theme was executed in ecru and lace.
100% cotton in the milk shades of ecru and golden hand-made embroidery. Bermuda shorts has "straight" silhouette, tassel belts and are additionally finished or rather "suffused" with golden light, enhancing the special insertions – for a new and I would say a revolutionary silhouette… "Gipsy" skirts are taken in at the hips, exuberant near to the point of misuse and of calf-length – here you are struck by the "tons" of hand-made lace and hundreds of hand-encrusted pearls. The dropped shoulder line will be the absolute hit of this summer – I am ready to bet on that!... Belts are in fact jewelry and jackets have thousands of "nervures", half-naked parts of hand-made lace and pearl buttons… "Lambada" skirts and bodies made of netlike fabrics and lace…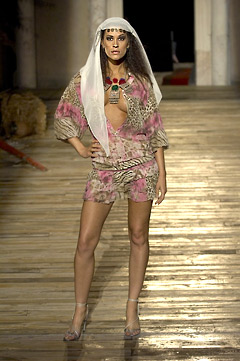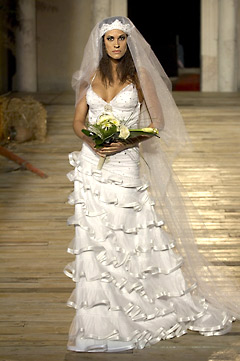 The first surprise of the evening was in the form of exquisite long evening dresses in Hollywood style, which effectively stood out against the Gipsy folklore, performed live from the first down to the last minute of the fashion show. However, the hit of the show was the finale when for the first time Galinel presented its own collection of four wedding gowns, each of them created for over 700 hours of handwork. The show was closed down by 10 minutes of festive fireworks. For "Galinel" Fashion House and its fans the evening ended with a fashion party held in Planet Club, where over 300 guests gathered to congratulate, Galina DENCHEVA, Company's Chief Designer and Desislava Dencheva, the Face of Galinel Fashion House. A selected circle of ladies at the party received a present in the form of a four-centimeter heart-shaped Svarovski jewel in the range of lilac and green, which colors were the accent of the whole fashion show.

Unique: Galinel is the only fashion house in Bulgaria, which has a special Fashion Psychology Department. In this way each one of the garments, launched by the brand for the next season, bears in it a preliminary processed psychological profile – the garments are not addressed to the anonymous customer; quite the contrary. "Before creating the design of each of the 72 garments, we, the Designers Department knew exactly whom the particular garment was designed for, what his character, interests, demands, and professional realization were," said Mrs. Galina Dencheva, Chief Brand Designer.


Hits: 36783 | Leave a comment