The Opera prima Anna Veleva will conquer the world stages with the exclusive clothes of MARKAM FASHION
The thriving company MARKAM FASHION for lady's clothing from Ruse, Bulgaria, recently offered a contract to Anna Veleva, who is the new Bulgarian sensation in America, Japan and Europe.
The design of dresses is created by Nikolay Buzov, a chief designer of Markam and the fabrics are pure silk, chiffon, laces and organza.

It is a special challenge for me and a great inspiration as well to draw the sketches, the projects of the stage vision of a woman, endowed with voice, beauty and charisma that charm", shares Nikolay Buzov. For Anna I bring together CLASSIC and FASHION, EXQUISITENESS and POWER, VANITY AND SPIRIT!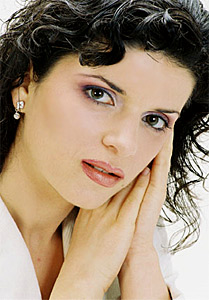 "I always like to go back to Bulgaria, where my heart belongs, says Anna, and when I received the proposal from MARKAM Fashion, I felt really proud. The Bulgarian woman is the most elegant one and I am glad that, thanks to MARKAM, I can wear a part of our home elegance and can present my country with dignity. The outfits are at a world level, the lovely and fine fabrics make you feel comfortable. I like the design and the vision of the clothes. When I saw them I thought they are made for me, at my taste. It is an exceptional honour and pleasure for me and I am grateful to the team of MARKAM.

Anna Veleva received her bachelor and master's degree in opera singing at the State Academy of Music, Pancho Vladigerov, in Sofia, where she studied in the class of Prof. Ruskov. She then specialized 3 years in the Mannes College of Music for a professional postgraduate diploma in vocal performance. Anna Veleva continued her professional training with the renowned opera singer Renata Scotto, with Prof. Bet Roberts and Stefka Evstatieva. She owes her passion and love for the classical music to her uncle Geory Georgiev – Cherkin.

The brilliant soprano has been living in Manhattan for the last seven years and already makes successful career on several continents. In the dawn of her career, she is a darling to the international critics who praises her as "the new opera hope".

Her engagements include performances in America, Japan, Germany, Austria, Switzerland, Poland and Bulgaria. In Japan, besides her recitals, the young singer teaches a singing and heads a master's class in the University of Fukushima.
The delicate soprano is the only opera singer in the master's class of Alec Baldwin. In 2003, she was chosen to study theatre performance with the famous Hollywood actor. Only 18 finalists from 1000 candidates won the contest - Anna is the only Bulgarian that wins that contest.

On the 05.02.2007 her incredible voice echoed one of the most prestigious stages in the world - Carnegie Hall, New York. Before nearly 3 000 spectators she perform the arias of "Blueyed" and Elena "Revolution Song", G.Zlatev Cherkine.


Hits: 17926 | Leave a comment