Richmart Vintage - a National contest for Folklore dances and fashion designers
Bulgarian folk dances become popular in clubs, discos and on catwalks

In the beginning of December 2014 Bulgarian hip-hop singer Kristo presented his latest song 'Fast life' - a hip-hop track in combination with traditional Bulgarian dances. Dancers in the video are from the new dance formation 'Richmart'.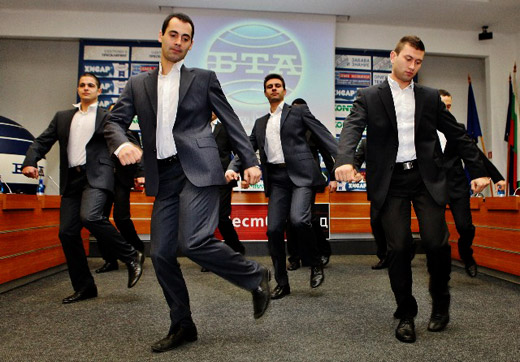 This year, inspired by the beauty of traditional Bulgarian dances, the leading manufacturer of men's made-to-measure suits Richmart starts a National contest for Folklore dances and fashion 'Richmart Fashion Show'. Everyone who loves Bulgarians folklore and fashion can take part in the project.

RICHMART VINTAGE
A NATIONAL CONTEST FOR:
* VIDEO CLIPS - FOLKLORE DANCES AND FASHION
* FASHION DESIGNERS - IN THEIR MODELS, DESIGNERS SHOULD INTERPRET TRADITIONAL BULGARIAN FOLKLORE MOTIFS AND SYMBOLS
The main idea of the project is to demonstrate the uniqueness of the Bulgarian folklore dances, which can be introduced to the world in a new way.
RICHMART VINTAGE AIMS TO HELP THE APPROVAL OF THE 'MADE IN BULGARIA' LABEL.

Organizer: RICHMART - the most modern factory for made-to-measure men's suits in Europe.
Consultants:
- Hristo Dimitrov - Bulgarian choreographer and director, known as the creator and producer of the National Folklore Ensemble "Bulgare";
- PR - Prof. Lubomir Stoykov - chairman of the Bulgarian Academy for Fashion, media and fashion expert;
- Kristo - a hip-hop artist, who supported folk dances in his new video "Fast Life";
- National impresario network Sofia.


I. CONTEST RICHMART VINTAGE FOR VIDEOCLIPS - FOLKLORE DANCES AND FASHION:
1. Purpose of the Contest:
1.1 To promote the Bulgarian national dances in the country and around the world
1.2 To give the dances the opportunity to conquer new stages:
- Dancers to take part in presenting new fashion collections
- Dancers to participate in musical video clips for modern music
- Folklore dances to find their place in the clubs, proms, weddings, company parties and advertising campaigns.



2. Compulsory requirements for the clips, involved in the competition

2.1 Length of the video - 0.5 to 4 minutes

2.2 The dance - Bulgarian folklore dance /optional - you can choose any from the variety of the Bulgarian folklore dances/

2.3 The clothing - modern clothing, not the traditional Bulgarian garb

- For men - a classic suit or jacket /without or with a tie

- For women - modern clothing

2.4 Type of music for the video:

- Bulgarian folklore music

- Any kind of modern music /rock, pop, hip-hop, etc/ with traditional Bulgarian dances





3. About the contest RICHMART FASHION SHOW

3.1 Total prize - 10 000 levs /divided in 5 stages/

Best video clips for January - 2 000 levs

Best video clips for February - 2 000 levs

Best video clips for March - 2 000 levs

Best video clips for April - 2 000 levs

Best video clips for May - 2 000 levs

3.2 Monthly winners /from January to May/ will receive the opportunity to compete in the final stage of RICHMART FASHIO SHOW - RUSE in June 2015 on a real stage, where they would present collections from real designers

3.3 The winners will be invited to participate in the national tour of hip-hop artist Kristo

3.4 All the winners in the contest will receive recognition from media partners

3.5 Video types will be divided in the following categories:

- Professional dance groups
- Amateur dance groups
- Wedding ceremonies
- Seniors prom

3.6 There is no restriction in the number of competitors in the videos

3.7 Bulgarians from the country and abroad, as well as foreigners who dances Bulgarian folklore dances are all encouraged to participate


'RICHMART FASHION SHOW is a part of a huge project which main goal is to familiarize the world with the traditional Bulgarian dances. Our big purpose is to focus on one dance from each folklore area /Dobrudjanska, Shopluka, Miziya, Trakiya, Rodopi, Makedoniya/ and give the world the opportunity to get to know our culture. The world already knows Sirtaki, Tango, Rumba, Salsa, and if we come together in one general idea we would be able to reach the same level of popularity and people would dance Kopanica in Buenos Aires', said Hristo Dimitrov.




To participate:

Send your video clips to Richmart LTD facebook page - you can attach them as files or to upload them in YouTube.com and send the link.

or at: 10, Potsdam Str, Ruse, 7000, Bulgaria, for RICHMART
Phone number: +359 882 377 898

If you would like to be a sponsor of the contest, send an email to the organizers at office@richmart.eu



II. CONTEST RICHMART VINTAGE FOR FASHION DESIGNERS - IN THEIR MODELS, DESIGNERS SHOULD INTERPRET TRADITIONAL BULGARIAN FOLKLORE MOTIFS AND SYMBOLS

1. Aim of the contest - to make traditional Bulgarian floklore morifs and symbols more popular, because they are our national fortune.

2. Rules - in their models, designers should interpret the traditional Bulgarian morifs and symbols.

3. Clothing categories:
- men's suits, jackets and coats;
- ladies' jackets and coats;
- children's and teenagers' jackets and suits.

4. In the contest may participate:
- designers-students (in schools, colleges and universities);
- independent designers;
- fashion companies;
- Bulgarians from the country and abroad, as well as foreigners who use Bulgarian motifs in their designs.

5. All the winners in the contest will receive recognition from media partners.

6. Total prize - 5 000 levs

7. Deadline - March 31, 2015.


Send your application forms to Richmart LTD facebook page


Media partners: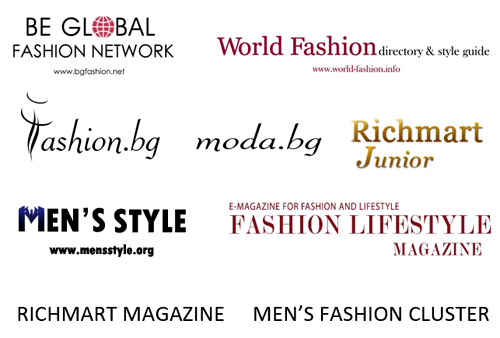 ** The Organizer of the contest is looking for more sponsors and media partners.

Everyone who likes the project and would like to help making it global and let the world learn more about the unique traditional Bulgarian dances, is welcome to join us!


Businesses can do well by doing good! (Philip Kotler)


Hits: 7948 | Leave a comment