Berny Martin will present latest Catou menswear collection during Couture Fashion Week New York
Couture Fashion Week was founded in 2005 by Andres Aquino and presents a series of couture and luxury fashion shows in New York City and other selected cities.
Indianapolis-based designer Berny Martin will be part of this year's edition (February 13-15, 2015) of Couture Fashion Week in New York City, USA. The fashion show will be held at 8:00 pm on Friday February 13, 2015 in the Broadway Ballroom of the Crowne Plaza Times Square Manhattan, 1605 Broadway.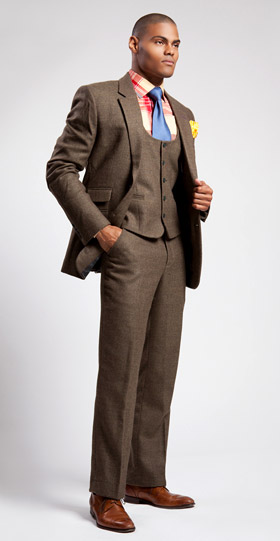 'My grandmother taught me to focus on quality over quantity in all aspects of life. She was a wise woman, and taught me a lot about truly living my life, which is why I named my clothing line after her (her name was Elizabeth Catou Loiseau). Naturally, I carry what she taught me into all that I do at CATOU. Quality in clothing is something I take seriously. And you should, too, as you work toward build an enduring wardrobe', said Martin, who is the founder and designer of Catou (launched in 2002) - an internationally recognized line of men's and women's professional wear.


'I design with a creativity that extends beyond conventional fashion to offer an unique look. I create pieces with the customer in mind, paying attention to detail to guarantee well-made clothing that compliments its wearer', Berny explains about his work.


Catou has been featured on BET, MTV, Source Magazine, Indianapolis Monthly, Indianapolis Star, Indianapolis Woman, Indianapolis Business Journal, Bella Magazine, Miss Universe Magazine, Power Magazine (Atlanta), Fashion Manuscript, and Focus Magazine (Louisville). He was recognized by the United Nations Association of Young Professionals in 2009, as well as being named Menswear Fashion Designer in the Midwest by FGI (Fashion Group International).

Catou collections have been shown at Paris Fashion Week, New York Emerge Fashion Week, Brooklyn Fashion Week, Chicago Fashion Week and the African Travel Association Fashion Show.


In 2006 Berny Martin founded Midwest Fashion Week when he saw a need for a Midwestern outlet to showcase a range of gifted local and international designers, stylists, photographers and models. Time Magazine recently featured Midwest Fashion Week as the leading fashion week in the Midwest. MFW has developed to include smaller private events held throughout the year including fashion seminars, trunk shows featuring local designers and runway fashion shows. Berny Martin and his team have raised over $500,000 during the events to support nonprofits through partnerships with organizations such as the Indianapolis Colts, Indy 500, Coca Cola, Vitamin Water, and Indiana University North Hospital, just to name a few.



Information and photo: couturefashionweek.com & catouwear.com


Hits: 5871 | Leave a comment