Charlie Hunnam as King Arthur in Guy Ritchie's 'Knights of the Roundtable'
Charlie Hunnam ('Sons of Anarchy'), Astrid Bergès-Frisbey ('Pirates of the Caribbean: On Stranger Tides') and Mikael Persbrandt ('The Hobbit') are the leading actors in Guy Ritchie's 'Knights of the Roundtable: King Arthur'.
Air date: July 22, 2016.
In this new remake of the classic Arthurian tale, Australian actor Eric Bana will play Uther Pendragon, Arthur's father and Jude Law will be the villainous Vortigern.

The official synopsis says:
'The bold new story introduces a streetwise young Arthur who runs the back alleys of Londonium with his gang, unaware of the life he was born for until he grasps hold of the sword Excalibur - and with it, his future. Instantly challenged by the power of Excalibur, Arthur is forced to make some hard choices. Throwing in with the Resistance and a mysterious young woman named Guinevere, he must learn to master the sword, face down his demons and unite the people to defeat the tyrant Vortigern, who stole his crown and murdered his parents, and become King.'

Here you can see the first photo of Ritchie and Hunnam from movie's set in the U.K.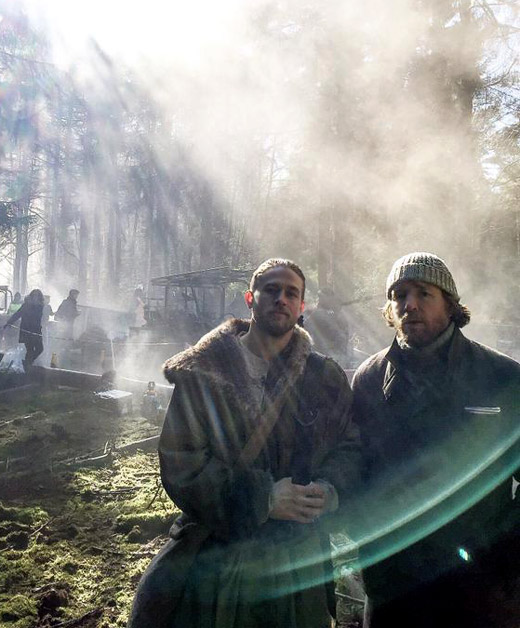 'I play a lot of tough guys and violent characters, but I'm not like that at all. I'm a hippie who smiles a lot and is pretty relaxed', said Charlie Hunnam for Cosmopolitan.

Charlie revealed that for him, the real masculinity is in 'being open to your emotions and allowing for vulnerability while being the shoulder that people around you can lean on'.


Photo: twitter.com


Hits: 10319 | Leave a comment