"Traveller" collection - Ultimate adventurous spirit autumn/winter 2007-2008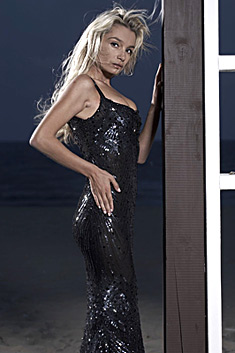 It took us approximately 80 hours to shoot our new collection Autumn/Winter 2007 and you have to believe me that each minute of the largest "labour party" in our company history is worthwhile. It had a striking influence on the entire team and Desislava Dencheva, our fashion face, posed seductively in front of the best photographer's camera in Bulgaria, namely Encho Naydenov. A Russian fishing vessel, an ancient submarine, deserted beaches and specially constructed wooden halls are some of the scenery to which our image makers relied on for the new season. Today I would like to present the tendencies that we the designers working for GALINEL fashion line will follow this season:
THE TROUSERS – this year it is borrowed by men's wardrobe both by silhouette and technology of making. It is straight with Italian pockets and male fillets; it is a must to be combined with a broad belt of natural leather. We advise you, no, we oblige you to wear it inside high boots. As far as the textile, we strongly recommend you 100% cold wool and striped pattern; even the most discreet ones will work for you.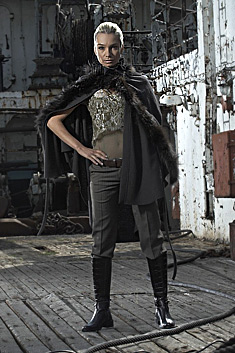 When we talk about our formal fashion line of trousers I have to mention the glamorous effect that 100% shantung has. What a surprise … double seamed silhouette as a jeans, "carrot" type and length till the calf.
THE CLOAK – absolute fashion rave! Made of fine cashmere, angora and alpaca, bordered with fox fir, the so called "poncho" will become your favorite clothing. It is light, warm and extremely fashionable and you could wear it with a blouse and jacket, as well as with jacket and coat even.
For those who love sportswear we created a special knitted line of it with bright colors and short length.
THE JACKET – cold wool with manually incrusted crystals and pebbles, brilliant jacquard combined with French lace and designers' taffeta allowing everyone to shape out jacket form and silhouette. You can find all this in our formal fashion line. The silhouette is minimalistic, but fewer are in Jaclyn Kennedy style with low round necks and several minimalistic box–pleats in the waist inspiring aristocratism, high standing and style…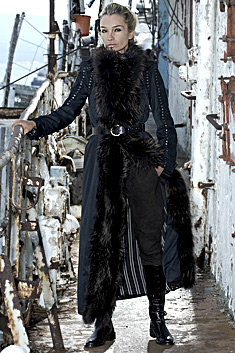 THE SHIRT – it is fine as a spider net and surely far from the austere business style that the word "shirt" is usually associated with. On the contrary, the textile is French lace from Leon, the neck is quite ornate and it is not by chance, the contrast between male silhouette of the trousers and such a feminine blouse is just amazing.
In our formal fashion line the shirt acquires quite a different outlook – 100% silk sewed in the shape of a bat or Russian shirt. It's time to pay special attention to color range, floral and tiger patterns – faded tiger elements, efficiently contrasting at a petrol green background, optically white foundation variegated with magenta lilac roses … Generally speaking this winter will be explicitly influenced by the Russian style – square necks with big frills under the bust, long and big sleeves with elastic frills and quite a lot ease for the body. You have to remember that the shirt expresses a lot of information by its colors and content. It is important to be combined with simple silhouette of the trousers, plain at any rate, "cigar" type, and for the advanced ones we recommend faded jeans …
THE BOOTS – This year we have developed a new department that created a shoe line under the name GALINEL. The silhouette is military one, the leather is crocodile, the emphasis is on consistent oxide chain, and the colors are smoked anthracite and rusty-brown. There is something for those that rely on "everlasting classic style". For them we created a simple line of natural leather, additionally incrusted elements giving the boots a jockey style.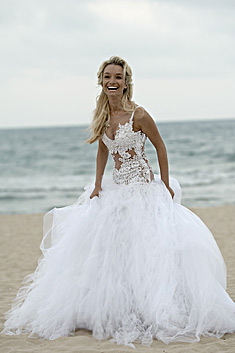 THE SKIRT – lace, lace and only lace! And it's not all … In order to achieve more vivid optical effect we decided to treat it from inside with a contrast net – all this gave more depth to each detail. We all were at the opinion that the length should be to the calf this autumn and the silhouette to be ornate, indecently ornate /the approximate cloth for a skirt is 15m/. It is narrow in the waist, flared downwards and in layers. Only 100% silk has the ability to follow each movement of your body and to be light as a feather. What else can be so great?

THE JACKET – natural leather in combination with suede and fox fir. Definitely taken in at the waist, special patterns for special effect and right side cross stitch. Lengths are mainly short except for the premium model in the collection namely a sports coat with manually incrusted oxide eyelets being the ultimate fashion rave this season!

THE VEST – warm woolen tweed efficiently combined with natural suede and specially treated rabbit fir. It is up to you whether you will wear it with a sweater or over a light jacket, but it is sure that it will become your fashion favorite that gives you ease of movement, sports line of silhouette and warmth of the body!
THE DRESS – For the winter party season we forgot those absurd color solutions as well as the hundred colorful pebbles and crystals. The winter party season for GALINEL starts with black, black and only black! And … pay attention to Swarovski crystals that do not chase the black shade, on the contrary, they are classic white, shaped in special metal nests. The line is quite plain, simply following the body curves. I believe that it is a supreme style to create a plain fashion line simply following body motion leaving you breathless without any useless patterns, crossings and complex combinations, without needless efforts that unfortunately I always see in Bulgarian designers and dresses.

Photos:

1. Glamorous Hollywood style

2. Cloak – ultimate rave

3. The top-model in the coats collection

4. Skirts are indecently ornate

5. "The bride" is the new vision of the calendar of Galinel for 2008

6. Shirt from GALINEL formal line

Photographer: Encho Naydenov


Hits: 15343 | Leave a comment