A Tennis Racket the Pros Won't Want to Smash
As a great year of Grand Slam tournaments came to a close yesterday with Djokovic triumphing over a nail-biting four sets against Federer and Flavia Pennetta beating fellow Italian Roberta Vinci in the women's final of the U.S. Open on Saturday, Goldgenie are celebrating with the one thing they do best… Gold.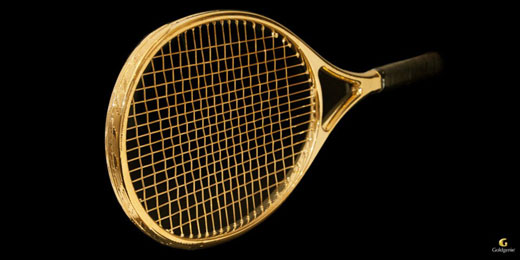 Inspired by the winning performances from seasoned heroes and rising stars over the four majors of the year, Goldgenie created the 24k Gold Champion's Racket. This ultimate winner's racket is a high performance premium graphite racket that has been lavished in 24K Gold by Goldgenie's craftsmen. Due to the added weight and embellishment of the strings, Goldgenie are presenting it as an ornamental piece, making it a unique trophy for any tennis player who has earned their stripes on court. However, the racket may also be customised with its original strings in tact and given its value, this may be a great preventative measure for any player tempted to take their temper out on their greatest asset mid or post match.
This year's U.S. Open saw three players smash their rackets in fits of frustration. And they're just the ones we heard about… While racket smashing can provide great entertainment for the audience and online viewers of the viral videos that follow, players are issued code violations for causing a racket with such unruly behavior. It is doubtful that any player would be tempted to smash this golden masterpiece, no matter how great their rage.
The first of its kind in the world, no more than 99 24K Gold Champion's Tennis Racket will be created and each racket will be laser engraved with its number in the series. The racket is presented in a beautiful custom frame, bespoke to client's wishes and will make a beautiful showpiece for any tennis enthusiast or player. Of course, Goldgenie's artisans can leave the strings unembellished for any player who would like to use the racket. Even if you are not a Grand Slam Winner or seeded in the world's top 100, this racket will ensure you give a golden performance on court or can tell a champion's tale from a frame on your wall.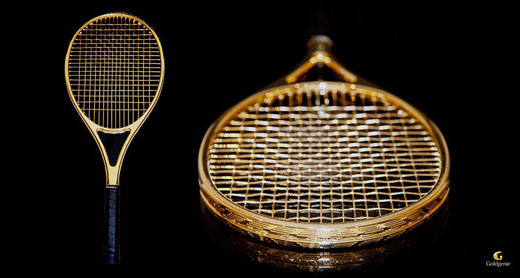 The Limited Edition 24k Gold Champion's Racket may be ordered from Goldgenie's.


Hits: 6605 | Leave a comment