Passion collection - Disarming charm!
GRADUATION CAMPAIGN SURPRISES WITH EARLY START
The coming graduation season will be unlike any other. It has so far exceeded our boldest expectations and now, half a year before the graduation emotions have reached their peak, I can firmly declare that the graduation fashion campaign has reached its summit. This year our Fashion Psychology Department has designed over 26 models based on girls' features, which were able to surprise even me in my capacity of Lead Designer of the fashion brand.
If you think, we have once again chosen some exotic and adventurous place for our photo session, you are wrong this time! I have called this collection a "jewelry collection". It took us more than a year to develop the psychological profiles and design each single dress, to design the new outlines and, literally speaking, encrust the dresses with all stones and crystals with surgical accuracy with each millimeter of them reflected in our design schemes. The statistical data, which we principally record each year, has measured insurmountable quantities of Swarovski crystals encresuted and manual work done this year, six-digit numbers and 425 hours respectively, per dress! Isn't it amazing?!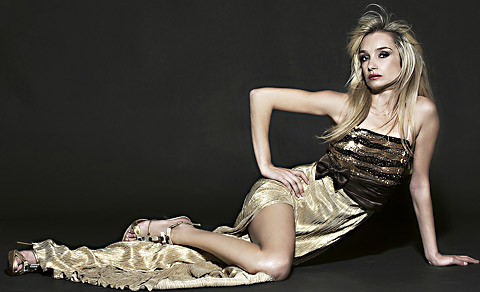 In order to give a hint that each dress out of the 26 different models has been designed to fit various girls' profiles, Desislava Dencheva, the face of the fashion brand, managed to tint the wide variety of moods in one single message: passion! Naturally, we have managed to stay away from that demonstrative sex appeal trend that seems to be overwhelming everyone. Our choice is the "disarming charm" and every frame of the photo session has proved it. The connecting point was magnetism and our psychology department chose it to be the leading concept for 2008 graduation season! This idea served as basis for the new outline design: all designers shared one common viewpoint – dresses will radiate Hollywood glamour and come long, lavishly long. You want to know about the slits – hmm, once again they are indecently high, leaving no room for imagination… Why is it so?! Every move you make shall turn into event. Dresses have super low cut backs or boat-shaped backs and only shoulder straps as thin as spider net go over the shoulders… Speaking about the neckline … numerous pleats and intricate layers make body forms look more alluring… How about textile? It is 100% silk, silk satin and delicate net. Moreover, if the SEX graduation collection caused colors to burst into explosion of "absurd" combinations, this year female graduates who have chosen to wear GALINEL dresses will triumph in one colour only: the saturated colour, which can assume the appearance of several close hues that change with every ray of light. This year purple is not just purple: it may flicker in indigo, lilac and violet tone with every move you make. And gold is not just gold: it is vitalized with the Sahara colour in all its hues starting from faded pearl and ending with caramel – only the desert sands of Sahara can be so rich in tone. 2008 is a leap year. Therefore, silver will be undeniably in vogue. But you'd better be on the alert: it is not that "flat" silver! I rather mean the tone ranging between crystal silver and lead silver. That effect is achieved thanks to the implementation of Swarovski crystals in more than twenty hues as well as the 100% silk satin, which, as our long experience has taught us, is the only material that can render colour really high saturation with every ray of light. The "freeze frame" technique seems to be the most outstanding one among other techniques and this year it is a must, while the "train" creates a sense of luxury, or in short, welcome to Hollywood!

Next week you can receive detailed information about the new girls' profiles, 2008 graduates, direct from GALINEL's Fashion Psychology Department.


Photos:
1. Super low cut backs
2. 100 % silk, which makes every move of yours seem like an event
3. The saturation of the Sahara colour
4. 2008 is a leap year – silver will be a total hit
5. This year slits are "indecently" high

Photographer: Encho Naidenov


Hits: 7078 | Leave a comment