31st Season of Mercedes-Benz Fashion Week Russia concluded in Moscow
From October 21 till October 25 Moscow saw the Spring/Summer 2016 Mercedes-Benz Fashion Week Russia. During the major Eastern European fashion week the runways of the Manege Central Exhibition Hall welcomed shows of designers coming from Russia, Georgia, Turnkey, China and other countries.
The Mercedes-Benz Fashion Week, the major in Russia, saw presentation shows by many famous Russian designers, such as: SLAVA ZAITSEV, Alena Akhmadullina, Yasya Minochkina (Ukraine), Yulia Nikolaeva, LAROOM, PIROSMANI BY JENYA MALYGINA, IGOR GULYAEV, MASTERPEACE, Julia Dalakian, Goga Nikabadze (Georgia) and others. Year by year the Mercedes-Benz Fashion Week Russia supports talented young designers providing them with an opportunity to become world-renowned. The major professional Mercedes-Benz Russia Fashion Week featured such bright newcomers as IVKA, FURREDO, Tako Mekvabidze, Vadim Merlis, MD Makhmudov Djemal, KETIone, Vera Kostyurina, Madina Varisova, IVANOVA, ARAIDA. There were also Spring/Summer 2016 runway shows by recently emerged but already earning public and critics' attention brands like YULIA PROKHOROVA BELOE ZOLOTO, Oksana Fedorova Design Studio, Saint-Tokio. Moreover, the corners of the MBFW featured presentations by young brands, among which were the following: IGOR YORK, MASTERPEACE, Eka Balanchivadze, KoJewelry, Outlaw Moscow, Luda Nikishina and others.
The official opening of the 31st season took place on October 21 and was traditionally marked by a fashion show of the legendary figure of the Russian fashion industry, SLAVA ZAITSEV. The designer presented his Patterns of Life collection comprising a wide assortment of men's and women's wear. Next Chinese brand NE·TIGER showed the collection, every dress from which is a reflection of Chinese culture and has magical properties. Moreover, there were the shows by IVANOVA, Anna Platie, Ksenia Knyazeva, AKA NANITA (Georgia), Vika Smolyanitskaya, Dasha Gauser, TONY WARD, BGN, styled by Alexandr Rogov, ARAIDA, KoJewelry and Luda Nikishin?.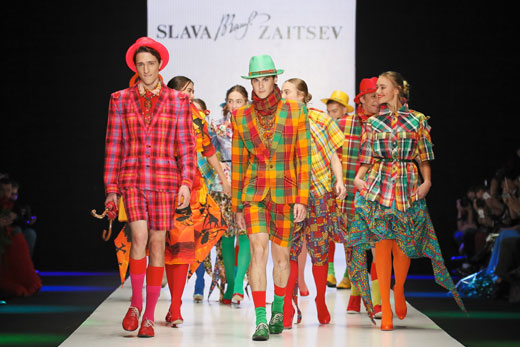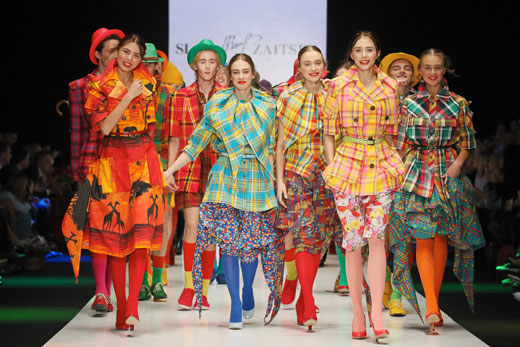 On October 22 Natali Leskova, ZARINA&Natalia Vodianova, LAROOM, Alena Akhmadullina, Razu Mikhina, VIVA VOX and debutants Vadim Merlis, I V K A, Tako Mekvabidze (Georgia), FUREDDO, MASTERPEACE, SOL'Designers and J.Kim presented their spring-summer collection. On October 23 FISICO Italian brand presented the Glamorous Marrakech collection consisting of beachwear looks. The same day featured a presentation of the debut collection of singer Keti Topuria and her KETIone brand. Also FashionTime Designers, YULIA KOSYAK, MD Makhmudov Djemal, GOGA NIKABADZE (Georgia), Alena Akhmadullina for Barbie, YASYA MINOCHKINA, ALEKSANDRA VANUSHINA, BEssARION, Eka Balanchivadze (Georgia), FRIJA, ZDDZ London and Aleksander Khrisanfov presented the collections.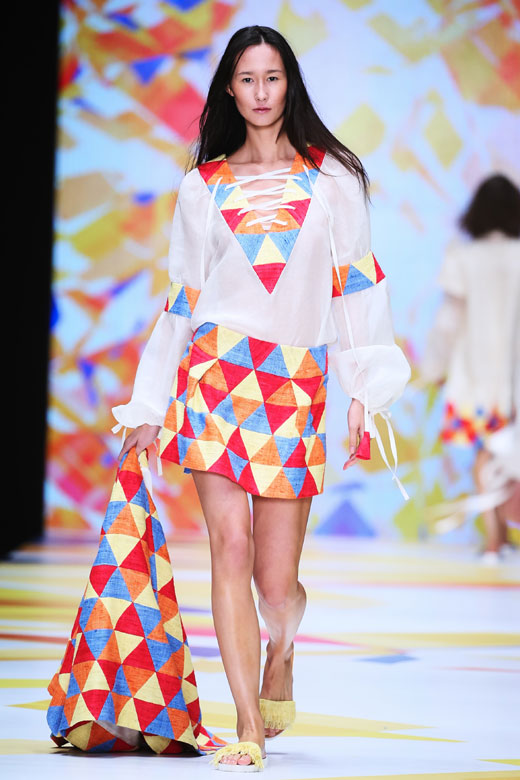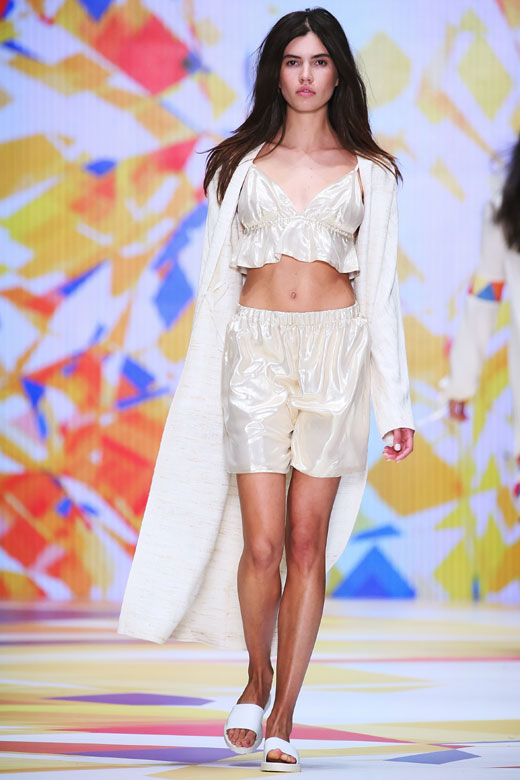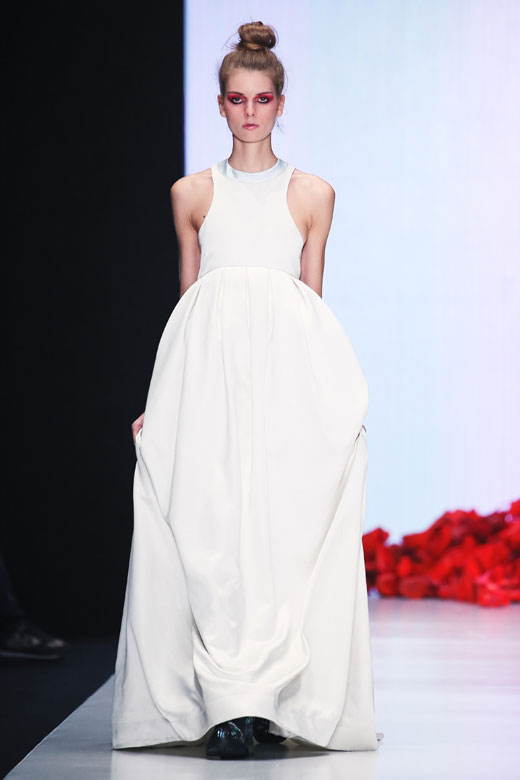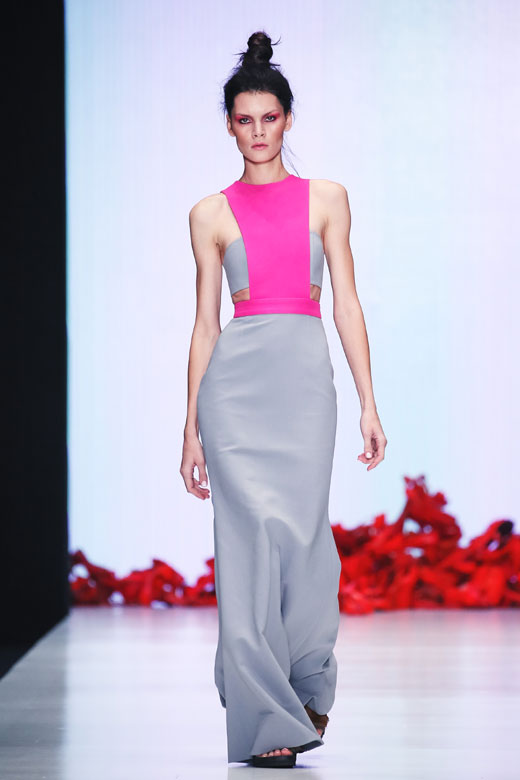 The October 24 opened with a collective runway show of Slava Zaitsev Fashion Laboratory graduates of various years. Tarik Ediz brand (Turkey) demonstrated a collection of evening gowns. The British Higher School of Art and Design presented a graduation show BA(HONS)FASHION and the show of the best graduation collections (Fashion Design department). Moreover, BELLA POTEMKINA, VERA KOSTYURINA, Diana Kvariani (Georgia), Saint-Tokyo, DIMANEU, OKSANA FEDOROVA, PIROSMANI BY JENYA MAKYGINA, Outlaw Moscow, LIZA ODINOKIKH, PUNK ART (Moscow Institute of Industrial and Applied Arts), My Go Shirt and Ria Keburia showed the spring-summer collections.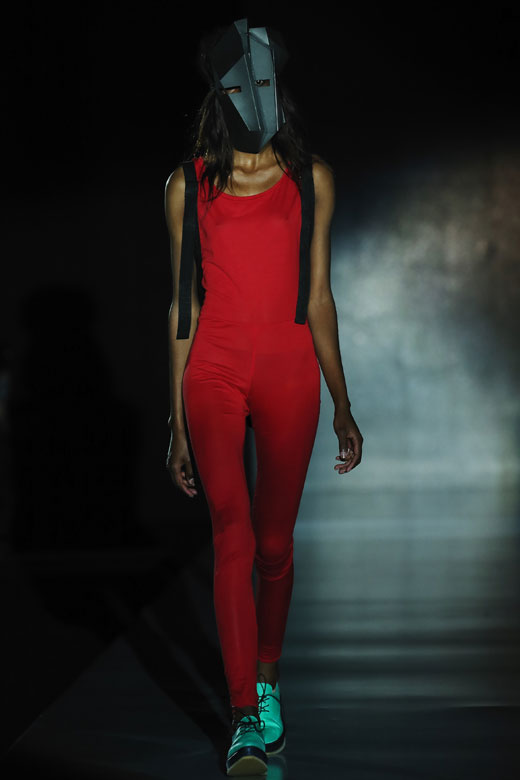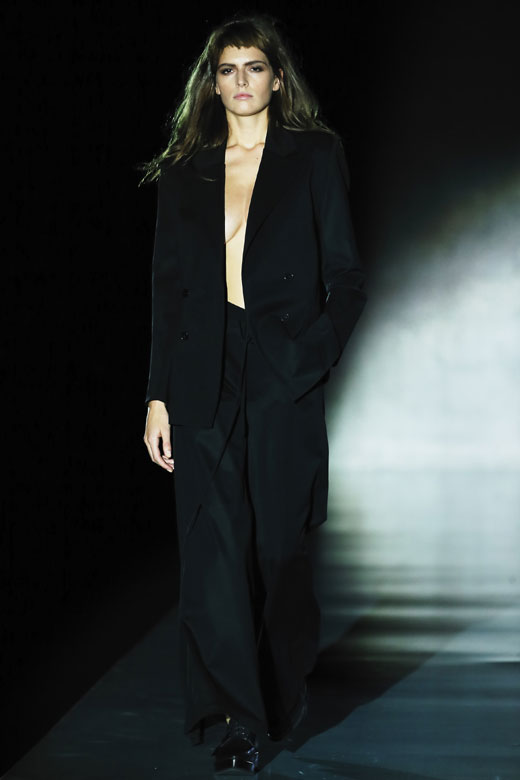 The last day started with shows by Detsky Mir and Oksana Fedorova and JUNOVA FASHION HOUSE. Also the finale of DHL: FIT THE TIME Young Designers Contest took place during the day. Then there were the shows and presentations by CONTRFASHION, MARI AXEL, Madina Varisova, YULIA NIKOLAEVA, Julia Dalakian, YULIA PROKHOROVA BELOE ZOLOTO, IGOR YORK ? Maison de chapeaux Lilia Fisher. IGOR GULYAEV closed the 31st season of Mercedes-Benz Fashion Week Russia.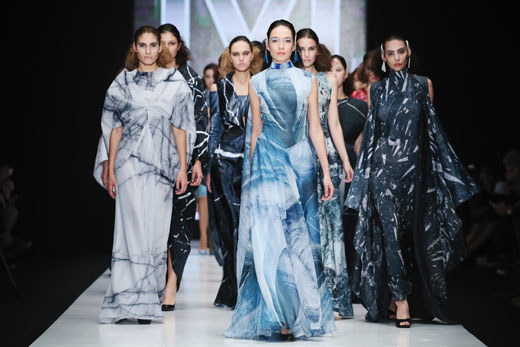 Socially oriented ZARINA&Natalia Vodianova and Bezgraniz Couture runway shows deserve special attention. ZARINA&Natalia Vodianova presented a new collection within the framework of the joint project Fashion with Purpose. The Naked Heart Foundation set up by Natalia Vodianova, which helps families raising children with special needs, contributed to the creation of this collection – the prints of the collection were based on the drawings of students of "Anton's Right Here" centre - Naked Heart Foundation's supported organisation for adults with autism. Bezgraniz Couture and British Higher School of Art&Design touched the audience by their WearABLE Future project, the goal of which is to learn to value the human beauty given by nature regardless of the body capabilities.

On October 24 and 25 the space before the Manege Central Exhibition Hall – the main stage of the Mercedes-Benz Fashion Week Russia – saw a streetstyle meet featuring the world famous photographers from the US and Russia, such as: Adam Katz Sinding, Craig Arend, Yana Davydova, Jonathan Paciullo, Acielle Tanbetova. The streetstyle meet also was attended by guests of the Mercedes-Benz Fashion Week Russia, including bloggers Sofi Eliseeva, Lisaveta Popova, Katya Mezenova, Tanya Vasilieva, as well as the art director of Kabuki boutique in Paris and the world streestyle star Elina Halimi.

"Fashion industry in Russia is only starting to develop, but I think that it has a great future. Many from what I have seen seems interesting and promising to me. I would like to give special thanks to the organizers of the MBFW Russian for a show featuring people with disabilities. I was really touched by this runway show and I am happy that people in Russia are starting to notice this problem", said Elina Halimi to a press meeting.

In addition to a large number of shows and presentations, Mercedes-Benz Fashion Week Russia has prepared a number of interesting projects. For example, MBFW Russia team created the 360-degree panoramic video, which has recently launched on Youtube. During the pre-production of the video it became clear that the MBFW Russia stage presents a marvelous opportunity to make a good quality and interesting product and to show the Fashion Week from every perspective and angle.

Another surprise for the guests and participants of the Mercedes-Benz Fashion Week Russia was the implementation of the first full-fledged project in the field of virtual reality fashion. YouVisit (USA) - the leading world manufacturer of virtual reality content, which transferred the world of Fashion Week in virtual space, was responsible for VR-shooting. The lecture, organized within the framework of the business program YouVisit representatives met all-comers, told about a joint project with MBFW Russia and offered to try to plunge into virtual reality with the help of special glasses. The video, which was filmed during Fashion Week, will soon be available for users.

Within the context of business program some important statements were made. On October 21 at the press conference of online project Fashion. Made in Russia the State Secretary, Deputy Minister of Industry and Trade Viktor Evtukhov and Business Development Director in Russia and CIS AliExpress Mark Zavadsky announced that the world's largest online store offers the option of partnership with Russian manufacturers.

On the second day there was a meeting with Filippo Ceroni - representative of Italian company Grazia Bagnaresi (SI-JAY, MARCOBOLOGNA, MIA HATAMI). An important point of the meeting was the announcement of the Mercedes-Benz Fashion Week Russia, the Italian manufacturer Grazia Bagnaresi and showroom Studio Zeta joint competition. It is aimed to find a designer for the new brand, which will be launched at the Italian factory.

Another important of the press conference held by the Russian State Social University and Russian Fashion Council, during which the university's rector Natalia Pochinok and Alexander Shumsky signed an agreement on the creation of Fashion Industry Academy that will be educating design and fashion events professionals.

Besides that, during the 31st season of the Mercedes-Benz Fashion Week Russia renowned international fashion illustrators Jae Suk Kim and Sasha Spring attended the meeting to depict the most vivid moments of the Mercedes-Benz Fashion Week Russia.

During the Week the shows were attended by many celebrities, such as Jurate Gurauskaite (Instyle), Svetlana Bondarchuk (HELLO!), James Goldstein, Evelina Khromchenko, Tatiana Navka, Elena Kuletskaya, Alexei Nemov (four-time Olympic gymnastics champion), Ekaterina Mukhina (stylist, creator of Mothers and Daughters project), Vlad Lisovets, Elena Temnikova, Konstantin Andrikopulos, Sasha Savelyeva, Julia Kovalchuk, Timati, Maria Kozhevnikova, Rita Mitrofanova, Vitaly Kozak, Natalia Turovnikova Ksenia Chilingarova, Lisa Arzamasova Dmitry Dyuzhev, Aurora, and others.

Title partner of Fashion Week is Mercedes-Benz. Mercedes-Benz Fashion Week Russia introduced a new Mercedes-Benz GLC, which is characterized by a large form. In technical terms, the new offroadster deserves the highest praise due to its high typical of brand safety and outstanding energy efficiency.

Partners of the event: L'Oréal Professionnel (official stylist), Mary Kay (official make-up artist), DHL (official logistics partner), Metropol (official hotel), El Corte Inglés (partner), Maxx Royal Resorts (partner).

Photos and information: image.net

Photos: 1 - 2: Models of Slava Zaitsev
3 - 4: Models of Laroom
5 - 6: Models of KetiOne brand
7 - 8: Models of PIROSMANI BY JENYA MAKYGINA
9 - Models of Madina Varisova


Hits: 9346 | Leave a comment

We are looking for men's suit tailors, fashion designers, managers, fashion consultants who want to share their knowledge and tips in an article or video and contribute to the site! Please email us at contributor@bgfashion.net Don't miss the opportunity as this will be a free advertisement for yourself and your menswear brand!