The world's first Harris Tweed three-piece suit created for a horse
The story of Harris Tweed - one of the most desirable wool textiles in the world - begins with pure virgin wools blended together to gain the advantages of their unique qualities and characteristics. It is produced in the Outer Hebrides of Scotland - on one island with two names, separated only by a mountain range - the islands of Lewis and Harris. 'Its design and production methods provide weights, colors and infinite patterns of cloth perfectly suited to the demands of today's fashion and furnishings for both traditional and designer ranges'.
To prove this statement, fashion designer Emma Sandham-King (an apprentice of the late Alexander McQueen) created the world's first three-piece Harris Tweed suit for a horse to celebrate horse racing's 2016 Cheltenham Festival (starting on Tuesday).
The creating process took 4 weeks and more than 18 meters of tweed, which is 10 times as much fabric as an equivalent human suit. Below you can see a picture of the Former jockey A.P. McCoy wearing Harris olive three-piece suit and a matching driving cap perfectly combined with the horse version of the same attire, presented by the race horse Morestead.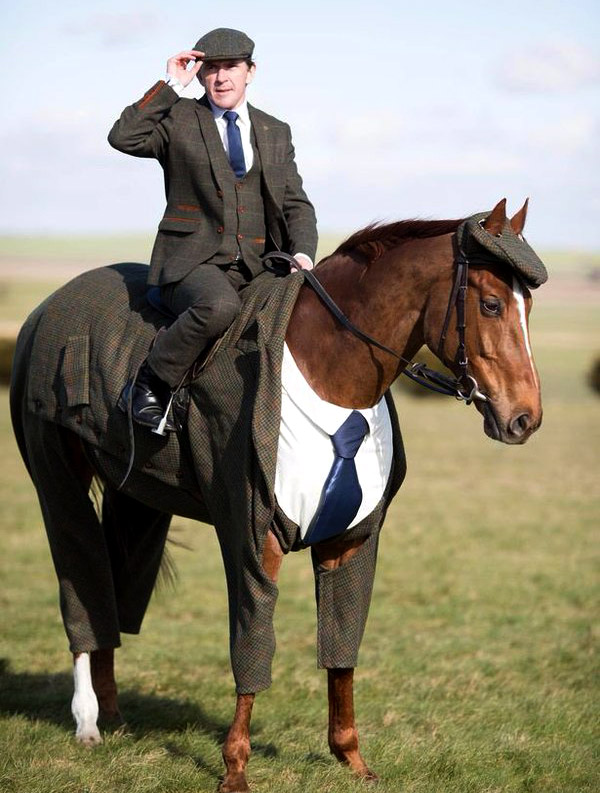 The horse-sized garment was commissioned by bookmakers William Hill.

'Creating the world's first tweed suit for a horse has been one of the biggest challenges that I have faced in my career as a designer. Some models can be real divas, but veteran racing horse Morestead was calm and a pleasure to work with. Tweed is undergoing a massive revival and this year's Cheltenham Festival will see the most tweed worn since the 1960s', commented Sandham-King.

Photo: twitter.com


Hits: 5506 | Leave a comment