Alex Knight awarded TOCICO Lifetime Achievement Award
On the second day of the 2017 TOCICO International Conference Alex Knight was awarded the TOCICO Lifetime Achievement Award.
In his speach he talked about his book "Pride and Joy" and the words that Dr Eli Goldratt wrote to him in the book: "Because it is our inherent inclination not (he underlined NOT three times) to examine our actions according to our changing understanding. I do hope this week will help you to notice (and overcome) this tendency." Mr. Knight commented: "It has taken me 25-30 years to try to understand what it is about. And I think this is relevant today, because this week we are all having the opportunity to learn new things, to see new ideas presented by many brilliant people from the TOC community. And it is all very well improving our understanding."
Alex has pioneered the application of Dr Goldratt's Theory of Constraints in many industries across the world, including healthcare, financial services, manufacturing and FMCG. Alex was personally mentored by Dr. Goldratt for over two decades and is the inventor and developer of QFI's TOC applications and consulting interventions. Alex also leads QFI's Masters in TOC programs at Nottingham Business School.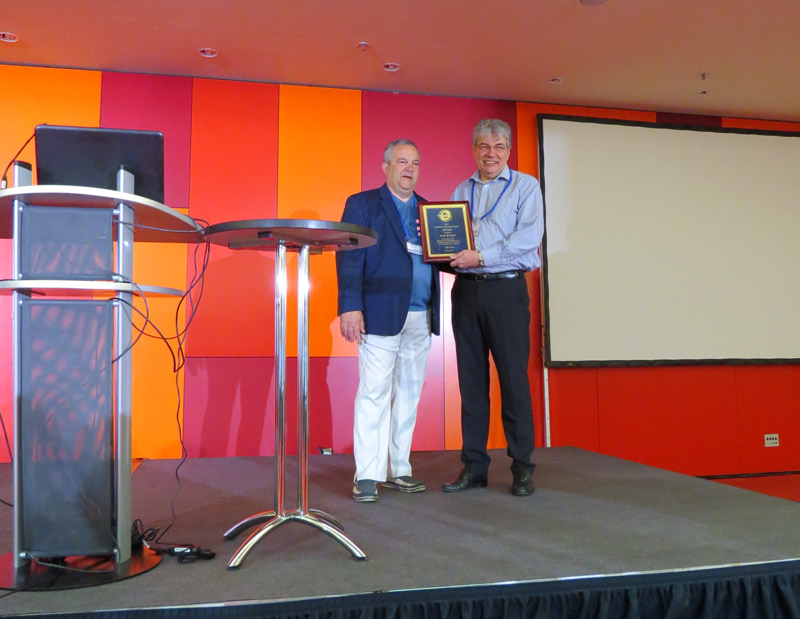 Alex Knight (right) receiving the TOCICO Lifetime Achievement Award
Pride and Joy, by Alex Knight
Pride and Joy is a novel about a struggling, fictional hospital. The first third focuses on answering the questions, 'Why is there a need for change?' and 'What to change?' The analysis is based upon the typical situation found at a local level.

The middle third of the book applies the Theory of Constraints (TOC) to the hospital's major streams of care and links in the healthcare chain. The Theory of Constraints was invented by Dr Eliyahu M. Goldratt and is best known through his book, The Goal. TOC is based on the belief of inherent simplicity—that in any goal-oriented system there are only ever a few places that have the power to affect the performance of the whole system: the weakest link(s)/constraint(s). In Pride and Joy the TOC principles have been adapted to fit the healthcare environment and through logical derivation the reader sees how the ideas are practical, common sense and can be implemented in a short timescale to achieve unprecedented results.

The final part of the book demonstrates how a nation can safely, and in an affordable envelope, achieve a breakthrough in performance at a national level and provides a working hypothesis for a global solution that involves a change in mindset of all stakeholders in the chain.

The book has been written as a novel to address a major point: such a paradigm shift in thinking needs to occur at all levels of the system—preferably simultaneously. As such, the audience for this book is anyone who is involved in, interested in and responsible for health care at a local, national and global level.


Hits: 3699 | Leave a comment