Alberto Vedelago: "Elegance is the mirror of our personality"
Massimo Gava
Do the words "taste" and "elegance" still have much meaning these days? Or are they being edged out by the most opulent and narcissistic behavior? – This is me thinking aloud because I am struggling to come to terms with realities of certain situations. In this hell of opulence I believed that elegance need to be noticed, not excessively displayed. I guess, in a DANTE way, I need a Virgil who can take me out of this inferno. Alberto Vedelago comes to my rescue as my mind is cracking up.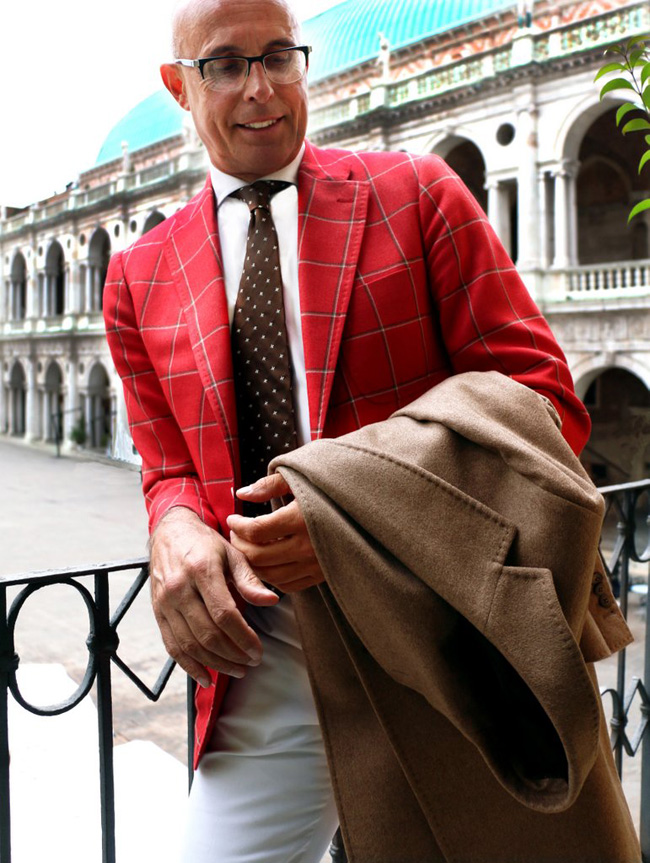 He has written a book titled Return Ticket to Suit and Tie where he explains the concept of elegance. Listening to Alberto talking about Italian style is almost like listening to a philosopher because he does not teach you what to wear but shows you how to be aware and comfortable in your own clothes. Alberto's clients are literally pampered in selecting the most sophisticated fabrics available in the world. He also gets deep into their personality so that he can match their expectations. He is a mix between personal stylist, personal shopper and personal tailor. In this way you case to be the passive customer making choices based on suggestion planted indirectly into your psyche. Instead you take full control of what you wear as if you are choosing a second skin.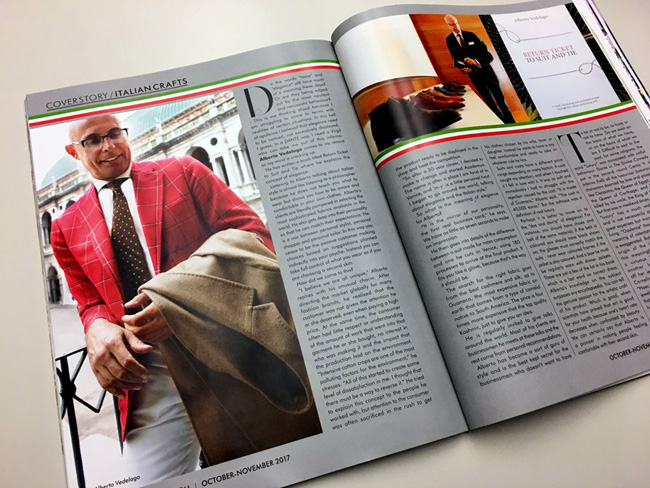 How did we come to this?
"I believe we are all unique," Alberto replies with his unusual charm. After directing the market globally for many fashion brands, he realized that the customer was not given the attention he or she deserved, even when paying a high price. At the same time, the consumer often had little respect or understanding of the amount of work that went into that garment he or she bought, no interest in who was making it and the impact the production had on the environment. "Intensive cotton crops are one of the most polluting factors for the environment," he stresses. "All of this started to create some level of dissatisfaction in me. I thought there must be a way to reverse it." He tried to explain this concept to the people he worked with, but attention to the consumer was often sacrificed in the rush to get the product ready to be displayed in the shop and beat the competition.
"So after a 30-year career, I decided to make a change and started Academya. The name is after a place I am fond of in Venice, and 'm-y' is a little personal twist. I began to go around the world, talking about elegance and the Italian style."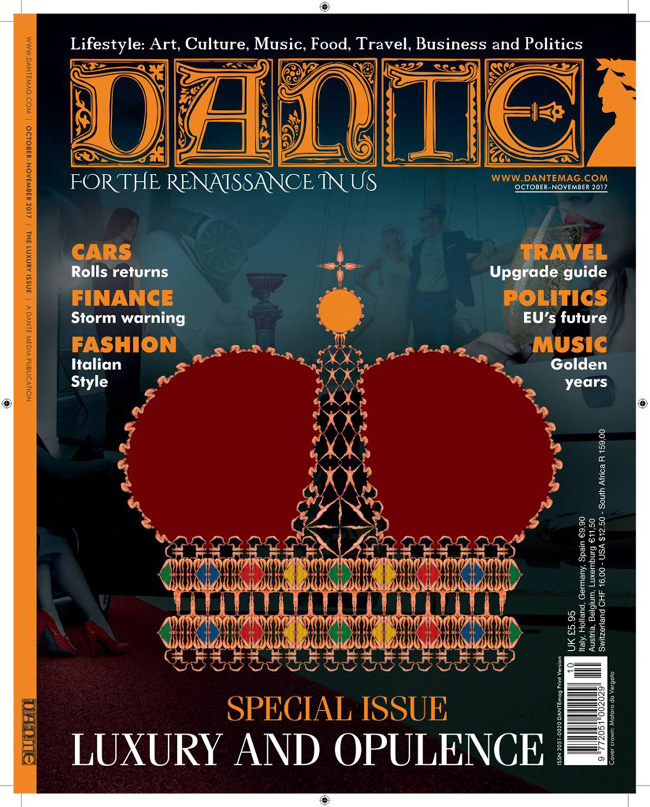 So what is the meaning of elegance for Alberto?
"It is the mirror of our personality, the first real business card," he says. We have as little as seven seconds to make an impression. He then goes into details of the difference between a suit made for mass consumption and one he cuts in Venice, using 180 processes to arrive at the final product. It fits you like a glove, because that's the way it should be.
The search for the right fabric goes from the best cashmere and silk, up to Guanaco, the most expensive fabric on earth that comes from a type of camelid native to South America. The price is four times more expensive that the top quality Kashmir, just to give you an idea.
He is regularly invited to give talks around the world. Most of his clients are businessmen he meets at these talks and the rest come from personal recommendations.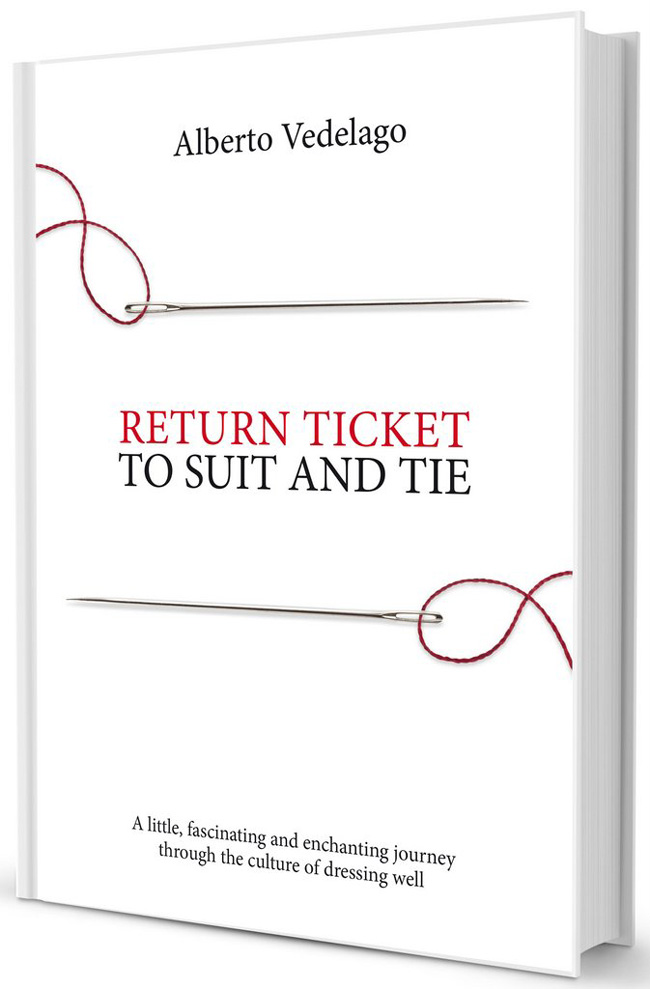 Alberto has become a sort of guru of style and is the best kept secret for the businessman who doesn't want to have his clothes chosen by his wife, lover or daughter. Instead he wants to have a say, feel comfortable and ready to take on whatever role he has.
Suits and coats have a different price range depending on many factors. A coat caught my attention, and when I touched it I fell in love with it. It was so soft and immediately I had to struggle with the rejection caused by the cost. "It is made of Guanaco," Alberto said. "The cost is 40,000 euros." But the softness was a definition of real luxury.
Perhaps it is better to move on to the "dos and don'ts" of elegance! For instance, you should have shoes and belt of the same material; if the belt is colored you should have black shoes on; the glasses must correctly match the suits – never wear colored frames if the jacket is also colored. And a bow ties must be regularly worn with dinner jackets. These are just a few of the list in his books which is a last word on correct dress. Alberto's knowledge in the subject surpasses any encyclopedia. You can tell the genuine passion for the artistic craft of his product. Which is good, when scientists have proved that art is good for your health because one's heart rate decreases when confronted by beauty. We can certainly say that Alberto is a pioneer in making people feeling comfortable with their second skin.
To be or not to be, to have or not to have. Do we exist on the basis of what we have, or no the basis of what we are? Difficult to say! In the past, for some religions, the word "luxury" was associated with sinful behaviour. Dante in The Divine Comedy put in the second round Canto V of Inferno (hell) all the lussuriosi (luxurious), characters doomed by love and passion - like Cleopatra, the Queen of Egypt; Dido, the Queen of Carthage; and Tristan, killed by his uncle, the King of Cornwall. But that was in medieval times. Nowadays "luxury" has a much wider meaning and is not necessarily associated with great expenses but more with a way of living. "Opulence" though has taken the meaning of ostentation, something that is exaggerated. But if we go back to the origin of the Latin word, consider this meaningful story of Cornelia, a virtuous Roman lady. She met another lady who was showing off her jewels full of precious stones. Cornelia casually remarked back, "Haec ornamente mea" (here are my jewels), pointing at her children. I`m sure that this is not what those American stars had in mind when they adopted theirs. But it provides in a nutshell the perfect answer to the question we posed right at the beginning.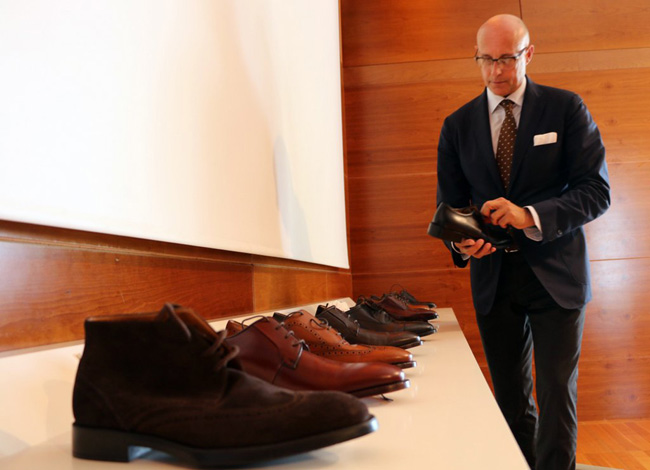 Source: DANTE MAGAZINE, COVERSTORY/ITALIAN CRAFTS, October-November 2017 http://www.dantemag.com

Photos:
1. Alberto Vedelago in front of Basilica Palladiana in Vicenza (2016).
2. Alberto Vedelago with shoes by ACCADEMYA.
3. Book cover: "Return ticket to suit and tie".
4. Cover of Dante Magazine, October-November 2017.
5. The article by Massimo Gava in Dante Magazine.
Photo credit: Personal archive Maurizio Sangineto / ACCADEMYA.


Hits: 5508 | Leave a comment