Modefabriek January 2018 edition events
Modefabriek is recognised as a procreative and inspiring fashion trade event, proudly based in Amsterdam. Since its founding in 1996, it has evolved into much more. Today, Modefabriek is a mash-up of brand presentations, fashion shows, expos, stores, talks, classes, food & drinks, music – and more.
Modefabriek prides itself on creating a festival that is relaxed and friendly, with all fashion professionals united in a desire to touch base and touch hearts. An event where P2P (People 2 People) is valued above B2B.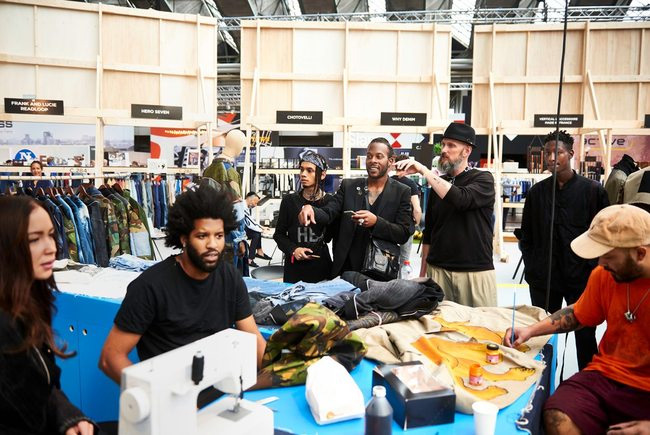 SHOPPING IN - LONDON
Place: WEST HALL
This winter the shopping streets of London are closer than you think! Take your time for some shopping, enjoy a cup of tea and get your nails done. Follow THE STRIP to Union Jack and you can't miss it!BLUHAVEN, BRACHA design, Club Manhattan, La Collerette, Moments of Light, RAYNSIE, REAL FAKE + goat, Rock Your World, Rein Cityspa, T's, Things I Like Things I Love, T.I.T.S. and WIJCK.

MF PEOPLE
Place: NORTH HALL
They are the international runway and street style photography team from The Netherlands. Team Peter Stigter shoot all the major international shows in London, Paris and Milan, as well as national fashion graduate shows and Amsterdam Fashion Week. They will also be capturing people all over Modefabriek, so dress your best and check out our social channels, #MFpeople to see who got snapped!

MF TRIBUTE TO
Place: CENTRAL HALL
TRIBUTE TO SLOGAN T-SHIRTS
JUST WEAR IT!
Whatever it is you want the world to know: say it loud and say it proud! Modefabriek pays TRIBUTE to the slogan t-shirt. A cultural phenomenon originating from Vivienne Westwood and Malcolm McLaren's punk movement and from Katharine Hamnett, who invented the iconic BOLD TYPE protest t-shirt made famous by models and artists. Long live the slogan t-shirt!

FASHION MATCH
Place:NORTH HALL
FOR ANYONE WANTING MORE IN BUSINESS
Do you want to expand your international fashion network or connect with potential business partners? Together with Enterprise Europe Network (EEN) and KvK, they are pleased to invite you to join the Fashion Match program at Modefabriek.
Modefabriek is the place to be for the fashion industry when it comes to exchanging names, numbers, ideas and experiences. In the mass of many national and international visitors and exhibitors, the Fashion Match sessions will allow you to get together with new future business partners.20 MINUTES A typical Fashion Match 'date' takes about 20 minutes at Modefabriek's Fashion Match lounge. The meetings are short, free of charge and free of obligations. The meetings will be conducted in English.


Hits: 7118 | Leave a comment