An Evening of Smart Innovation that Showcased New Standards for Fashion
On Thursday, March 22nd, C.L.A.S.S., with support from the Council of Fashion Designers of America (CFDA), hosted an intimate gathering of fashion's industry leaders, educators, designers and members of the press to celebrate An Evening of Smart Innovation. The event was beautifully orchestrated by Ginger Design, an exceptional team of Italian creatives, filmmakers, food and textile designers as a way to create a unique immersive experience telling the story of C.L.A.S.S.' visionary journey. Thus, providing guests with an awareness and chance to embrace knowledge related to four key areas that set new standards for fashion vital to C.L.A.S.S.' business philosophy: Heritage, Smart Innovation, Circular Economy and Design Responsibility.
Imagination and responsibility at the forefront of the event, guests entered to view a film by Cristina Picchi that represented harmony between the various phases of the textile process and the cycles of natural elements. The piece de resistance was a three-dimensional installation designed by C?cile Feilchenfeldt that contained exquisite knits allowing guests to walk through the area to inspire creativity and explore the limitless possibilities using innovative smart materials. So, with responsible design in mind the guests were able to touch and feel the luxurious smart textiles supported by sustainable credentials from Bacx by Centro Seta, Bemberg™ by Asahi Kasei, ECOTEC® by Marchi & Fildi, Organic Cotton Colours, Re.VerSo™, ROICA™ by Asahi Kasei, TINTEX Textiles, and Zignone. The new generation of beautiful cottons, rich silks, lush wools and opulent cashmeres showcased throughout the C.L.A.S.S. event currently available to the market.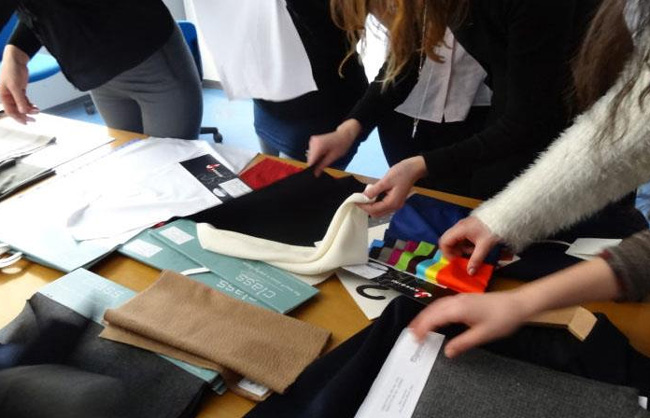 Giusy Bettoni and the C.L.A.S.S. team from Milan and New York, as well as several of their partner representatives from around the globe were on hand to engage designers and educators and answer questions related to smart materials and processes. Designers and educators were pleased to learn about the new C.L.A.S.S. e-commerce site dedicated to emerging designers and fashion startups, as well as new details regarding C.L.A.S.S. Education as a university learning resource, co-founded with James Mendolia, FIT Professor, MFA Fashion Design and FIT Sustainability Council Member.

Attendees included: Julien Labat, president of Edun and Marilyn Balkaransingh Director of Fabric R&D of Edun, J.R. Campbell and Young Kim Thanos of Kent State's School of Design and Merchandising, Lisa Smilor and Stephanie Soto of CFDA, Nomi Dale Kleinman of FIT, Susan Easton, founder of From the Road, Nicole Fischelis, Heron Preston, Luciana Scrutchen of Parsons School of Design and Kay Unger, chair of the Board of Governors for Parsons, among others.


Hits: 9826 | Leave a comment