Brazilian and French are the best bottoms in the world
* Melanie Nunes Fronckowiak and Saiba Bombote are the new winners in the world contest "Show me your "Sloggi"
* * Merited presentation of Biliana Yotovska and Martin Mednikarov
Paris – Sofia
In Parish finished the final of the world contest "Show me your "Sloggi" (well-known as contest of the best bottom in the world), organized by the youth line "Sloggi" of the famous giant for underwear and swimming suits "Triumph". Winners became the 20-years-old Melanie Nunes Fronckowiak (Brazil) and the 27-years-old Saiba Bombote (France). Every one of them receives 15 000 EUR plus one-year advertising agreement with "Sloggi" and together with this an exclusive insurance of the precious behind.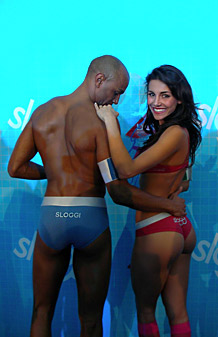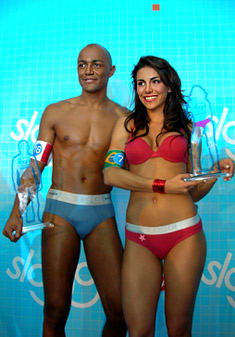 The event conducted in the sport center in Paris "Club Quartier Latin" and it was lead by the legendary ex-presenter of "MTV" Ray Cox. In the extremely close contest participated 45 competitors from 26 countries of all over the world. The Bulgarian finalists – Biliana Yotovska and Martin Mednikarov presented them selves with dignity and eliminated the half of the participants, as they reached the semi final.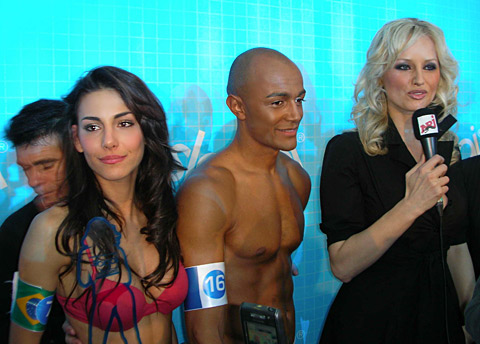 The jury was presided by the dazzling Adriana Karembeu – the top model with the longest legs in the world, and among the members distinguished the famous French astronaut from the European cosmic agency Paolo Nespoli who flied in the cosmos with underwear "Sloggi", the original painter Stan Murmur, the manager of the French edition of magazine "FHM" Lomig Guillo, Michael Reis from "Invista" (the company, that is owner of the material "Licra"), Thomas Herreiner – managing director of "Sloggi" and the last year winners of the final in Munich – our charming compatriot Kristina Dimitrova and the Romanian Andrei Andrei. During the show was showed the newest collection underwear and swimming suits of "Sloggi", spring-summer 2009. The contest and the artistic program conducted at stage, especially built on the swimming pool of the elite sport club and the dressing-boxes and the inevitable interior attributes of the swimming halls were inventively used in the original scenography.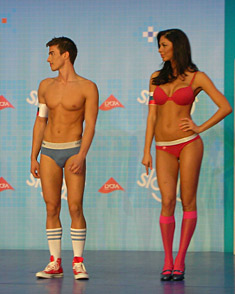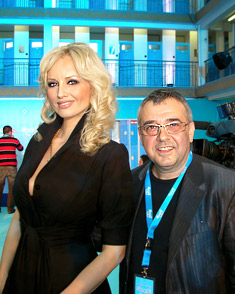 Photos:
1. and 2. The best bottoms in the world – the winners in the contest of "Sloggi" Melanie Nunes Fronckowiak from Braziland Saiba Bombote from France.
3. Melanie Nunes Fronckowiak, Saiba Bombote and Adriana Karembeu after the announcement of the results from the contest "Sloggi"
4. The Bulgarian finalists Biliana Yotovska and Martin Mednikarov
5. Adriana Karembeu and Lubomir Stoykov

Photo © Lubomir Stoykov

Read more in Fashion Lifestyle Magazine

VIDEO:


Hits: 47704 | Leave a comment