Hulu surges past 20 million US subscribers
During the Hulu 18 Presentation at the newly-named Hulu Theater at Madison Square Garden, executives took the stage to reveal the company's rapid growth, announce multiple original programming and exclusive acquisition deals that expand Hulu's content offering, and unveil new product and measurement innovations that will bring the future of television to the advertising business.
Reinforcing Hulu's position as one of the world's top 10 direct-to-consumer entertainment brands, the company announced that it has surpassed 20 million U.S. subscribers and has grown total engagement on Hulu by more than 60%. In addition, Hulu revealed that 78% of viewing on the service takes place in the living room, on connected TVs.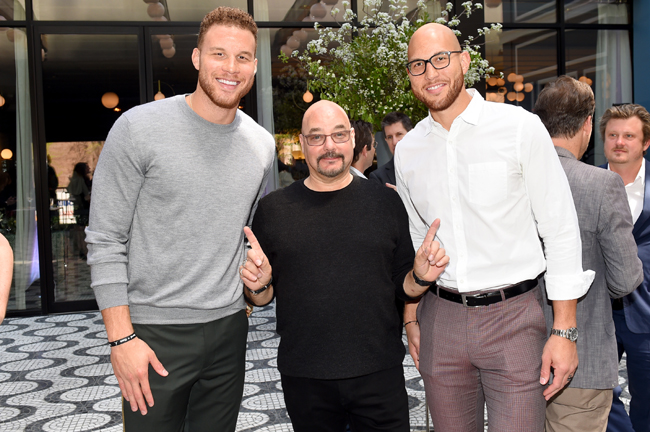 Blake Griffin, Joel Stillerman and Taylor Griffin attend the Hulu Upfront 2018 Brunch at La Sirena on May 2, 2018 in New York City. (Photo by Nicholas Hunt/Getty Images for Hulu)
"Hulu is the complete TV experience for consumers, offering both live and on-demand programming and more consumer choice than ever before," said Freer. "We are the only place that delivers award-winning content, ad loads less than half that of traditional television, with ads that are always viewable and always in a brand-safe environment -- and we are leading the TV and advertising industries into the future."
Announcements at this year's presentation include:
New Series Four Weddings and a Funeral and Ramy Join Catch-22, The First, Castle Rock and Little Fires Everywhere as Hulu Originals
Hulu has expanded its slate of critically-acclaimed original series with new series orders for Four Weddings and a Funeral and Ramy, which join upcoming Hulu Originals Castle Rock, Hulu's second project from J.J. Abrams and Stephen King set to premiere on July 25; Catch-22, from George Clooney and starring Kyle Chandler; The First, from Beau Willimon and starring Sean Penn; and Little Fires Everywhere, from Reese Witherspoon and Kerri Washington, based on the acclaimed novel of the same name.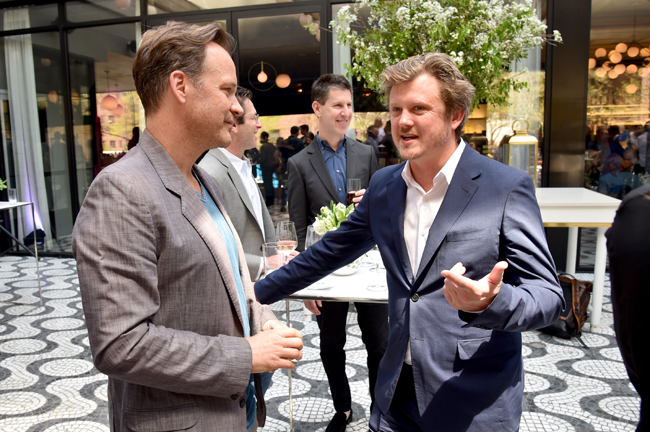 Peter Saarsgard, Daniel Futterman, Craig Erwich and Beau Willimon attends the Hulu Upfront 2018 Brunch at La Sirena on May 2, 2018 in New York City. (Photo by Bryan Bedder/Getty Images for Hulu)
Today, the company confirmed an order for Four Weddings and a Funeral, a limited series written and executive produced by Mindy Kaling and Matt Warburton, inspired by the 1994 British romantic comedy film. The series will follow a group of friends as their lives intersect through five events. Kaling and Warburton – who teamed up together for The Mindy Project - will executive produce alongside Jonathan Prince, Howard Klein (3 Arts), Tim Bevan and Eric Fellner (Working Title).
The series comes to Hulu from MGM Television and Universal Television, with MGM serving as the lead studio, and marks Mindy Kaling's second original series with Hulu following The Mindy Project. The project marks the second project with MGM Television following The Handmaid's Tale and its third project with Universal Television following The Path and The Mindy Project.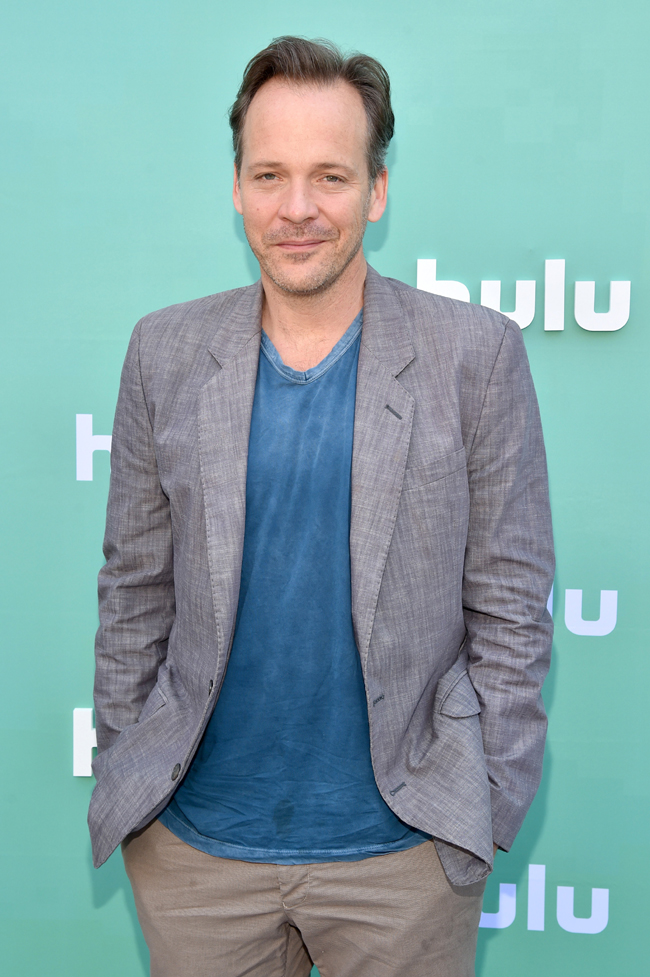 Peter Sarsgaard attends the Hulu Upfront 2018 Brunch at La Sirena on May 2, 2018 in New York City. (Photo by Bryan Bedder/Getty Images for Hulu)
Hulu has also given a series order to Ramy, a groundbreaking comedy series based on the real-life experiences and comedy of Ramy Youssef. The series takes viewers into the world of Ramy, a first generation American Muslim who is on a spiritual journey in his politically-divided New Jersey neighborhood. Ramy will bring a new perspective to the screen as it explores the challenges of what it's like being caught in between an Egyptian community that thinks life is moral a test, and a millennial generation that thinks life has no consequences.
Ramy is written, executive produced, created by and starring Ramy Youssef, and executive produced by Jerrod Carmichael, co-creators Ari Katcher and Ryan Welch as well as A24's Ravi Nandan. The series marks the first original series order for Hulu from A24, an award winning New York-based media company focused on the distribution, financing, development and production of television and feature film projects.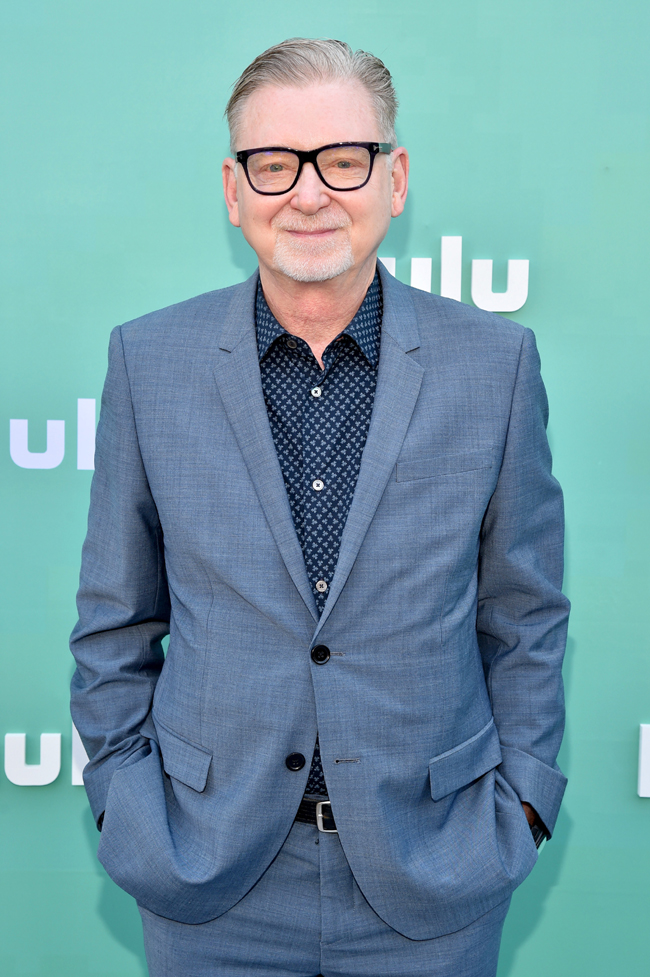 Warren Littlefield attends the Hulu Upfront 2018 Brunch at La Sirena on May 2, 2018 in New York City. (Photo by Bryan Bedder/Getty Images for Hulu)
Hulu and Blumhouse Television Reveal Into The Dark Year-Round Horror Event Series
In partnership with Blumhouse Television, Hulu unveiled Into The Dark, a brand new horror event series from prolific, award-winning producer, Jason Blum's independent TV studio. The series will include 12 standalone super-sized episodes, with a new installment released on the first Friday of every month throughout the year. Each episode is inspired by a holiday from the month of it release, but all will feature Blumhouse's signature genre/thriller spin on the story. Blumhouse Television, drawing on its deep talent relationships, is working with a broad section of filmmakers, creators and actors to bring this unique, first-of-its-kind series to Hulu audiences.
The first story, The Body, premieres on Friday, October 5. Set in the selfie culture of Los Angeles on Halloween night, The Body follows a sophisticated, overconfident hitman who always carries out his work in style. He decides to take things even further one day by transporting his latest victim in plain sight, correctly assuming that self-absorbed LA partiers will simply be enamored with his elaborate "costume." Eventually, as his window of opportunity to dispose of the body begins to close, Wilkes' true colors reveal themselves to some groupies that have latched on to him. It becomes a battle of will and wits.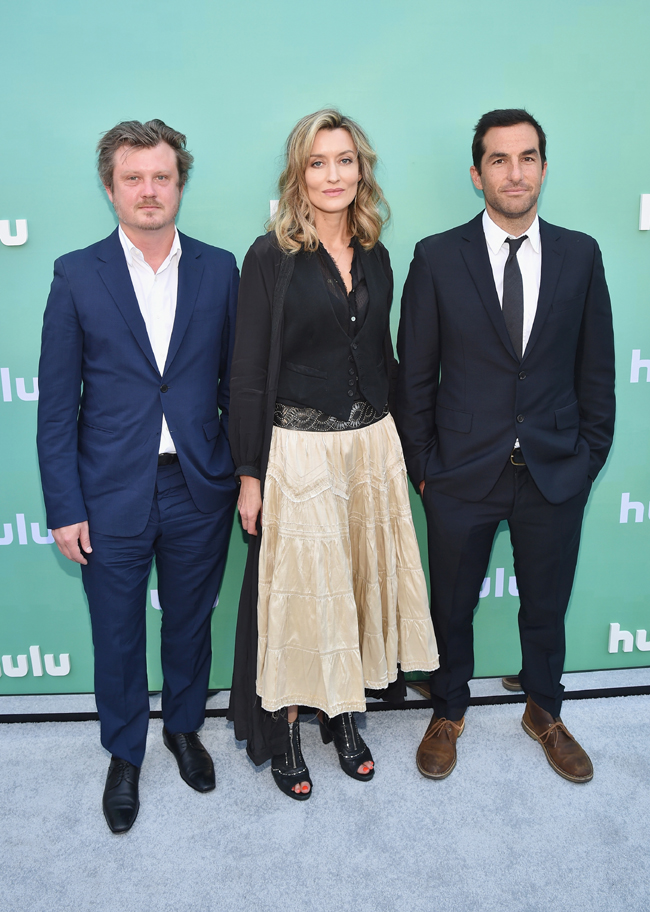 (L-R) Beau Willimon, Natasha McElhone and Jordan Tappis attend the Hulu Upfront 2018 Brunch at La Sirena on May 2, 2018 in New York City. (Photo by Bryan Bedder/Getty Images for Hulu)
Based on a short film of the same name, The Body will be directed by Paul Davis and will star Tom Bateman (Murder on the Orient Express, Vanity Fair) as Wilkes, the suave, professional hitman, and Rebecca Rittenhouse (The Mindy Project, Blood & Oil) as Maggie, a feisty, whip-smart, woman who becomes captivated by Wilkes the more she learns of his real profession. Aurora Perrineau (Blumhouse's Truth or Dare) plays Dorothy, who uses her cynicism and resourcefulness to try to outwit Wilkes. She is joined by David Hull (Crazy Ex-Girlfriend, Insecure) as Allan, and Ray Santiago (Ash vs Evil Dead, Meet the Fockers, In Time) as Jack -- both are Hollywood and Internet wannabes whose cluelessness complicates the evening time and again. The script was co-written by Paul Fisher, who will also serve as a producer on the project, and Davis. Alexa Faigen (Safe House, Love Happens) is executive producing for Blumhouse.
Into the Dark's second installment, to be released on Friday, November 2, will be Flesh & Blood, directed by Patrick Lussier (My Bloody Valentine, Dracula 2000). Dermot Mulroney (August: Osage County, Shameless, The Wedding Date) stars as Henry, a doting father trying to help his daughter, Kimberly, a teenager suffering from agoraphobia, who has not left the house since her mother's still-unsolved murder. Kimberly is played by newcomer Dana Silver, and Tembi Locke (Dumb and Dumber To, Eureka) plays her therapist. Set on the eve of Thanksgiving a year after her mother's death, Kimberly begins to suspect that she is in danger in the home, but she can't leave and doesn't know who she can trust.
The Handmaid's Tale Renewed for Season Three
Following its record-breaking season two premiere last week -- which has already doubled its audience versus season one -- Hulu has renewed the Emmy and Golden Globe Award-winning series The Handmaid's Tale for a third season.
Since its premiere in April 2017, The Handmaid's Tale has gone on to become the first series ever on a streaming video on-demand service to take both the Golden Globe and Emmy Award for Best Drama Series. The Handmaid's Tale is an eight-time Emmy Award-winning drama series and has garnered more than 30 prestigious awards to date, including a 2018 Peabody Award.
Based on the award-winning, best-selling novel of the same name by Margaret Atwood, The Handmaid's Tale became the most-viewed series debut on Hulu ever in its first week and has drawn acclaim from both fans and critics since its series premiere. Starring Elisabeth Moss, Joseph Fiennes, Yvonne Strahovski, Alexis Bledel, Madeline Brewer, Ann Dowd, O-T Fagbenle, Max Minghella, Samira Wiley, and Amanda Brugel, the series is created for television by Bruce Miller, who serves as the series' showrunner. The Handmaid's Tale is executive produced by Miller, Warren Littlefield, Daniel Wilson, Fran Sears, Ilene Chaiken and Elisabeth Moss. Margaret Atwood serves as a co-executive producer for season three of the series. /p>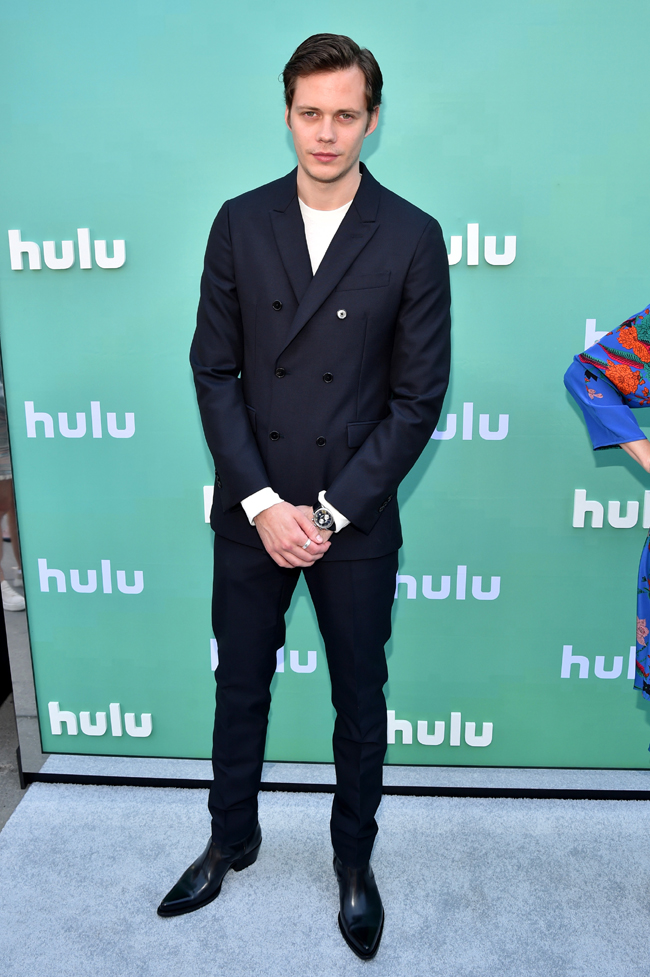 Bill Skarsgard attends the Hulu Upfront 2018 Brunch at La Sirena on May 2, 2018 in New York City. (Photo by Bryan Bedder/Getty Images for Hulu)

Hulu Continues Adding the Best of TV With Exclusive SVOD Deal For Broadcast's No. 1 New Drama, The Good Doctor
Under a new agreement with Sony Pictures Television, Hulu is now the exclusive SVOD streaming home to ABC's hit drama series The Good Doctor. The complete first season of the series is now available on Hulu, and future episodes will become available the day after their original broadcast on ABC. Following last year's acquisition of NBC's This Is Us, this marks the second consecutive year Hulu has secured exclusive SVOD rights to broadcast's #1 new drama.

The Good Doctor – which just wrapped up its first season – was recently renewed for a second season following a breakout premiere. The series has become ABC's most watched freshman series in 13 years and delivered triple-digit year-over-year time period increases to Monday's 10 o'clock hour for ABC in Total Viewers (+172%) and Adults 18-49 (+162%).

The series stars Freddie Highmore, Antonia Thomas, Nicholas Gonzalez, Chuku Modu, Beau Garrett, Hill Harper, Richard Schiff and Tamlyn Tomita. The series is from Sony Pictures Television and ABC Studios. David Shore is writer and executive producer. Daniel Dae Kim, David Kim, Seth Gordon and Sebastian Lee are also executive producers.

The Good Doctor joins a growing list of hit ABC series now streaming exclusively on Hulu in SVOD, including Sony Pictures Television's The Goldbergs.

Hulu Strikes Its Largest Kids & Family Licensing Deal to Date in First-Ever Agreement with DreamWorks Animation
Hulu today announced its first-ever multi-year deal with DreamWorks Animation, making Hulu the exclusive streaming home to future slates of DreamWorks Animation feature films, as well as iconic DreamWorks library films. In addition, Hulu will work with DreamWorks Animation Television to develop original kids & family series for exclusive streaming based on the company's popular franchises and upcoming feature films. This marks the first time Hulu has partnered with a major studio in a multi-series commitment to debut original kids & family content.

Through the deal, Hulu will become the exclusive U.S. streaming home to future theatrical releases from the studio beginning in 2019, including upcoming franchise films How to Train Your Dragon: The Hidden World, The Boss Baby 2 and Trolls 2, in the pay one window. It will also expand Hulu's film offering in the coming years with a catalog of popular library films from the studio including Shrek, Shrek 2 and Shark Tale, the first time DreamWorks Animation titles will become available to stream on Hulu.

As part of Hulu's commitment to expanding its library with family programming, the deal also makes Hulu the home to a slate of new, original series inspired by characters from DreamWorks' hit franchises and upcoming feature films. DreamWorks Animation Television will develop and produce the series, which will debut on Hulu beginning in 2020.

Hulu To Introduce Advertising in Live TV
Beginning later this quarter, Hulu will begin offering dynamically inserted advertising within its Hulu With Live TV product. This will allow brands to reach Hulu's young and engaged audience in its live sports, news and entertainment programming. This capability will be introduced across select cable networks and roll out onto additional live content over the coming months.

Hulu to Launch the Industry's First Ad-Supported Downloadable Content Experience
Today, Hulu announced its plans to become the first company to offer a downloadable content experience with opportunities for advertisers. The new feature will make it possible for subscribers to access their favorite shows and movies on the go, with no internet connection required, and will give advertisers the opportunity to reach their target audiences in a viewing experience never before available to advertisers.

"Our launch of the industry's first ad-supported downloadable content experience is yet another example of how Hulu is innovating viewer-first ad solutions to drive powerful results for brands" said Peter Naylor, SVP of Advertising Sales at Hulu. "With downloadable content, we're offering brands more ways to connect with engaged viewers who love the experience of watching television, wherever they may be."

The experience will launch on Hulu during the 2018-19 upfront season.

Hulu Establishes Digital Ad Ratings as the New Currency for Advertisers
Today, Hulu revealed that Nielsen Digital Ad Ratings (DAR) for OTT is now its currency of business across the platform. Advertisers can use DAR to measure, guarantee and report campaign audience delivery across all desktop, mobile and connected devices, providing vital insight into viewership on the platform. With 78% of Hulu viewing taking place in the living room, DAR provides accurate, holistic measurement for everyone watching.

Hulu Doubles Down on Driving Business Outcomes, Expands Suite of Sales Effectiveness Tools As part of Hulu's efforts to offer advertisers more ways to prove business outcomes, Hulu announced it has expanded its suite of sales effectiveness tools with four new partnerships.

Hulu will now offer attribution across the auto and retail categories working with IHS Markit for Polk Campaign Measurement Solutions and Nielsen Buyer Insights, respectively. In addition, Hulu announced an expanded offering for CPG brands with the help of IRI's attribution solution.

And in partnership with Experian, Hulu will offer advertisers the ability to enhance their CRM data with Hulu's first-party data to deliver better insight into sales growth on the platform.

About Hulu Hulu is a leading premium streaming service that offers instant access to live and on demand channels, original series and films, and a premium library of TV and movies to more than 20 million subscribers in the U.S. Since its launch in 2008, Hulu has consistently been at the forefront of entertainment and technology. Hulu is the only streaming service that offers both ad-supported and commercial-free current season shows from the largest U.S. broadcast networks; libraries of hit TV series and films; and acclaimed Hulu Originals including Emmy® and Golden Globe Award-winning series The Handmaid's Tale, The Looming Tower, Future Man, Marvel's Runaways, The Path, 11.22.63, and Golden Globe nominated comedy Casual, as well as upcoming series Castle Rock, The First, Catch-22 and Little Fires Everywhere. In 2017, Hulu added live news, entertainment and sports from 21st Century Fox, The Walt Disney Company, NBCUniversal, CBS Corporation, The CW, Turner Networks, A+E Networks and Scripps Networks Interactive to its offerings – making it the only TV service that brings together live, on-demand, originals, and library content all in one place, across living room and mobile devices.


Hits: 12997 | Leave a comment