And the 10th Premiere Vision Awards prizes for 2018 go to...
The whole fashion industry -weavers, tanners, designers, buyers…, as well as international journalists, got together at the Forum PV Perspectives (Hall 5). They were all eager to discover the winners of the 8 prizes of the 10th PV Awards, and to celebrate textile and leather excellence.
This exceptional ceremony celebrated the 10-year anniversary of the awards created in 2008 to highlight the most creative and innovative work of companies exhibiting at Premiere Vision Paris from the leather and fabric industries.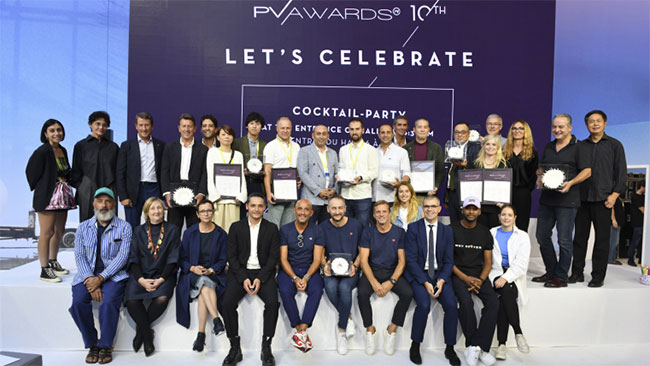 To select the products to be awarded, influential personalities from the international fashion scene responded to Premiere Vision's invitation. An exceptional jury which welcomed an exceptional President and materials expert: the talented Belgian designer Olivier Theyskens who, after having successfully shaped the destinies of Rochas, Nina Ricci and Theory, has made his re-entry on the Paris stage with his own eponymous label in 2016.

To celebrate creativity, a retrospective look at 10 seasons of the PV Awards had also been organized to showcase the changing fashion landscape through the creative innovations of the winners over the past decade.

5 core areas deliver to visitors a complete picture of what responsible innovation and Smart Creation represent today: THE 4 PRIZES FOR PREMIERE VISION FABRICS
- The PV Fabrics Grand Jury Prize 2018 goes to Marini Industrie (Italy) – Stand 5L48 / 5M47 For the most outstanding, symbolic and pertinent fabric of the season.
- The PV Fabrics Handle Prize 2018 goes to Texlover (Italy) – Stand 6N3 For the fabric allying the most astonishing tactile and behavioural qualities, the fabric that touches the emotions.
- The PV Fabrics Imagination Prize 2018 goes to Stylem – Zen Kiwami (Japan) – Stand 5K34 / 5L31 For the boldest, most original, most amazing fabric in terms of decoration, technique, finishing, innovation or technology.
- The PV Fabrics Fashion Smart Creation Prize 2018 goes to Toray Industrie (Japan) – Stand 6N21 For the most creative responsible fabric.

4 PRIZES FOR PREMIERE VISION LEATHER
- The PV Leather Grand Jury Prize 2018 goes to FC Creacio I Innovacio (Spain) – Stand 3A104 For the most exceptional, symbolic and pertinent leather of the season.
- The PV Leather Handle Prize 2018 goes to Naturca By Aysen Butik (Turkey) – Stand 3D79 For the leather combining the most amazing tactile and behavioural qualities, the leather that touches the emotions.
- The PV Leather Imagination Prize 2018 goes to Ckd Cetinkaya (Turkey) – Stand 3E61 / 3F62 For the most daring, original and amazing leather in terms of decoration, technique, finishing, innovation or technology.
- The PV Leather Fashion Smart Creation Prize 2018 goes to FC Creacio I Innovacio (Spain) – Stand 3A104 For the most creative responsible leather.

During an emotional and moving ceremony, Olivier Theyskens handed out the trophies, created by artist Miguel Chevalier, a pioneer in digital and virtual art, to each of the 8 winners.


Hits: 11914 | Leave a comment