ROICA™ Premium Stretch Innovations for the Modern Wardrobe at ISPO Brandnew Village
A powerful range of products able to combine premium advanced stretch performances, developed to satisfy contemporary consumer's expectations, and displaying at the same time smart and innovative values.
Join leading sports, activewear and athleisurewear brands from around the globe at ISPO Brandnew Village, and be sure to visit the ROICA™ booth, to live a unique experience to discover more on their responsible approach.
Expertise in understanding the importance of fusing together fashion and sportswear drove to the creation of "The Modern Wardrobe", a specific area where ROICA™ exhibits solutions that are leading the way toward smart change.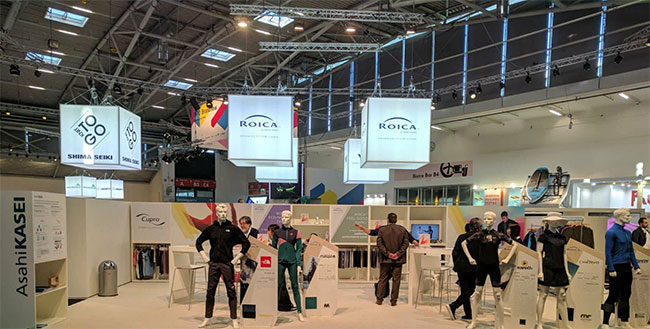 The interactive guided tour organized by ROICA™ will start at ROICA™ HERITAGE SPACE, where the latest innovations at fiber's level are shown. The second part of the tour will lead you to ROICA™ INNOVATION GALLERY, the perfect place to be inspired and to discover a special textile performance innovations library thanks to special solutions from ROICA™ key partner mills. A wide fabric range that includes smart fibers, belonging to ROICA EcoSmart™, boast impressive certifications either Global Recycled Standard (GRS) by Textile Exchange or Cradle to Cradle Certified™ Gold Level for Material Health and Hohenstein Environment Compatibility Certificate providing evidence that ROICA™ degrades without releasing harmful substances.

The revolutionary ROICA Eco-Smart™ family together with ROICA Feel Good™ family of stretch fibers are designed to support performance and creativity.

Next stop? ROICA™ CLOSET, our experimental Lab! New garment designs able to highlight both new functionality and aesthetic concepts using ROICA Eco-Smart™ premium sustainable yarns. Some of the outfits are made by Japanese ROICA™ team, and some by key partners as Candiani Denim, Iluna Group, Penn Textile Solutions and Penn Italia in synergy with Centro Studi Casnati. Inspiration toward new level of wardrobe is the key in this space.

And finally, let yourself be captivated by the heart of the ROICA™ experience: ROICA™ WARDROBE offer. Discover on stage five key and influencing brands with unique outfits already available in the market, that demonstrate how ROICA™ is able to deliver and transform basic performant stretch in eco hi-tech valuable innovations interpreted in five, completely different, contemporary lifestyles!

The SCOTT Racing Team, the Italian Mtb Pro Rider Team born in 1988, selected the high performance for active clothing identifying Rosti, SITIP and ROICA™ as strategic partners to ensure unique and performant biking outfit composed by tights and jacket. Made with the special BEHOT fabric by SITIP, constructed with active performance materials belonging to the ROICA Feel Good™ family, it not only insulates, but generates up to 2 degrees of heat as you workout as certified by CeRism, Outdoor Sport Research Centre at Verona University. Long life stretch, superior shape retention and best breathability thanks to the Blizzard by SITIP fabric that ensures thermal comfort and easy care to the users. A valuable choice that perfectly matches the performances of an experienced team of specialists.


Hits: 7170 | Leave a comment