Gallery SHOES - The European shoe industry fair in Düsseldorf Autumn/Winter 2020/2021
Gallery SHOES is a must-attend industry event for the European shoe industry in Düsseldorf. The fair is taking place from 8-10 March 2020 and will present approximately 600 international brands by around 400 exhibitors, new lounges, a catwalk area with fashion shows and media events in one place.
There will be a new Buyers' Lounge in the Pump Room of the 'Alte Schmiedehallen' which will offer international buyers an additional meeting point for networking and relaxing at the upcoming Gallery SHOES trade fair.
All events and shows will be taking place in the 'Altes Kesselhaus' where the registration and info counter can also be found. This will grant visitors fast and easy access to valuable information in one hall.
Scheduled to fit around the media events, the Gallery Selected Shows, which are taking place twice a day, will be presenting the latest ladies' and menswear trends for autumn/winter 2020/21 from all zones (COMFORT, PREMIUM, CONTEMPORARY and URBAN).
The two large main catering zones are now in the 'Alte Federnfabrik', the home of COMFORT, and in the 'Kaltstahlhalle', where PREMIUM can also be found. And thanks to the two entrance areas, Entrance I in front of the 'Altes Kesselhaus' and Entrance II between the 'Blankstahlhalle' and 'Edelstahlhalle', visitors don't have to walk such long distances.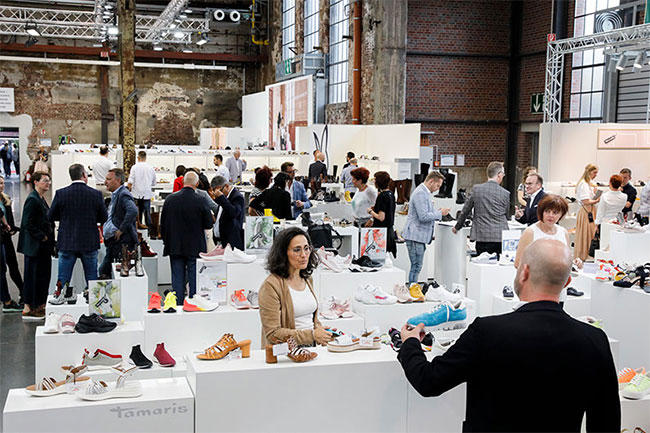 An additional registration counter at the KIDS' ZONE in the 'Rohstahlhalle' with direct access to the shuttle points, which connect the showrooms, airport, train station and partner hotels, are also making it easier for visitors to get around. With brands like DIANETTI from Italy, WEESTEP from Poland and PATT'TOUCH from France, the KIDS' ZONE is attracting even more new exhibitors. Brands already established at Gallery SHOES like TOMMY HILFIGER, FALCOTTO from Italy, BOBY from France and FRODDO from Croatia will be returning to showcase their latest kid's footwear fashions.

The COMFORT ZONE now has an additional culinary offer for professional buyers from this segment. A new addition to this hall is JJ FOOTWEAR from the Netherlands with another collection: PRETTY & FAIR.

Returning exhibitors from the comfort shoe segment include FIDELIO from AUSTRIA and BERKEMANN and HAFLINGER from Germany.

The PREMIUM ZONE also has a strategically newly positioned and further extended catering area. New additions include DUCCIO DEL DUCA MILANO from Italy and PALOMA BARCELO from Spain. FLOWER MOUNTAIN and LIU JO from Italy, BUBETTI from Denmark, ECOALF and PRIMEBOOTS from Spain are just some of the many premium-quality brands making use of this platform once again.

The 'Alte Schmiedehallen' and 'Halle am Wasserturm' will be showcasing the varied brands of the CONTEMPORARY ZONE with exciting newcomers. Best-known for its scarves, CODELLO is planning the launch of its new bag collection at Gallery SHOES. And GABOR, one of the strongest brands from Germany, will also be presenting its new men's brand PIUS GABOR at an additional booth. Returning exhibitors include BULLBOXER from the Netherlands, ELVIO ZANON and WONDERS from Spain, SEIDENFELT and SURI FREY from Germany.

With its own space and therefore visibly separated in the 'Alte Schmiedehallen', the URBAN ZONE is presenting familiar exhibitors such as APPLE OF EDEN from Portugal, W6YZ from Italy and CA'SHOTT from Denmark.

As the perfect backdrop with impressive lighting effects, this time the 'Altes Kesselhaus' hall will be used in a multifunctional capacity as an event location. It will house the catwalk area, all side events, media events, a small catering area and the central Entrance I. Labels including BGENTS, FRED DE LA BRETONIERE and SHABBIES AMSTERDAM, HAFLINGER, SCHWANGAU and WONDERS will be presented in the Gallery SHOES Selected Show taking place twice a day.

NEW to the accompanying line-up is the presentation by Schuhe24 entitled 'Opportunities for retailers: Between the shopping experience in stores and online sales in Europe' with the company's managing partner Dr Dominik Benner. Straight after the HDS/L press conference (simultaneously interpreted into English), another NEW addition to the programme is the HDS/L roundtable with panel discussion entitled 'Leather – naturally!'. It will be moderated by Dr Claudia Schulz and participants include HDS/L managing director Manfred Junkert, Thomas Heinen from Heinen Leder, Christiane Brunk from Braun Buffel, Helmut Raaf from Schuhhaus Raaf and Michael Tackenberg from Cads.

The accompanying line-up also includes 'Trend Views' and presentations by industry greats on highly relevant industry topics:
- TW Order-Info – Trends A/W 2020/21 (simultaneously interpreted into English)
- Presentation by FASHION TREND POOL – SUSTAINABILITY & SHOES
- ModEurop Fashion Forecast for Summer 2021
- Presentation by SCALERION – 'Retailers earn more with Scalerion!'
- Season's Best! 20 Must-Haves for Autumn/Winter 2020/21
- Presentation by SPOCC – Save the Sale
- FASHION TREND POOL – Fashion Forecast for Spring/Summer 2021


Hits: 4974 | Leave a comment