How to Accessorise Your Business Apparel
The modern businessman is returning to the contemporary roots of a sharp suit and tie that dominated the 50s and 60s and dressing well is becoming more and more important to the modern man. A good suit and well pressed shirt begin an outfit, but the accessories are what really pull it together. Here are a few items that you should pay attention to when you're accessorising your business apparel.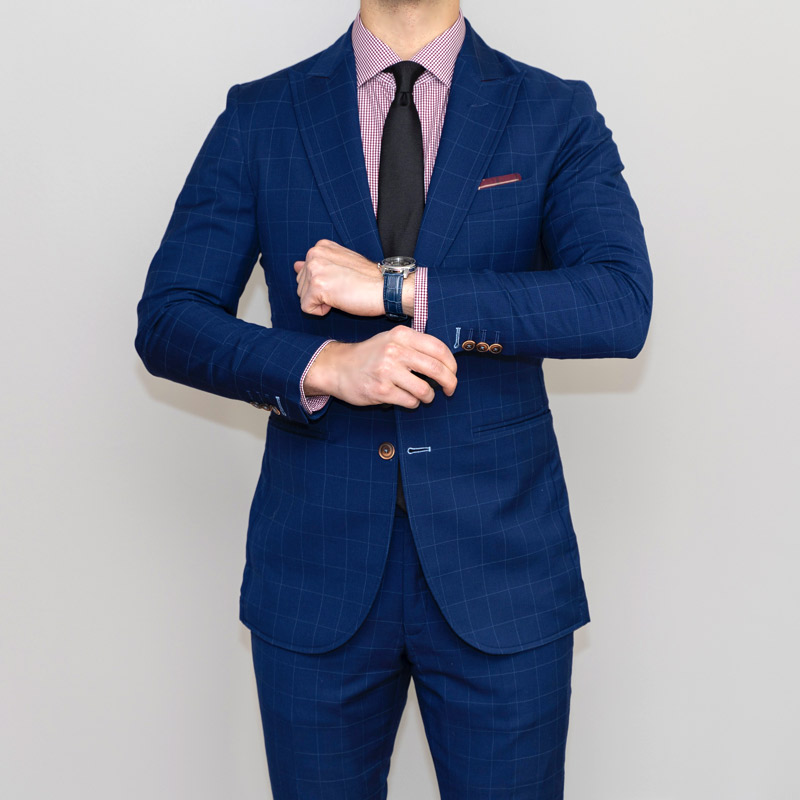 Your Shoes
The dress shoe is an item of clothing unlike any other, with a total of four basic parts that make up the full shoe – the vamp, toe, facing and quarter. Each contribute to the style of the shoe and different ways of assembling these four parts are what determines the style of the shoe. Your shoe and the style of your shoe can say a lot about your personality, so putting some thought into what type of lace up business shoe you wear is important.
The style of shoe is determined by how formal your dress code is, and getting it right means your outfit will look more complete and you'll reflect a more professional look. If you want to keep it simple and classy, choose an Oxford style pair as a timeless and versatile shoe for formal use and just casual enough for daily wearing. If you tend to dress more casually more often, a Derby might be a better option.
Your Watch
Watches come in an incredibly wide variety of styles, strap materials, movements and feature faces with a selection of different complications. Your watch is a direct reflection on you and can easily make a statement without being too flashy or in your face. The variety on offer is staggering and you'll likely want a bit of guidance on how to choose a watch.
The first consideration is the movement type, which can have the biggest impact on cost. Mechanical movements are considered the most desirable thanks to their intricate nature and smooth hand movement without the ticking you'll find in quartz watch movements. They also never need a battery as they're hand wound and powered by a wound main spring. They do come at a price premium. Automatic watches are a variation of the mechanical movements because while they still use that wound main spring, the spring is wound by a weight inside the watch called a rotor that is moved by you moving your wrist throughout the day. You don't need to manually wind an automatic watch and they offer the same battery free convenience of the mechanical movement.
Quartz watches are a cheaper option and more than likely this is the movement you've used for most of your life. It uses power from a battery through a quartz crystal which vibrates and, via a tiny electronic circuit, moves the second hand forward. If your watch ticks as the seconds pass, it almost certainly has a quartz movement. They're more accurate than mechanical movements and a lot more affordable, but they don't offer the same style and romantic appeal of a mechanical movement.
If you're looking for the sophistication of a mechanical movement without paying absolute top dollar, then CHRONEXT recommends a Tudor wristwatch as the perfect alternative to Rolex. CHRONEXT is an online retailer of fine watches, offering both new and pre-owned watches with free shipping and generous returns policies. It's the perfect place to pick up your new wristwatch.
Your Tie
A tie isn't just a tie, and you'll find a good variety in any good department store's selection. There are ideally three things you'll want to consider when you're buying a new one.
They come in different lengths, widths and cuts and should be well matched to your physical build. A quick rule of thumb if you're of average build is to keep your tie about 3 to 3.5 inches wide and, once you've knotted your tie, it should be able to reach your belt buckle.
When it comes to colour and style, you'll want to opt for something that isn't over the top when it comes to colour or pattern. A solid colour or lightly patterned option that matches your suit is ideal but adding a bit of colour to contrast it with something more boldly coloured can be a good choice if you want to make a statement. Don't let your tie clash with your clothing though!
Lastly, you want to pay attention to the knot. This might be somewhat influenced by your shirt's collar and how close or widely spread it is and if it's a point collar. Windsor knots are the classic and work well with wide collars while a Four in Hand knot might be better for point collars.
Your Pocket Square
Pocket squares can sometimes be thought of as a natural extension of your tie, but in modern apparel this is not the way it should be done. The pocket square can be so much more. Generally, your pocket square should be worn only for more formal occasions and often only in the evenings, but when you do wear a pocket square it can add a level of sophistication and class that nothing else will.
The factors you are considering with the pocket square are size, material and pattern and colour. For the most colour compatibility a simple white pocket square will serve you well. If you're matching it, ideally it would not be matched to your tie. Choose something complementary, but not exactly matching for the biggest statement from your pocket square.
Your Belt
Belts are quite a small accessory to your apparel, but they can ideally, when the right belt is chosen, really round off an outfit without making a big statement. You'll want to put on a belt whenever you put on any pants that have belt loops, including jeans and you don't want to skip the belt at all if you're tucking in your shirt. Functionally, they're keeping your pants up too!

For a formal belt, you want it to have a smaller, sleeker buckle and thinner width strap, as well as a leather with a bit of sheen that will roughly match the sheen of your shoes. Never opt for any material that isn't leather (or faux leather for ethical reasons).

If you want to comfortably cover your bases, you should have at least 4 different belts in your arsenal to cover the combinations of the two main construction materials, namely leather and metal. The belt leather should always match your shoe and watch strap leather (if the strap is leather), and the metal clasp should always match your watch face (and strap if it's metal). This means you're going to want two brown leather belts, one with silver and one with gold buckles, and two black belts with the same options. This way you always have the right belt for your other accessories.

The suit is timeless, classy and elegant no matter what style or setting you choose to wear it in. The correct colour, style and co-ordination of accessories can make or break your suit, and knowing what to pair with what and when to dress more casually or dress up for a formal occasion with the right accessories is paramount to completing the look of a modern, sophisticated businessman.


Hits: 5367 | Leave a comment