International Fashion Futurum forum: Experts from 24 countries discussed the future of fashion
International Fashion Futurum Forum took place on December 11 and discussed "What is the future of independent fashion brands in post-COVID reality: cultural codes and business opportunities." The Forum was attended by 74 speakers from 24 countries: Pascal Morand, Executive President, Fédération de la Haute Couture et de la Mode (France); Carlo Capasa, Chairman of Camera Nazionale della Moda Italiana (Italy); Pierre Rougier, Founder of PR Consulting (USA), which works with brands such as Dries Van Noten, LOEWE, Yeezy, Roman and Williams, SSENSE; Michaela Erlanger, Celebrity Stylist (USA), whose clients include Meryl Streep, Lupita Nyong'o, Diane Kruger; Paul Owens, Director of the World Cities Culture Forum, founder and director of BOP Consulting (UK); Danilo Venturi, Director of Polimoda (Italy); Jackie Andrews-Udall, Sustainability in Fashion and Textile Consultant, Lecturer at Central Saint Martins (UK); Burak Kakmak, Co-founder of The Digital Fashion Group (UK); Carrie Somers, Co-founder and Global Operations Director of Fashion Revolution (UK); Maeve Campbell, Deputy Editor, Euronews Living (UK); Mahoro Seward, Staff Editor for i-D Magazine (UK); Amber Jay Slooten, Сo-founder and Сreative Director of The Fabricant (Netherlands) and many others. The Fashion Futurum Forum was supported by the Moscow Department of Culture.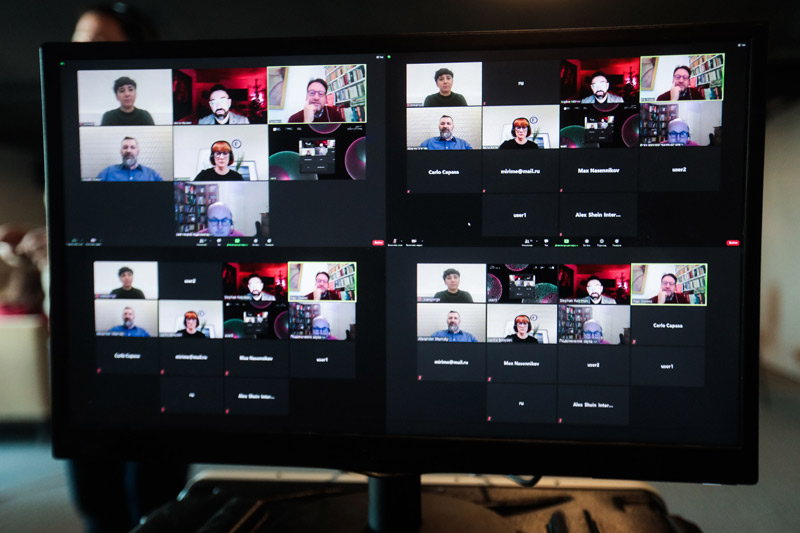 16 sessions were viewed a total by more than half a million times on all platforms: media websites, social networks, http://fashionfuturum.com, etc. The forum broadcasts in English aroused great international interest - the sessions were available live on Be Global Fashion Network and social media, media websites, online platforms of showrooms and concept stores.
During the Forum, the results of 2020 were summed up and forecasts for 2021 were formed. The directions that have been developed this year will become key in the future: locality, digitalization, culture, sustainability, diversity, unification, visual art, communication, experiments. In general, experts assume that offline will not become obsolete, but will be inextricably linked with the online format. In the coming year, there will be more competition between designers and other creatives in the digital space. Honest and sincere brand strategies will win, and this approach will also help to gain the attention of celebrity stylists. The format for presenting content on social networks will become completely different, local brands can confidently focus on their target audience, thus in the future this will be a major step towards global recognition. Also, according to the forecasts of the forum speakers, many local events, thanks to the digital format, are transformed into international ones. Online media will work to develop their own niche in social networks, and thereby try to compete with independent industry experts who have already gathered a target audience around them.
The trend will also be the interaction of creative representatives of metropolises with the developing world. Fashion will become the engine of not only the cultural, but also the economic component of developing countries.
A more detailed report on the development of the industry in 2021 and the results of 2020 can be found below:
Fashion, design and art of the future. Transforming the creative power of world capitals
The first large conversation of the day was a session where Stephan Rabimov, Editor-at-Large, L'Officiel Austria (USA) tuned in from the US to moderate a talk between representatives of France, Italy, Portugal, Russia, South Africa and UK. The discussion concerned the rewiring on the creative power of the world fashion capitals in the months and years to come. The participant discussed the changing of the fashion week format and the forthcoming digitalization of the way we view fashion.
Alexander Shumsky, President of Russian Fashion Council and Mercedes-Benz Fashion Week Russia, Co-founder of Fashion Fund (Russia) shared Russian experience, told the audience how all major events of fashion industry were held in online format and emphasized that it is not good or bad, it is a given and new reality, which allows us to expand the boundaries of events and make them global and international. Despite the challenges of the pandemic, independent designers from Moscow have received a lot of attention from international media this year, and this is due to the online format. Alexander called 2020 the most difficult year for independent designers over the past decades, but made an optimistic assumption that "a lot of things which are actually bad for the economy, could be a starting point for fashion brands, for example, such factors as lower rents, a focus on conscious consumption, etc."
Paul Owens, Director of World Cities Culture Forum, founder and director of BOP Consulting (UK) said the pandemic has had a devastating effect on large cities and has hit cultural businesses and tourism in particular. Even a few days of a short lockdown affect the city's ecosystem. But, according to him, the economy still has new paths: "over the past fifty years [it] has been very, very focused on real estate, on physical development on essentially getting capital infrastructure into your city... And I think what we are looking at post pandemic, in lots of cities, it's a chance to kind of redefine how we use these spaces, how we use these buildings and this is where creativity and culture are coming to its own... Fashion as a cultural activity… blends tangible and intangible activities, creativity and business... I think, fashion will be an important part of the cultural drive to reinvent our cities".
Pascal Morand, Executive President of the French Federation of the Haute Couture and Pret-a-porter (France) talked about how during the pandemics Paris continues to try to remain itself: "Fashion is a part of life in big cities. We all, all of us, had to react and innovate very quickly. For us all the challenge was to create, of course, the platform and the amplification system which would be like a gathering place and a broadcasting entity". Pascal agreed that physiological emotions are digitally different, but he would like to return to three-dimensional space. "This one thing which is important – critics. Sometimes all they say that fashion weeks are not good or fashion is a very bad industry in terms of… pollution, environmental damages, etc. And this is just fake news." Pascal added that organizers of fashion weeks all try to minimize the impact on the environment and work on promoting designers in all possible formats. "Fashion is also applied to the arts and business," concluded Pascal.

Carlo Capasa, Chairman of Camera Nazionale della Moda Italiana (Italy) mused that the fashion community must promote culture everywhere and, despite the quarantine conditions and restrictions, the participants of the fashion process must be closer to each other: "Obviously, what we have to keep together is basic values, and basic values are that fashion of the future  must be an open source, [it] must be sustainable, must be respecting the difference because this is very important today, and must be, for sure, digital and physical... We have to think that we have a big responsibility because young generation, they look at fashion like at a system that influence very much on the society." Carlo also shared their own experience on Milan Fashion Week: "The show was for 500-800, 1000 people maximum [before], so it was very-very specific. And from this pandemic we learned to use digital. For us [during] this last fashion week [we] had 45 million views on streaming of our fashion shows. That is an incredible number – from 800 to 45 millions watching our shows."

Lucilla Booyzen, Founder of South African Fashion Week (South Africa) positively assesses the possibility of digitalization, she said that as soon as the opportunity to move to the online format appeared, they did it. It helped to create an ecosystem where it became easier for local designers to collaborate with other designers, they learned how to work with consumers through social networks to identify needs and respond to demand. "Although the pandemic was devastating, we see incredible positivity coming up. We can start building our local industry, people are looking at their communities, are looking at sustainability, they are looking at doing things in a different way. So, ...  the positivity that came out of this [is] in building local brands, reflecting the culture of South Africa,"  Lucilla shared and noted that South Africa will continue to improve digitally based on sustainable fashion and to build long-term relationships with brands that share values.

Joana Jorge, Project manager at ModaLisboa | Lisboa Fashion Week (Portugal) said that the pandemic forced everyone to mobilize, to unite. She spoke about the Lisbon Fashion Week and noted that this project was created for the country and is concentrated within the country. Fashion Week was held in a hybrid form: online and offline. She also shared her experience of how to make up for the lack of physical presence during the show: this can be done with the help of small presentations in public places. She agrees that small presentations reduce audience reach, but increase the degree and quality of impact on a "live" audience. Joana suggested that the trend towards live streaming from offline events will continue in 2021 and will continue to grow.

PR Consulting: An Invitation to Dream

Locality became the key idea of ​​the PR Consulting: An Invitation to Dream session. Pierre Rougier is the founder of one of the most influential agencies, PR Consulting (USA), together with the team, they work with brands such as Dries Van Noten, LOEWE, Yeezy, Roman and Williams, SSENSE. He answered questions from young creators and designers from all over the world.

Pierre said that there is no easy way to thunder the whole world, but if you are a creative unit and stand out in the local market, social networks will help you achieve the rest - this is the power of our time. It doesn't matter where you live, the main thing is to find your own mission and stick to this path. Pierre emphasized that emerging brands have much more freedom, and this is interesting for influential fashion houses: "Large brands have a thirst for local voices, real voices." Collaborations, activism, community building and unification will attract funding, new partners, and also open up international borders: "So, for me, that's the way it is: continue with your local community and the ones that are yours, that are friends, and allow you to have a clearer, less polluted expression of your vision. ... Be loud, be a voice, so that they [big brands] will need to amplify. "

The session was attended by young creators, including Timo Helgert, visual artist (Germany); Florentina Leitner, Austrian fashion designer, graduate of Master Program in Fashion Design from the Royal Academy of Fine Arts Antwerp (Belgium); Alexander Khen, designer, co-founder of fashion brand Innominate (Russia); Paula Ulargui, sustainable fashion investigator & designer (Spain); Paola Pinna, digital and 3D Artist, Founder of Paola Pinna Studio (Italy); as well as Sidharth Sinha, creative Director and Founder of NS GAIA brand (India).

Celebrities wearing my brand: a tutorial

A special tutorial on celebrity fashion by Liga Zemture, Editor-in-Chief of L'Officiel Baltics (Latvia) with Michaela Erlanger, Celebrity Stylist (USA), and Mickael Carpin, Celebrity Stylist, Fashion Editor and Image Architect (France) also took place during the forum. They spoke about how stylists work with celebrities in "Celebrities wearing my brand: a tutorial" session.

"A stylist is a broker between a celebrity and a brand," Michaela jokes. A brand should not only think about its clothes, but also about the personality of the star. "It turns out that we are like psychologists… it is like a relationship – we need to educate them in the process," notes Mickael. Basically, they work with the stars at big events. Celebrities don't always need casual wear, but sometimes stylists work with this aspect as well.

They are constantly on the lookout for new brands, so they encourage young designers to feel free and send their work even to Instagram. They advise choosing your best work, rather than sending a large amount of photos. The celebrity stylists also talked about the mistakes of young brands – a designer shouldn't expect his dress to fit perfectly right away, this is a process consisting of fittings and improvements. The most important thing is to properly build communications and speak honestly and openly, then success will not keep you waiting.

Tips for those who want to sell clothes without harming the planet

Maeve Campbell, Deputy Editor of Euronews Living (UK), led the discussion of the pressing issue "Sustainability: Global Practices to Save the Planet". The international session began with the concept of a sustainable economy.

Christina Dean, Founder and Board Chair of Redress and Founder and CEO of The R Collective (Hong Kong, China), gave the following definition: "Sustainability is the ability to think about future generations' needs ahead of our own greed." She considers it to be inappropriate to separate the economy, nature and fashion from each other, all of this should be and work together. She cited the example of 2020: "What was fascinating for me about COVID was that suddenly people stopped shopping and it has been a catastrophe for the industry…" In her speech Christina concluded that we just cannot not buy at all.

Patrick Duffy, Founder of Global Fashion Exchange, Co-founder of SwapChain and Circular Fashion Summit (USA), also agreed with her. In his opinion, clothing was and remains an important code, the main thing is to buy it with meaning for yourself. He also considers it to be necessary to revise the old system of values ​​and create a different paradigm - balance, economy and ecosystem.

Carry Somers, Co-founder and Global Operations director of Fashion Revolution (UK), supports the idea of ​​the indivisibility of men and nature, she touched upon the issues of ethics (this is about people) and sustainability (this is about ecology) in the fashion industry. Obviously, the process of making clothes and further disposal is detrimental to nature, but the pandemic has revealed another deficiency - the lack of ethics in fashion, when the labor of people involved in the industry is not properly paid. She calls on the global fashion community to address these issues together.

Juan Pereira and Andrés Jordan, designers of the Juan de La Paz brand (Bolivia), shared how they are solving these problems: they use exclusively natural fibers and recycled clothing, collaborate with local artisans and manufacturers, preserve cultural traditions, and create jobs.

Daria Alekseeva, Director of Vtoroe Dykhanie Fund, winner of RBC Prize as Social Manager, member of Forbes 30 Under 30 List of Top Young Entrepreneurs (Russia), said that the volume of clothes thrown away annually is staggering, therefore, she sees her mission in instilling in the Russian consumer a desire to take care of clothes.

Also a participant in the conversation was Juliana Garcia Bello, fashion designer, founder of GARCIABELLO brand, graduate of School of Architecture, Design and Urbanism of the University of Buenos Aires (Argentina), who enthusiastically supported the initiatives of the interlocutors. For her, sustainable fashion has always been an organic part of her life, as care for the environment is one of the family traditions in her family.

Session for those looking for inspiration in their own city

At the session "Identity of world cultures through the eyes of the designers of the future", representatives of brands and fashion weeks from around the world and Mahoro Seward, Staff Writer of i-D Magazine (UK), discussed how designers can influence the culture and fashion of the future.

Miss Adama Paris, creative entrepreneur and fashion designer (Senegal), said that despite the absence of a hard lockdown in Senegal, the pandemic had a serious impact on the fashion industry, as the flow of imports dropped significantly. However, they are still trying to come up with something new and interact with the city's infrastructure. For example, one brand turned to a local garment factory to obtain leftover fabric for a collection from recycled materials. The factory supported the initiative and the designer was able to create a collection. They also continue to produce fashion shows.

In Nigeria, the coronavirus pandemic has seriously impacted the fashion industry, and Muftau Femi Ajose, Creative Director and Founder of Cute-Saint brand (Nigeria) believes it is especially important to remind customers that the brand is alive and well at this time.

He was also supported by Linus Leonardsson, Creative Director of Linus Leonardsson brand (UK). He noted that the world has changed, and all people will have to adjust to the new rules. "The world has shrunk a little bit, it's kind of forced to look around yourself and your local environment."

Touching upon the issue of national identity, Ali Charisma, National Chairman of Indonesian Fashion Chamber and Director of Muslim Fashion Festival Indonesia (Indonesia), explained that in their island state there are a lot of people of different cultures, and it is fashion that becomes a means of communication.

For Igor Andreev, Designer of Vereja brand (Russia), the issue of local culture identity is also important. "My brand is named after my hometown. Knitting is the main technique, we take old sweaters and style them. I am inspired by the motives of this city, as well as childhood memories of the time I spent here. "

Won Jeon, Founder of PAINTERS brand, Design Professor at Le Rêve School of Arts (South Korea) spoke about the peculiarity of local fashion. Rapidly developing Korean fashion is reflected in even the smallest details. The designer believes that in Seoul people are very fond of dressing up, showing their identity, even choosing very simple things, such as a tie.

The future is last night. What lessons we have missed

During the session Katie Dominy, Co-founder of ARTSTHREAD (UK), discussed with experts the challenges that time poses for representatives of the fashion industry. Sustainable development has become one of the main vectors of this discussion. Representatives of this session are ambivalent about the topic of fashion digitalization. New technologies make it easier to design clothes and allow new collections to be sold all over the world, but with virtual clothes things are more complicated.

Barbara Franchin, Founder and Director of ITS – International Talent Support (Italy), noted that this is an important step for the environment, but clothes are a special experience, it is important to try on, touch, feel that it is impossible to do in virtual reality.

Danilo Venturi, Director of Polimoda (Italy) created an educational course on this topic 5 years ago. "It is not about teaching sustainability as a topic, as a module or as a course even - because we have sustainability as a course. It is growing students in a way that they know who they are."

He was also supported by Gloria Wavamunno, artist, art director and Founder of Kampala Fashion Week, Board Director of Fashion Council Uganda (Uganda). She also believes that the ideals of sustainable development should be the focus of buyers. In recent years, a paradox has arisen in fashion: on the one hand, there are mass-market brands that create new large-scale collections every week, on the other, local brands that more often work with capsules for a limited number of clothing items.

Burak Cakmak, Co-founder of The Digital Fashion Group (UK), predicts a great future for brands that will adhere to the second approach, which will be careful about what exactly and how they produce. Sustainable development also affects the geography of fashion: "We have done a lot of work in the academia to change the curriculum so that technical information is there and it is the moment to build the new culture."

"Young and talented professionals now dream not only of Paris. They want to go, for example, to Africa and work with local designers… And those students who choose a more classical path: coming into the fashion house and working there are driving sustainability within them and you see that the studios are informed by younger generations," says Jackie Andrews-Udall, Sustainability in fashion and textile Consultant, Lecturer at Central Saint Martins (UK).

Anna Chernykh, CEO of FRESHBLOOD – development and support project for young designers, head of Design Workshops sewing co-working space, curator of Fashion Design course at British Higher School of Art and Design (Russia), drew attention to the inclusive trend in fashion: she spoke about the collections that students British Higher School of Art and Design trained for people with disabilities.

Danilo Venturi summed up: "We have different points of view from adults and Gen Z, because the same way we still talk about sustainability and Gen Z takes it for granted, the same way with technology. We are coming from a generation where technology was adopted, so - it is a tool, while the Gen Z live in it. What we think is the future - for them, it's a past."

Why do you need to learn how to work with virtual clothes?

With the pandemic, it has become difficult to just walk into a store and touch clothes, so more and more professionals are looking for new approaches and developing bold products such as digital clothing. Stephan Rabimov, Editor-at-Large, L'Officiel Austria (USA) discussed the pros and cons of virtual and real clothes with experts.

• Unlimited imagination: Amber Jae Slooten, Co-founder and Creative Director at The Fabricant (Netherlands), believes that every designer should work with digital clothing, because it allows you to create a product from any material and change it endlessly - even after the release of the collection.

• "The Best of Two Worlds": Jonathan Chippindale, Co-founder and CEO of Holition agency (UK), and Jennifer Drury and Dan O'Connell, Co-founders of BrandLab Fashion (UK) believe that phygital provides an opportunity to transfer physical social space to a virtual world and so attract and interest a much larger number of people, research and study many more products.

• Sustainability: "Digital fashion is a more sustainable option for the planet," notes Daria Shapovalova, Co-founder at DressX, member of Forbes 30 Under 30 List and BOF 500 List of the People Shaping the Global Fashion (USA). Digital does not require such costs for production, travel, purchase, disposal of things - everything is solved with a few clicks.

• Lack of borders: "The only limitation is the lack of Internet," - Natalia Modenova, Co-founder of DressX, More Dash and Fashion Tech Summit (USA), believes that virtual fashion can also be a big step for retail: it doesn't matter what size you have, age, etc., as long as you have a network connection.

When the speakers first started their work, people were not ready to take it seriously. But last year changed the rules of the game a lot: now virtual clothing is the avant-garde; direction in which large companies and brands are interested. If you were in doubt about whether to give virtual clothing a chance, this session will convince you.

Why visual content matters most

Adam Katz Sinding, photographer (Denmark), talked to Emmie America, artist and photographer who worked for Vogue Russia, Vogue Arabia, etc (Russia). They discussed how the quality of visual content influences success in the fashion industry. In forty minutes, they highlighted several main points that are important for independent brands to understand:

• Now the visual content that you create is, in fact, more important for the company than the product that it sells. The market has long been selling not a product, but the idea, ambiance, the vibe;

• People no longer buy new bags, people buy a personal connection. They want visual content to tell the story of the brand, to show why this particular product is just for you: "Imagine that your product is a celebrity ... now celebrities are important to us only because of their real-life stories," compares Adam Katz Sinding;

• A young brand needs to understand its audience: "The main problem now: everyone is trying to target everyone - it doesn't work anymore," shares Emmie America;

• Emmie and Adam agree that visual content can allow for "validation": "Kim Kardashian [is] "validating" something just because she posted it on Instagram";

• Ability to ignore the fashion calendar: Despite the fact that the fashion industry is developing very quickly, both photographers believe that it is better to make less content, but of high quality. Young brands that do not yet depend on seasonal collections have a chance to work on collections, lookbooks, campaigns and simply content longer than well-known fashion houses - and this should be used;

• But both photographers consider integrity the most important - integrity, honesty to oneself. There will always be an acute question: commercial success or the creation of works of art, but the current commercial giants did not start with dozens of shows a year, but with long and painstaking work, pricing, which had a reasonable basis - this is how the history of the brand has developed, thanks to which shooting with storytelling elements is much easier.

"It's all about integrity," Adam shared. "Don't compromise with yourself," Emmie finished.

About consumer trends and work with buyers

1. What brands will be relevant for a fashion industry? Answers Daniel Pérez-Barriga, Brand & Communications Strategist, Senior Executive & Consultant. Founder of Waterboy (Spain):

"Fashion consumption is chaining in the XXI century and consumers are looking for more than just aesthetics. The industry has to respond to that demand to prevail. Relevant brands in the XXI century will have to be meaningful, embracing a purpose that goes beyond status. This is why small independent designers are catching the eye of forward thinking fashion consumers who expect added value and strong brand personality when buying a product".

2. How to sell your clothing in Paris? Answers Ekaterina Glazunova, Head Buyer for Tom Greyhound Paris (France):

"Arriving on the Parisian schedule is all about right timing. I think it's better to make a name first with a minor fashion destination. I mean, today they are doing a great job. Let's take for example Copenhagen Fashion Week or Pitti Uomo in Florence or Mercedes-Benz Fashion Week Russia.

At the same time I think that if you have an opportunity to do a physical showroom in Paris, it's always great, because you can benefit from Parisian traffic. I mean all buyers are coming to Paris market anyway, right? So if you are doing a showroom, what do you need? You need a beautiful collection of course, but also you need to work on your prices and on your distribution strategy. I think you need to have a clear idea about your final customer and which store represents the best your vision of fashion. So please be ready to answer all of this question to your buyers."

3. How to sell menswear? Answers Andrea Selvi, Buying Manager at Luisa via Roma (Italy):

Gen Z born after 1999 and Gen Alpha born only 10 years ago will become the biggest part of the fashion consumers. They are digitalnated but very conscious about climate change, which means that for them sustainability will be mandatory for the fashion sector.

Young brands will be applied during the creation process to consider those two major factors. Online will be increased faster than offline, which means that all products online should be very strong in terms of visuals. They have to work on the shooting, on video and even interaction to better understand the product. On the other side ethical collection will be very important, so organic, eco-friendly, upcycling will be a key part for the customers.

Men's market was growing before the pandemic faster than the women's for sure. There are two different approaches to me on menswear but depending on your final customers. Men between 35 and 50 years old search for more high quality products. They can spend more money for an item, if they can use it for a long period. Younger customers are acting like serial shoppers, they know the brands, they follow them on social media and they are keen to find special collabs or exclusive products. Quality is not a real characteristic for them, but they are more conscious about sustainability. Agender is an important trend and we see more and more lookbooks with girls and boys wearing the same clothes. But I think it's easier for women to borrow men's clothing than in the opposite so maybe we have to wait a little bit more to see men wearing women's dresses.

4. How to get the buyer's attention? Answers Kazuma Mori, Founder of BUNKER TOKYO conceptual boutique (Japan):

"What I want from a brand is culture and action. I think designer brands will need the culture and cultural background of you or your image, and the social significance of creating the collection. Fashion needs to be on the side of cultural minorities, which will be essential to the post-Corona world. After the COVID-19, Black Lives Matter has been one of the most important issues in all over the world, many brands have spoken out about it. I think you really can feel the cultural background from the look. We are Japanese shop and SSANAYA TRYAPKA is Russian brand, and this collection is dedicated to Ainu, well-known as indigenous people who lived in the island of northern Japan and eastern Russia. This collection is meaningful because we, as Russian and Japanese made it. Cultural background makes a story for the collection and it definitely reaches our customers. The Ainu have been discriminated against for a long time, so this collection also serves as an affirmative action."

Trends of the future: building successful digital strategy


Guido Ampollini, Owner and Head of Performance of GA Agency – international boutique digital agency (UK), then talked to the audience about the building blocks of a successful digital brand strategy and on sensing and utilizing upcoming trends.

Guido Ampollini notes that it is important to have a team that will be able to become a serious player in the international arena, because there is very high competition in the field of digital agencies, and a presence on the local market alone may not be enough. It was a difficult year for everyone, but it was also very productive for his agency. "For digital businesses, the pandemic is good. We were ready for this - we have been investing in online and delivery systems for several years." He believes digitalization is the key to saving businesses during and after a pandemic.

Among the current trends, he noted TikTok, which will become an excellent communication channel when working with young people. Talking about the future, he explained that competition in the digital space will only increase. Large players have serious logistical and financial capabilities, so small and medium-sized businesses will have to look for new ways of development, increasing conversion on websites, choosing influencers for their projects and cooperating with large companies. Guido believes that more and more events and projects will be held remotely. In this regard, in the next 5-10 years, the demand for digital marketing will increase significantly.


Hits: 9728 | Leave a comment