Mercedes-Benz Fashion Week Russia is taking place in the Museum of Moscow
Shows of the new season of Mercedes-Benz Fashion Week Russia are scheduled on April 20-24 at the Museum of Moscow. Besides the main program in Moscow, the shows will take place in Kazan, Nizhny Novgorod, St. Petersburg, and Sochi. The united MBFW Russia's program will include live streamed shows by designers from Italy, Spain, France, and other countries.
50+ designers are expected to join MBFW Russia this time. New collections will be presented by /SELFÉTUDE, N. LEGENDA, NASTYA NEKRASOVA, ÓNOMA, SERGEY SYSOEV, Yana Besfamilnaya, ELENA SOUPROUN, HARD BY HSE ART AND DESIGN SCHOOL, JULIA DALAKIAN, ALENA NEGA, Lena Karnauhova, Mercedes De Alba, B&D Institute of Business and Design, and others. Mercedes-Benz is also delighted to present Emma Bruschi for the first time on the MBFW Russia schedule – a designer acknowledged by Mercedes-Benz and Fashion Open Studio for best eco-sustainable practices at the International Festival of Hyères. On April 5, designers will be announced that won the grants for participation in Mercedes-Benz Fashion Week Russia.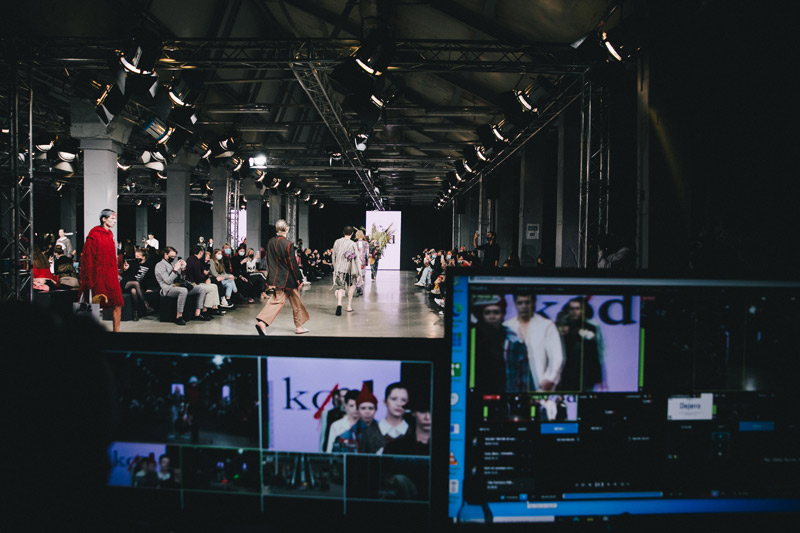 Virtual venue of MBFW Russia will be a unique digital platform with gamification elements, exclusive materials from designers, as well as content and insights offered by industry experts. At the digital platform, MBFW Russia live streams from anywhere globally will be available. Moreover, interactive online features will offer a dive into the spirit of the event.
You can register at http://mbfwrussia.ru/en right now, all the features will become available on April 20.
Russian designers that cannot come to Moscow and arrange their shows in person will present their collections at the catwalks of Mercedes-Benz dealerships across Russia. Some of the designers taking part in MBFW Russia will showcase their new garments and accessories in Moscow-based Mercedes-Benz dealerships.
"2020 was tough for the entire industry, and Russian designers are no exception. It was a challenge for the Fashion Week team - we managed to arrange a phygital MBFW Russia in autumn 2020, and we also seized the moment to develop our project and support designers online. This year, we've focused on starting a large-scale transformation of the Fashion Week. MBFW Russia is switching to a closed production cycle, bringing the sustainable fashion into the spotlight. Besides, we extend our presence in the digital space, and this is also a part of our sustainable development concept for the fashion industry," said Alexander Shumsky, President of Russian Fashion Council and Mercedes-Benz Fashion Week Russia, Co-founder of Fashion Fund.
This time, the traditional symbol of the Fashion Week - the Infanta - was designed by artist Kirilll Zukclub (aka Well Known Artist). Digitalization, ethical fashion, inclusivity and diversity - these are the guidelines followed by MBFW Russia that inspired the artist in making the digital look for the Fashion Week. The Infanta is modern and yet somehow embodies the trend for nostalgic for the past - her dress is decorated with some graffiti and interfaces of legacy digital design software.

The new season of Mercedes-Benz Fashion Week Russia will be phygital. The MBFW Russia agenda will comprise both offline events and live streamed shows by fashion designers. All the designer participants of the Fashion Week will showcase their new collections in social networks, as well as at the media websites, showrooms, and concept stores. Live streams will be available for journalists, buyers, influencers, and viewers worldwide.

Organizers of Mercedes-Benz Fashion Week Russia will take all the necessary precautions to prevent spreading of the coronavirus disease. At the event, current requirements of Rospotrebnadzor as regards to exhibitions will be observed. The sanitary protocol at MBFW Russia will prescribe temperature measurement at the entrances, wearing of masks, using of sanitizers, disinfection of public spaces at regular intervals, and more. The backstage at the Fashion Week will be arranged with account to all the sanitary regulations in effect. During this season, the number of guests at the shows will be once again limited.


Hits: 9681 | Leave a comment