Mercedes-Benz Fashion Week Russia with offline and online presentations
Mercedes-Benz Fashion Week Russia took place from October 19th through 23rd at several venues at once. This season, designer shows were arranged in different modes, offering the audience both offline and online presentations. Shows of the new collections were available for watching from anywhere worldwide at various online platforms and media websites, including Be Global Fashion Network, as well as at VK, the largest social network of Russia and the CIS.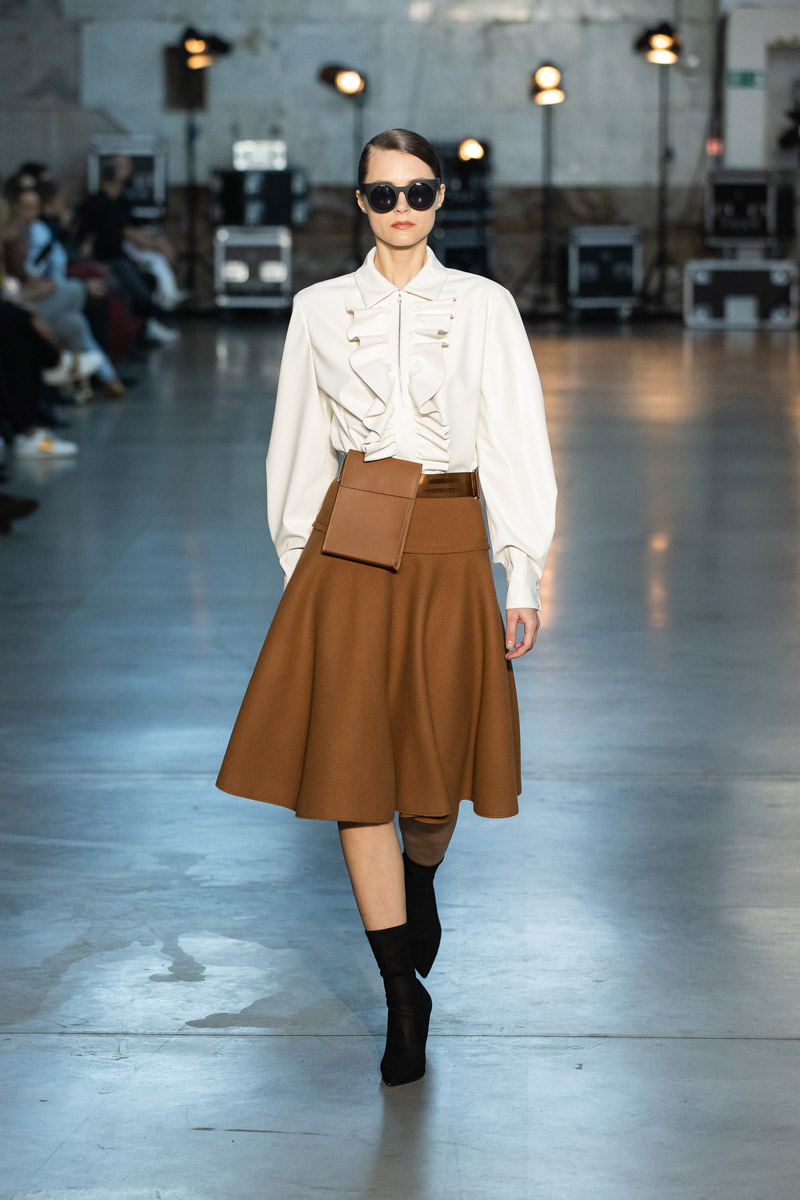 The first day of Mercedes-Benz Fashion Week Russia was reserved for the CHAPURIN fashion house, founded back in 1998. Igor Chapurin, its constant creative mastermind, has been a consistent feature of the Paris Fashion Week from 2005, and has created many costume designs for the legendary cast of the Bolshoi ballet corps.
This new collection is the first CHAPURIN creation rooted in the concept of "see now, buy now". Shown as a special presentation to kick-start this season of Mercedes-Benz Fashion Week Russia, the unexpected developments taking the world by storm have prompted the designer to create off-season universal things that can fit into a wardrobe of different styles and not lose their relevance over time.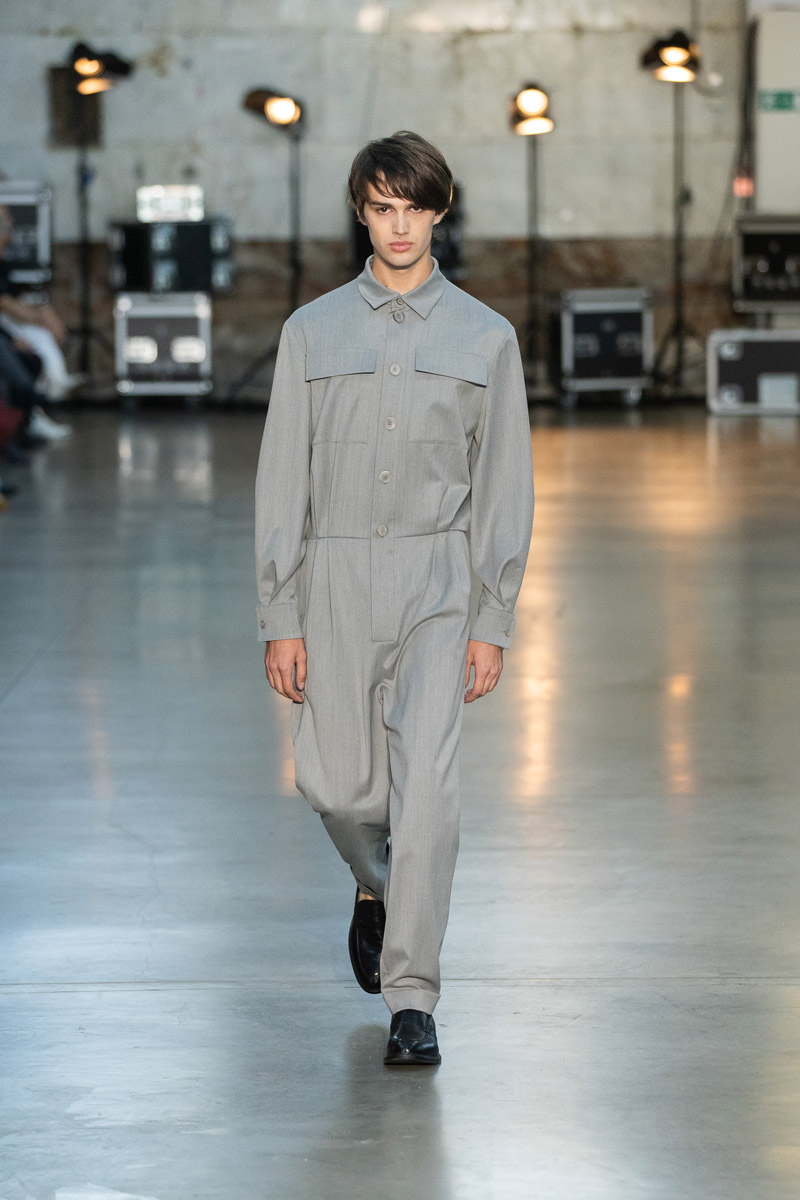 The collection is based on the design techniques that have already become classic for the CHAPURIN brand: geometrically-perfect silhouettes, sophisticated cuts and an intelligent deep palette. The base of the new CHAPURIN collection consisted of voluminous coats enveloping the figure, blouses adorned with frills, dresses with cascading draperies, wide midi skirts, oversized flowing trench coats and palazzo trousers.
For the first time in his brand's storied history, Igor Chapurin integrated men's looks into the collection, including minimalistic overalls with patch pockets, massive coats, shirts with white cotton jabot scarves, nylon raincoats, bombers and bulky, brash trousers. The collection is created mainly from natural fabrics, including cotton and recycled cloth, as well as hi-tech materials such as smooth eco-leather. The basic color palette of the collection included shades of white, black, noble ecru terracotta and rich shades of pink.
Frilled shirts coupled with straight-cut loose silk trousers created a genderless but well-shaped theme throughout the collection, reminiscent of the works by Yohji Yamamoto. Effortlessly stylish, the black faux-leather skirts, one-piece jumpsuits and dresses gave the show a hint of The Matrix, while voluminous ecru coats and oversized jackets reminded one of similar works by Dior. All of it - chic and full of casual beauty, yet also retaining the classic style that Muscovites are known for in the Fall and Winter - utilizing such classic Soviet fabrics as corduroy, but making them elegant, in golden or bronze tone.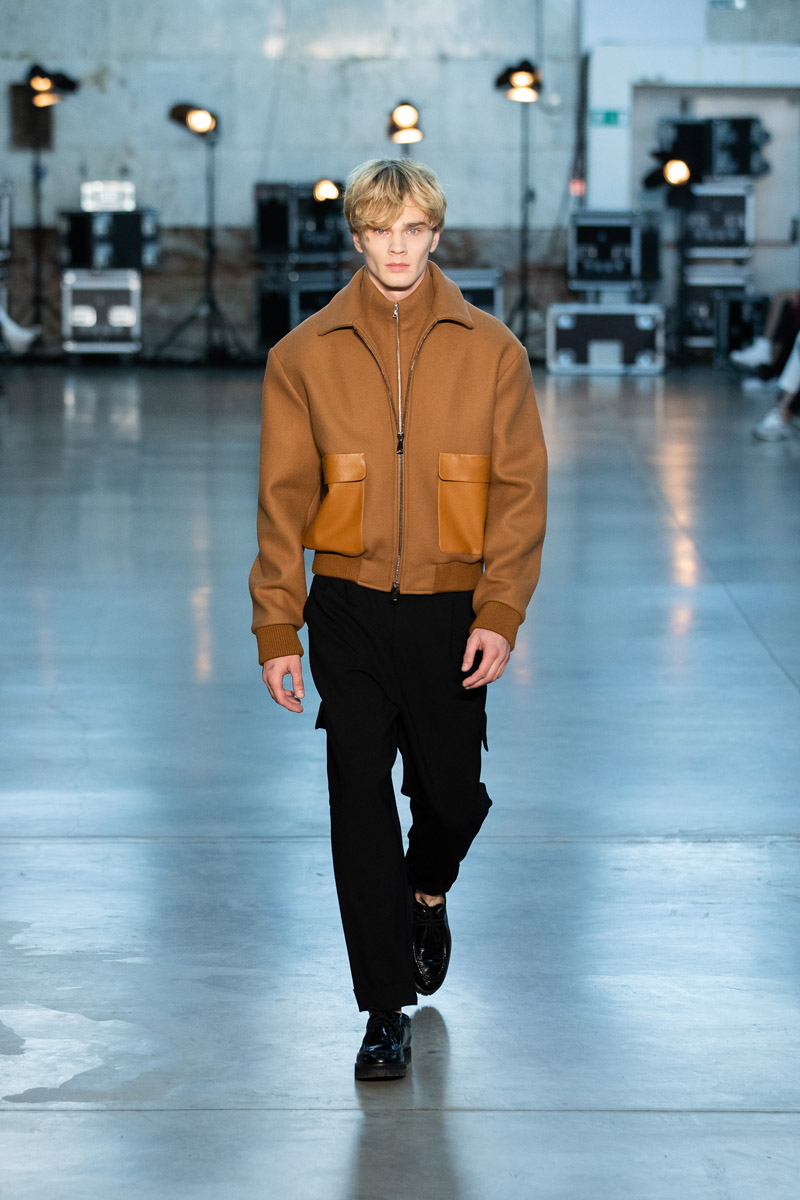 The latter part of the collection featured shapely dresses and raincoats of bright fuschia, accessorized with Chapurin's own creations - shimmering crystal earrings and boxy leather waist bags. Finishing the show off was a beautiful yet still wearable black evening gown, coupled with a tightly-fitting black sweater.
With blacks, ochre yellows and pinks being the theme for this Winter season, this was a truly groundbreaking collection by Chapurin, a perfect start to the fashion season, and, in fact, a full wardrobe for a cosmopolite European fashionista, since it had everything one would need this season, up to and including the Spring of 2021.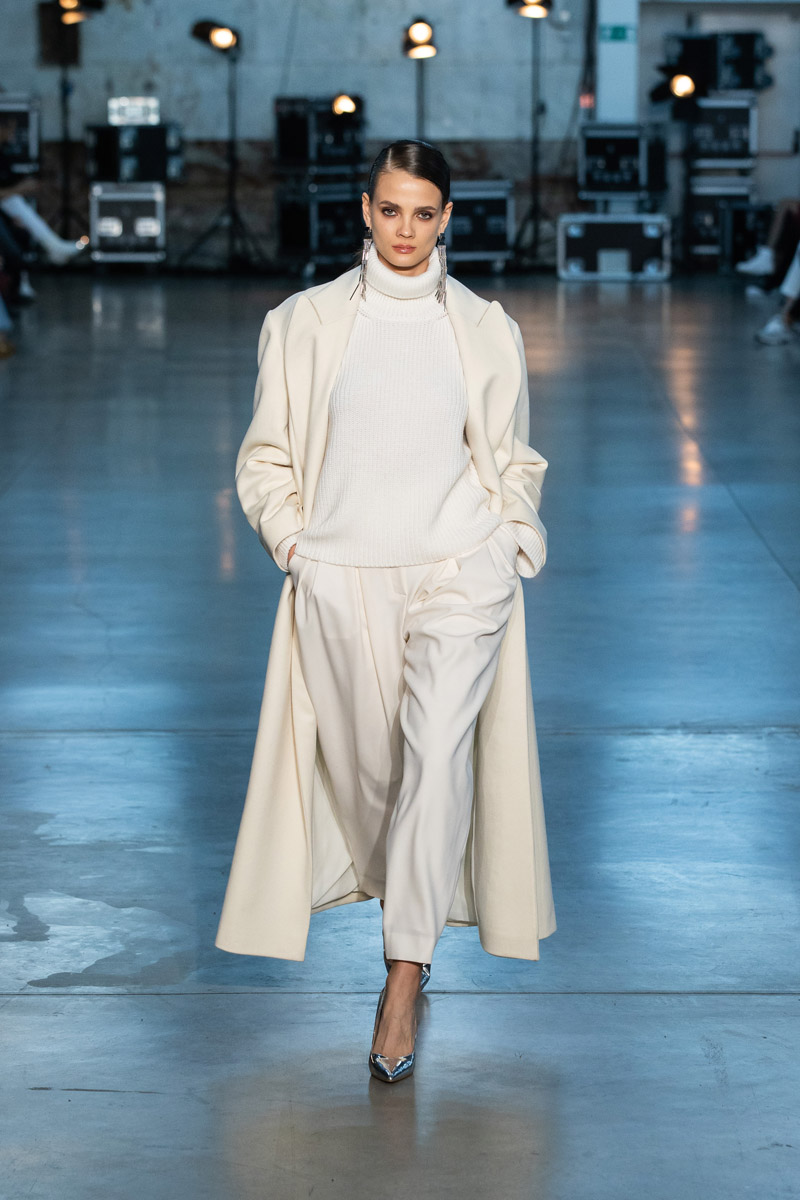 Thanks to the "see now, buy now" model, fans of the brand will be able to purchase all items presented on the podium the very next day in the flagship CHAPURIN boutique in Moscow.
Catwalk: https://tinyurl.com/y55yqfd7
Video: https://tinyurl.com/y4e47br5
The following day has presented 12 collections:

ELENA SOUPROUN
Designed by Elena Souproun
Founded in 1997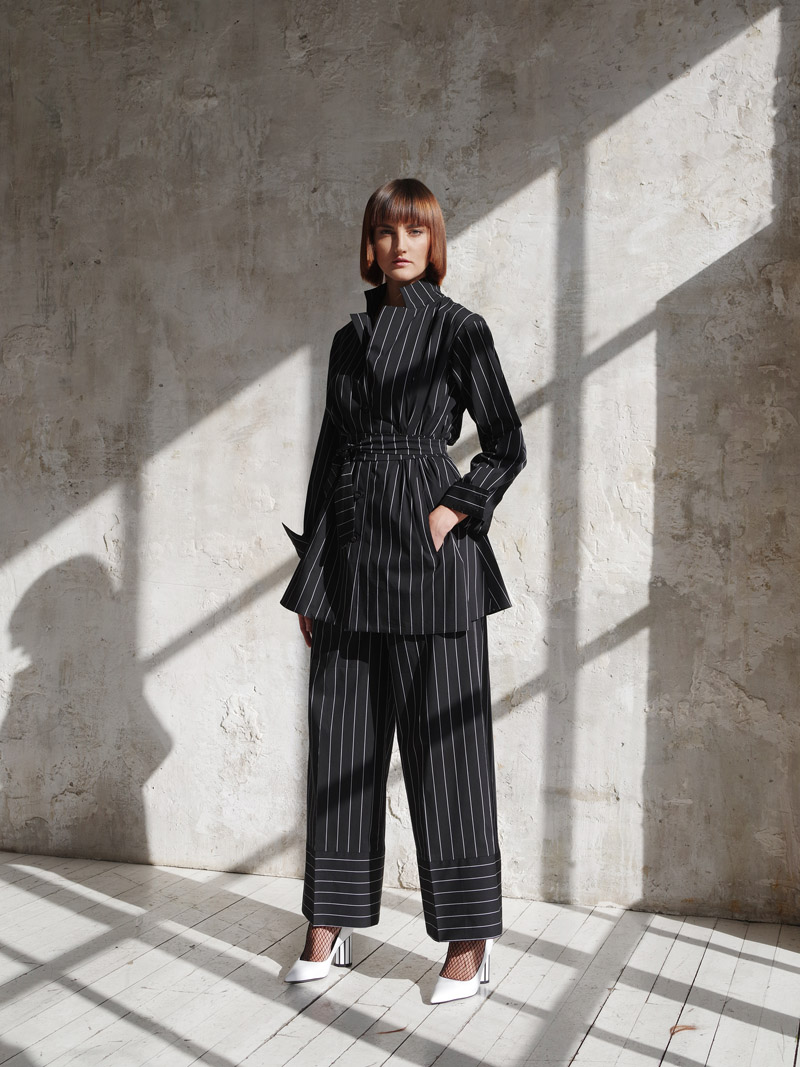 Elena Souproun is a well-known Russian fashion designer, specializing in historical and urban costume and costume design for theater and cinema and a nominee for the Nika Film Academy prize.
The ELENA SOUPROUN brand creates collections that are unique in their unusual cut and execution, using vintage fabrics, antique accessories, hand embroidery with lace and beads and painting on fabric.

Shown as a video presentation, the Souproun collection was shot on the streets of Moscow - large crystal statement jewelry was used, along with boho-themed dresses of wispy vintage fabric. Patterning comprised a large part of the collection, geometrical shapes adorning the hand-crafted garments and bringing in a 1960's feel to the collection. An especially beautiful part of the collection was a faux-fur coat of deep cerulean and green fur, which brought to mind the bombastic and bright garments of a 19th century Muscovite aristocratic dame.
A varied collection, knowledgeable and in-depth collection, showing a great understanding of eclectic themes of vintage fashion.
Lookbook: https://tinyurl.com/yyat937d
Videopresentation: https://tinyurl.com/yxou8vcv
K TITOVA
Designed by Ekaterina Titova
Founded in 2019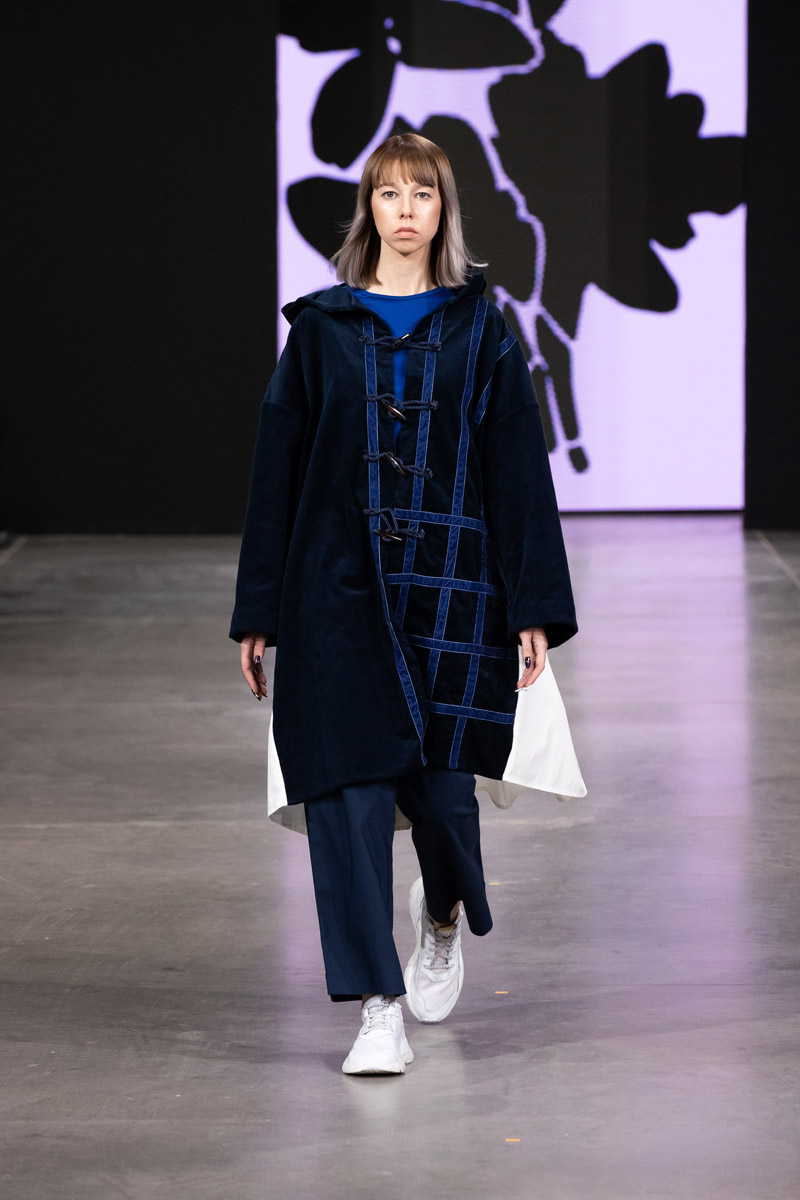 K TITOVA is an auteur brand of women's clothing in the alternative luxury niche market. The atmosphere that the brand broadcasts consists of the romance of ghostly memories and shadows of everyday objects, as well as the charming artistic experiments of the designer, Ekaterina Titova. The collection includes dresses, oversized shirts, pleated skirts, outerwear, knitwear and accessories. Each object has the ability to dialogue due to including puzzle elements that one wants to examine and solve.

The 'GARDEN of SECRETS' collection is based on collecting artifacts related to events and people from a past that cannot be returned.
Among them are tuberose, a tea bag, matches, a tin door number and an old shirt. All stories are united in blue and white colors, in which materials of the collection, author's prints, embroideries and elements are made. The drawing of a cell, on which the tuberose casts a shadow, scatters and is superimposed on other drawings, is filled with glass beads, thereby creating a feeling of optical illusion and levitation.
White robes of pure linen, off-white dresses with subtle color-shaded elements and gentle printing on the sheer fabric - this gentle, elevated collection promised us a beautiful spring. Blue prints of flowers reminded one of works by Kenzo. The Japanese love for simplicity and elegance was prevalent in this collection.
Catwalk: https://tinyurl.com/y2rextez
Video: https://tinyurl.com/y24ua7g3
MARDO._
Designed by Andrey Mardo
Founded in 2018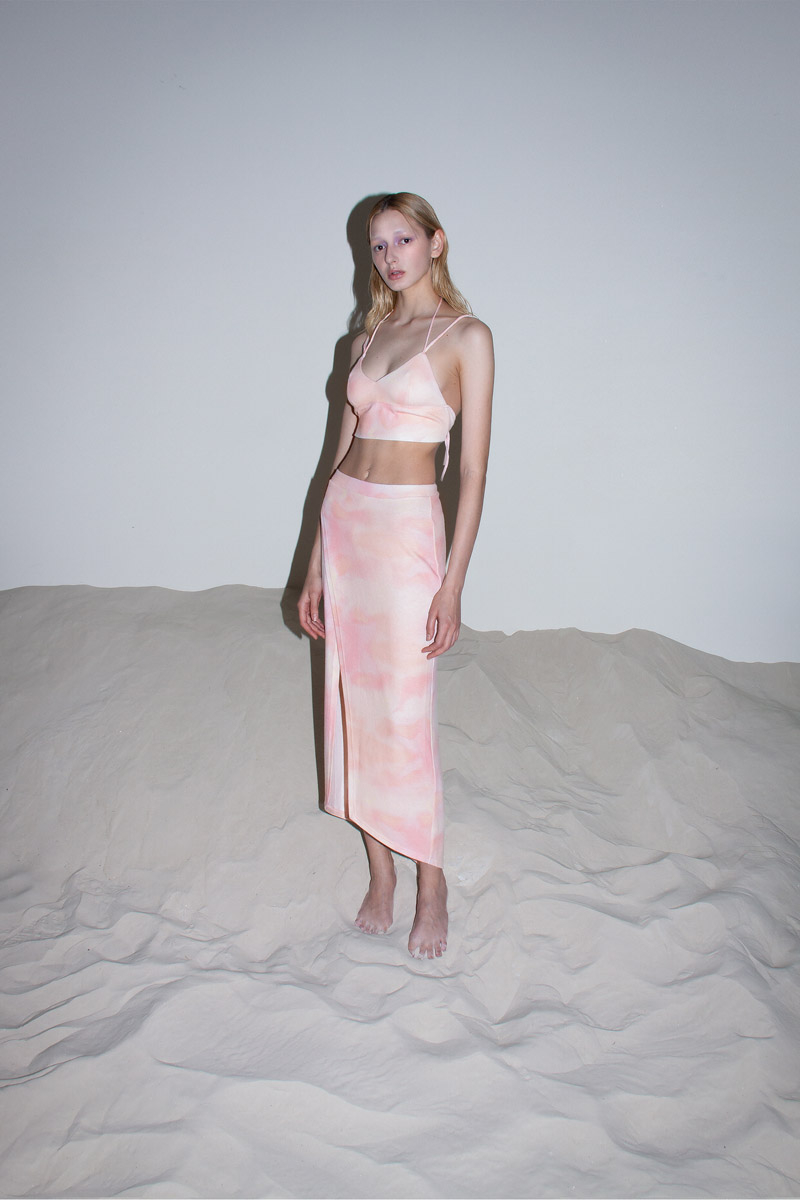 The brand was created in 2018 in Moscow by young designer and model Andrey Mardo. The concept of the brand is based on the creation of clothing with a social context for the bright representatives of the new generation.
The first collection of the brand is a graduation project within the framework of training at the HSE School of Design, but the brand quickly found its audience and developed into a full-fledged fashion brand. Investigating the significance of personality in the modern world, the designer devotes each collection to relevant socially significant phenomena.

The SS21 collection of the MARDO._ brand is based on the designer's meditation about the blurring of the line between the real and the virtual, which is being erased more and more every day. How to replenish resources and get new experiences with closed borders? How to grow and develop while being alone with yourself? During the development of the collection, the designer managed to answer these questions for himself, and the work was built in a new way for the brand, according to an entirely new principle: initially, all things were designed in 3D, then virtual fittings were carried out, and only then were they transferred to real models. This concept allows a designer to avoid overproduction and reduce the amount of materials for creating samples and models. The collection includes summer dresses made of technological materials, jackets made of organic cotton, dyed with eco-friendly dyes and vegan-friendly leather products.
The collection, presented on a sunlit beach, showed off a wide assortment of faux-leather jackets and tops, all with an appropriately golden-sand color palette. A perfect collection for a vacation to Dubai or Burning Man, with the ever-popular fringing also being featured in the collection. We especially loved the black biker jacket and pants combo. A beautiful show that combined all-time classics with some modern 2020 twists.
Lookbook: https://tinyurl.com/y4ueqgug
Videopresentation: https://tinyurl.com/y3o7bmy4
4. BREVNO
Designed by Fyodor Smirnov and Artyom Korovin
Founded in 2013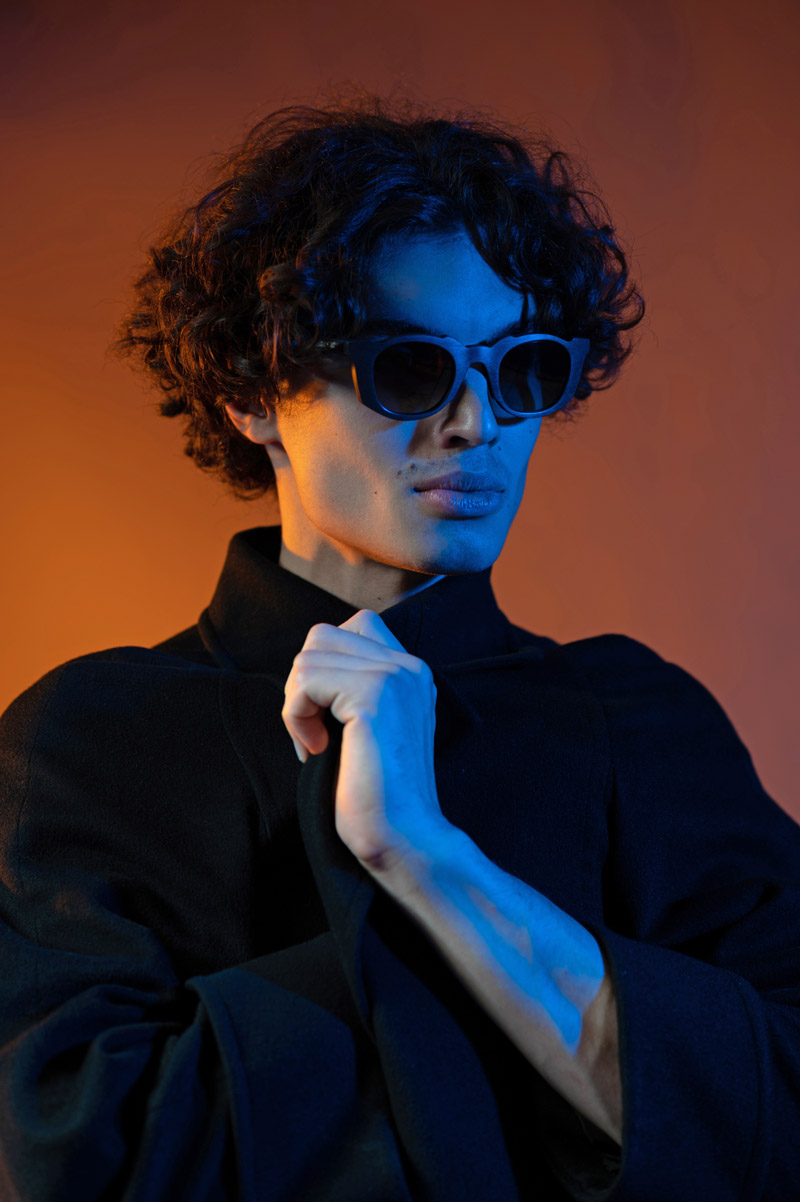 BREVNO is an eyewear brand that specializes in frames made from wood and recycled plastic. Sustainability and individuality are the main principles of the brand. Each model is handcrafted from Russian wood or recycled plastic. The brand was founded in 2013 and today is sold in 12 cities of Russia and 27 cities in Europe - in Paris, Rome, Prague, Edinburgh and others.

Russian brand BREVNO has unveiled a new capsule titled "J glasses", inspired by the Japanese trend towards miniature round frames.
Versatility and practicality - the key requirements of the time are reflected in every detail. Textured German steel matches the new design and takes comfort to the next level. The glasses are presented in two colors - gray and plum, and the lenses of all types can be used within the frames.
Their new presentation showed off the intricate creation method for each pair of their frames, as well as the unique materials used in their construction.
Lookbook: https://tinyurl.com/yyhtupnb
Videopresentation: https://tinyurl.com/y2kcjmef
5. o5o
Designed by Maria Savvina
Founded in 2016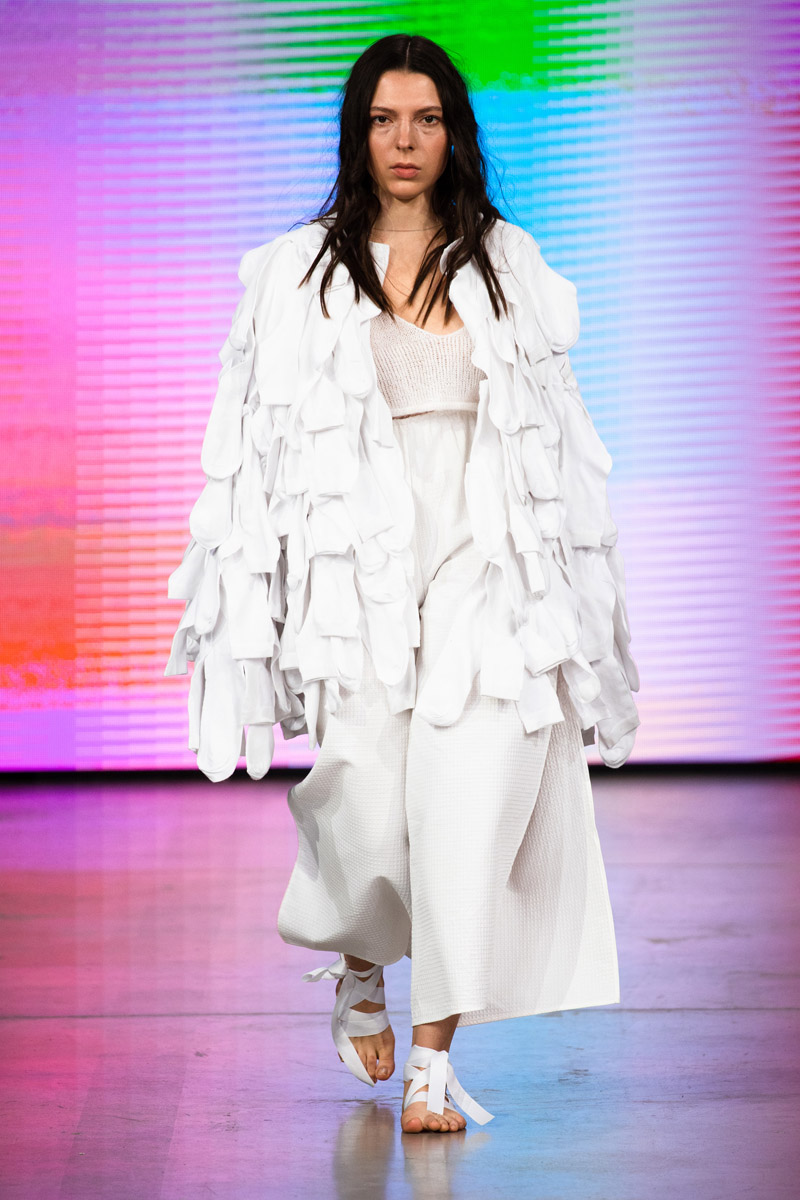 o5o (о5о [ogo] - translated from the Yakut to the word "child") is a Moscow-based brand with Yakutia roots, founded by a designer graduate of the British Higher School of Design, Maria Savvina. The brand specializes in feminine apparel and accessories and represents the currently popular concept of slow fashion.
о5о is a story about the past and the future at the same time. The concept of the brand reflects a sense of nostalgia for something that never happened. Inspired by the heritage of Yakut culture, silhouettes and hand-made historical costumes, in each collection o5o explores modern socio-cultural problems - environmental pollution, the loss of cultural roots, the influence of social networks on the individual.
The brand debuted at Mercedes-Benz Fashion Week Russia in 2016.
saһarҕa [sahaga] - Yakut. the reflection of the rising (or setting) sun. In the new collection, o5o explores the impact of digital nomadism on cultural loss and recalls the problem of environmental pollution through the aesthetics of the north and retrofuturism.
Digital nomadism - increased mobility, assimilation and loss of ties with their historical culture. The term "man of the world" or "man without roots" appears, the one who assimilates where he lives. Traditional culture is being replaced by an imposed one. This problem is visualized through drawing a parallel between digital nomadism / nomadism and traditional nomadism.
The message of the new о5о collection is that the historical heritage is not the ossification of culture, but the opportunity to replenish and develop this culture further. Traditional arts and crafts are rethought and enriched with modern silhouettes, techniques, fabrics, which is a direct reflection of the postmodern worldview.
The collection contains elements of traditional Yakut clothing. The color palette is inspired by the northern winter sunrises of lilac-blue skies and the glow of the endless snowy horizon. Minimalist, light-colored silhouettes contrast with intricate leftover textures. The collection uses both new fabrics and vintage fabrics from scraps of tablecloths, carpets from flea markets, remnants of fabrics from past collections, visualizing how much waste even a small production produces and how it is possible to reconsider the approach to fashion. This is the first o5o collection to use upcycling. Thus, the brand calls for a revision of the culture of consumption and calls for a transition to rational consumption.
Long lacy cotton sleeves, ribbons tied to ankles, knitted tank tops and long, shimmering skirt-pants - all this formed an image of a Yakut woman of the 21st century. Some garments were oversized and inspired by traditional bedwear. Accessories featured embellished sparkly masks, traditional embroidered headscarves and lacey veils adorned with felt teardrops. The lace masks were the highlight of this soft and comfy collection in pastel pinks and blues - getting one of these faceguards should be the goal of every fashionista as soon as possible.
Catwalk: https://tinyurl.com/yyptab8k
Video: https://tinyurl.com/y5n9uu7w
6. HARD BY HSE ART AND DESIGN SCHOOL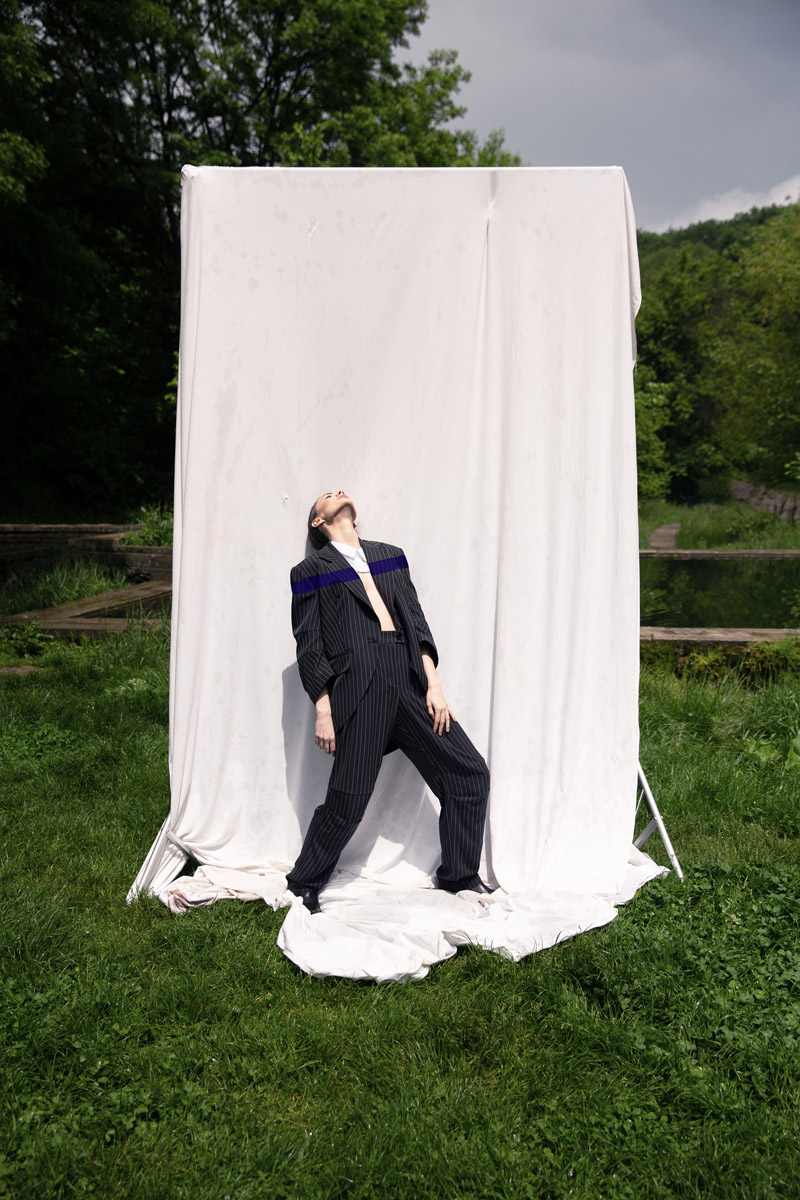 HARD BY HSE ART AND DESIGN SCHOOL is a joint brand of students in the "Fashion" direction of the HSE School of Design. HARD works like a creative laboratory that is re-formed every year to create a new collection. Exploring cultural contexts and experimenting with shapes and cuts, young designers talk about what inspires and excites them to show their vision of current fashion. The HSE School of Design is a regular member of MBFW Russia. In the fall season of 2020, the brand is performing an online show of HARD 008: THE EDGE OF SOMETHING NEW.
As if in a dystopian novel, in 2020 we suddenly quickly and irreversibly found ourselves in a new world. Life has changed, distanced itself, moved to cyberspace and rebooted - as did the HARD BY HSE ART AND DESIGN SCHOOL show.
The realities of today give rise to new situations, emotions, impressions and discoveries. We learn to exist, communicate, create in new realities and new dimensions. HARD 008 is an experiment to comprehend a new reality, human relations and values, the very existence of the world, this is a story about living locked up and owning an entire globe at the same time, this is a project about infinity, created within the framework of limitations.
Wearing exotic conical facemasks, the garments in this collection looked technical and futuristic, blue long sleeve shirts adorned with target logos, oversized trench coats, Marine Serre-inspired half-moon cutout dresses and deconstructed eveningwear make from vintage fabric, tie-dye dresses in blue and white and a reimagining of workwear with orange safety vests, Malevich-inspired trompe l'oeil painted coats and oversized outerwear - a wide and varied assortment of inspiring works by the HSE students.
Designers of HARD BY HSE ART AND DESIGN SCHOOL:
Daria Lukash / THE_DL
Zlata Sapko / HUMAN DOLLS
Natalia Nalivayko / MANERA
Elizaveta Pichugina and Inna Golubeva / RCP 4.5
Marina Aleksashina
Veronika Chervonskaya / CHERVONSKY
Anna Korneenkova / AILE NOIRE
Lookbook: https://tinyurl.com/yxk27n5f
Videopresentation: https://tinyurl.com/y24xbquv
7. ÓNOMA:
Designed by Sandra Gutsati and Inna Bodrova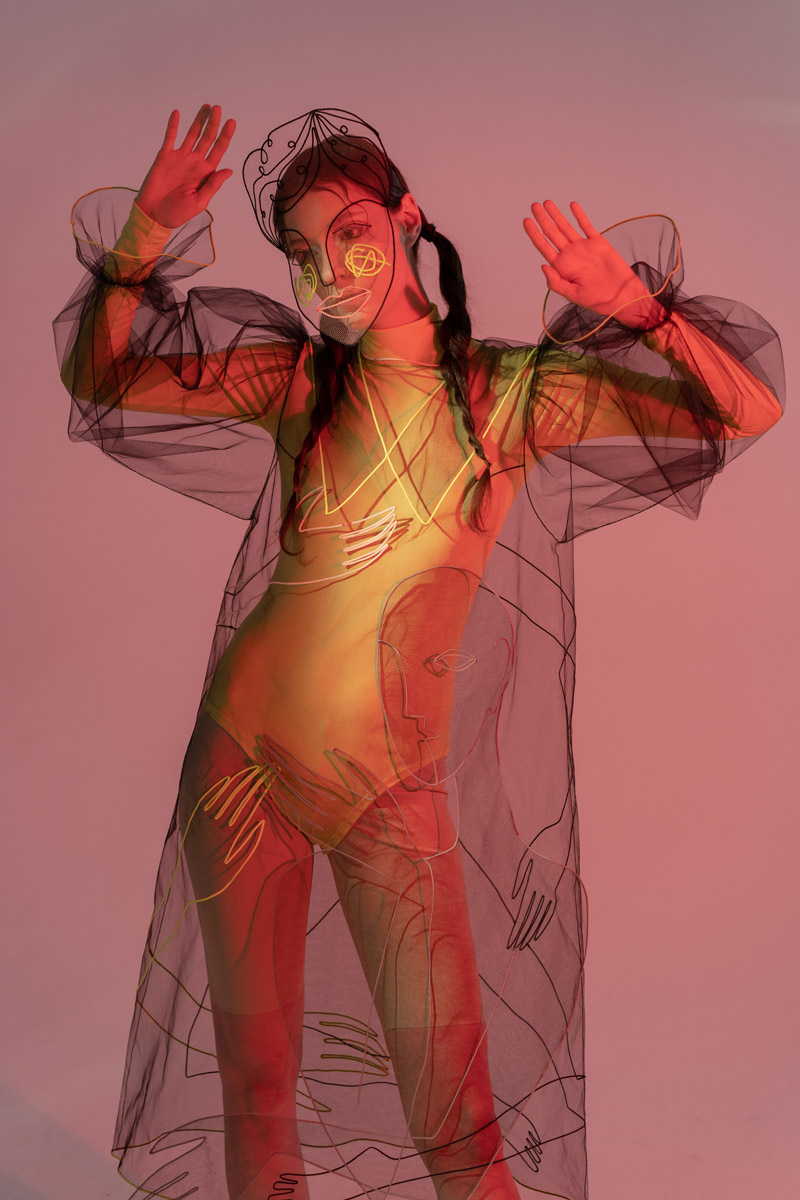 ÓNOMA are two designers who for many years have been united by the desire to see beauty in the most unexpected forms. Once they decided to abandon their names and create something in common - a workshop called ÓNOMA:, which is translated from Greek as "name". And also, ÓNOMA: - this is the co-creation of two relatives, mother and daughter.
ÓNOMA:'s great inspiration is the embroidery and applique work that transform dresses into moving pictures. All embroideries are carried out exclusively by the designers themselves and are unique finished works, they will never be repeated exactly. Storyline plots on dresses, as a rule, are devoid of narrative and contain only images. ÓNOMA: says there are no specific answers to the question of what is depicted on each dress, for it is not something definite that could be described in words, it is rather feelings, not thoughts.

The dresses created by the workshop are not included in the collections, they do not rush after timelines and seasons, they are born one after another, living their own lives.
"No longer a doll" is a series of dresses and masks: - the story of how a doll came to life; a story about her inner search and self-knowledge.
Bodily bases and dresses made from translucent mesh, embroidered with lines and shapes, tell this story with eloquent words.
A playful and charming video collection, the brand showed doll-like garments of thinnest satin and shimmering, dragonfly wing elements on each dress. The embroidery showed an Alice-in-Wonderland charm, and while animated bodies of models flowed through a river, we could see figures and bird wings sewn through each dress. A dreamy and fantastical collection.
Lookbook: https://tinyurl.com/y63kydk9
Videopresentation: https://tinyurl.com/y3xtm288
8. JULIA DALAKIAN
Designed by Julia Dalakian
Founded in 1989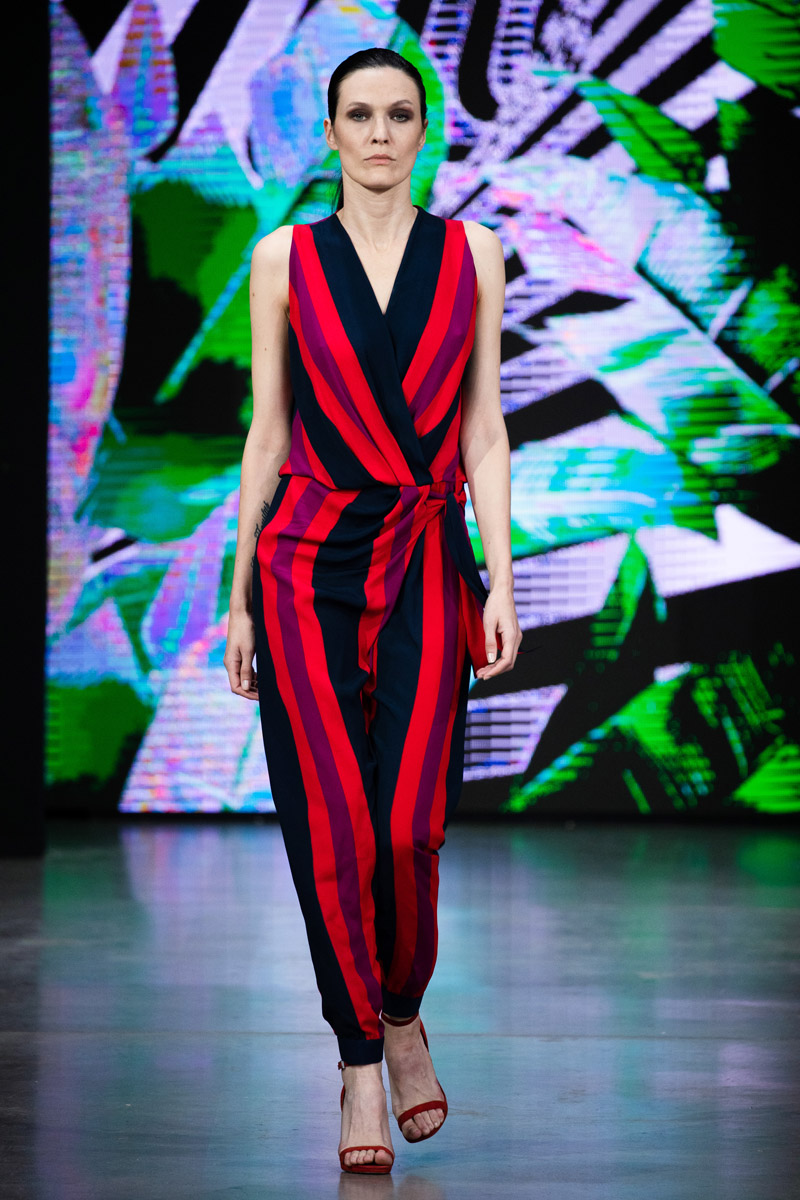 For almost 30 years, the name of Julia Dalakian has been present in the Russian fashion market and has been working for Russian and foreign clients. Over the years, designer Dalakian has gone from an author's studio to a full-fledged Fashion House. The subject of artistic interest of JULIA DALAKIAN is a modern, independent, energetic woman, distinguished by a high level of demands and an active lifestyle. It is not surprising that Dalakian's work is constantly in the center of attention of all who, taking care of their own image, want not so much to correspond to the trends of modern fashion as to outstrip their rapid development.

The brand's collections were presented at fashion weeks in Milan (Italy), Cape Town (South Africa), Beijing (China) and others. Now the Fashion House works in collaboration with foreign brands and produces capsule collections of clothing samples specially for multi-brand firms.
Designer Julia Dalakian works a lot on the creation of costumes for theater and cinema, the creation of corporate identity and clothing for many large firms, corporations, holdings and restaurants, costumes for TV hosts of Channel One, NTV, Russia, Ren TV, etc.  
Today, the JULIA DALAKIAN brand is dressed business women, politicians, representatives of the capital's elite, TV presenters, journalists, fashion models, film and showbiz stars.

The summer 2021 collection is bright, full of light and color. After a difficult period of the pandemic, the designer wanted to enter the new season with bright ideas, moods and colors, so the palette is very diverse: glowing neon colors and complementary textures, contrasting black and white block with visual effects, translucent bright chiffon dresses filled with the wind of flying matter. The collection includes summer coats, trench coats, windbreakers, raincoats, jackets, suits, dresses. The fabrics are traditionally mostly natural, but in some cases with an unusual finish: metallized or laminated. The woman of the new collection is an urbanist with a dynamic, active lifestyle. Her schedule includes creative work and romantic travel. Bows are complemented by large wide-brimmed straw hats and neon shoes (sandals and ankle boots). Prints are inspired by geometry (various stripes and cells), plant motifs and abstract elements. The organic motifs - palm leaves, exotic birds, bright-neon-yellow skirts and teal jackets - showed a keen eye for the works of Italian designers this year. Shimmery metallic jackets, wide-striped palazzo pants and dresses and a bold, golden-red color palette - this was a Real Housewife of Moscow collection, for a lady tired of Versace and Prada and one who knows exactly what she wants. Neon-gold stiletto heels accompanied a latter part of the collection - all shimmery bronze, oversize sun hats and draped terracotta silks everywhere.
Rounding up the collection was a classical assortment of little black dresses - splashed over with bright interludes of pinks, fuchsias and folksy orange, as well as another milieu of trippy tropical silks and sheer green beach dresses, looking beautiful in a variety of palm-print options. A summery and bright collection, bringing the viewers to applause.
Catwalk: https://tinyurl.com/yxqqqgqg
Video: https://tinyurl.com/y5zfkf5q
9. MATH
Designer by Ilkin Bakshiev
Founded in 2014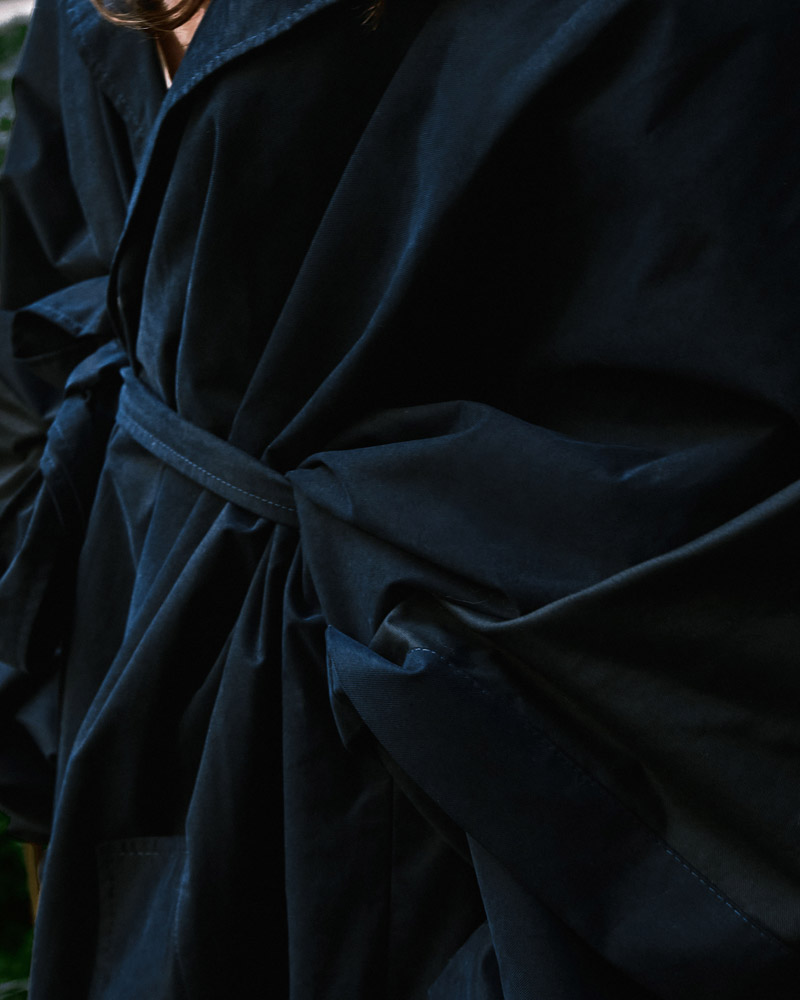 MATH is a menswear brand created in 2014 with an elegant, minimalist cut and monochrome color scheme that fully reflects the brand's concept.
The brand's DNA is based on a classic basic wardrobe with avant-garde elements, which gives the modern man an opportunity to experiment with his style. The main motto that runs through the entire history of the brand and collection is "No face, no name". We are not attached to people and their gender; we value personality in all its manifestations. In the history of the brand, there is experience of participating in fashion weeks, both in Russia and outside the country.
Collection
"OPG of Good Deeds" AW 20/21
The new collection of the MATH men's brand is a direct continuation of the "no face, no name" story. Anyone can be behind a hidden mask, be it a girl or a boy. The team gives you the opportunity to abstract from the floor and allow yourself to plunge into the MATH world full of puzzles and solutions. The new collection fully implements the principle of freedom in clothing. The MATH team tried to fully understand their concept of the vision of Double Dress and present a collection of truly universal things.
Together with the ARNY PRAHT brand, the new collection will include transformer bags that allow you to modify one basic thing and get new variations.
The new collection of OneDayArt x MATH jewelry combines masculine and feminine into one whole, and now not only a shirt, but also accessories will become the subject of a joint wardrobe.
Collection_XI maintains an elegant minimalism combined with a monochrome color scheme that fully reflects the essence of the brand.
The MATH philosophy remains unchanged from season to season - tailored, uncompromising and laconic clothing. High-quality fabrics, impeccable cut, combined with avant-garde design solutions - this is what the brand's fans appreciate so much.
Witchy, dark and gothic, the new collection by Bakshiev was presented as a black and white film, showing off oversize jumpsuits in grey and black, capes of fine monochrome silk and an overall esoteric and hand-crafted feel. The post-punk elements of the collection - long shapeless sleeves on the robes, a genderless overall theme and a love to the tailoring so beloved by Rick Owens - made this collection a must for any avant-garde fashion aficionado.
Lookbook: https://tinyurl.com/y6obrtv8
Videopresentation: https://tinyurl.com/y2vld3bn
10. Linus Leonardsson x THE GUESTLIST (Великобритания / UK)
Designed by Linus Leonardsson
Founded in 2019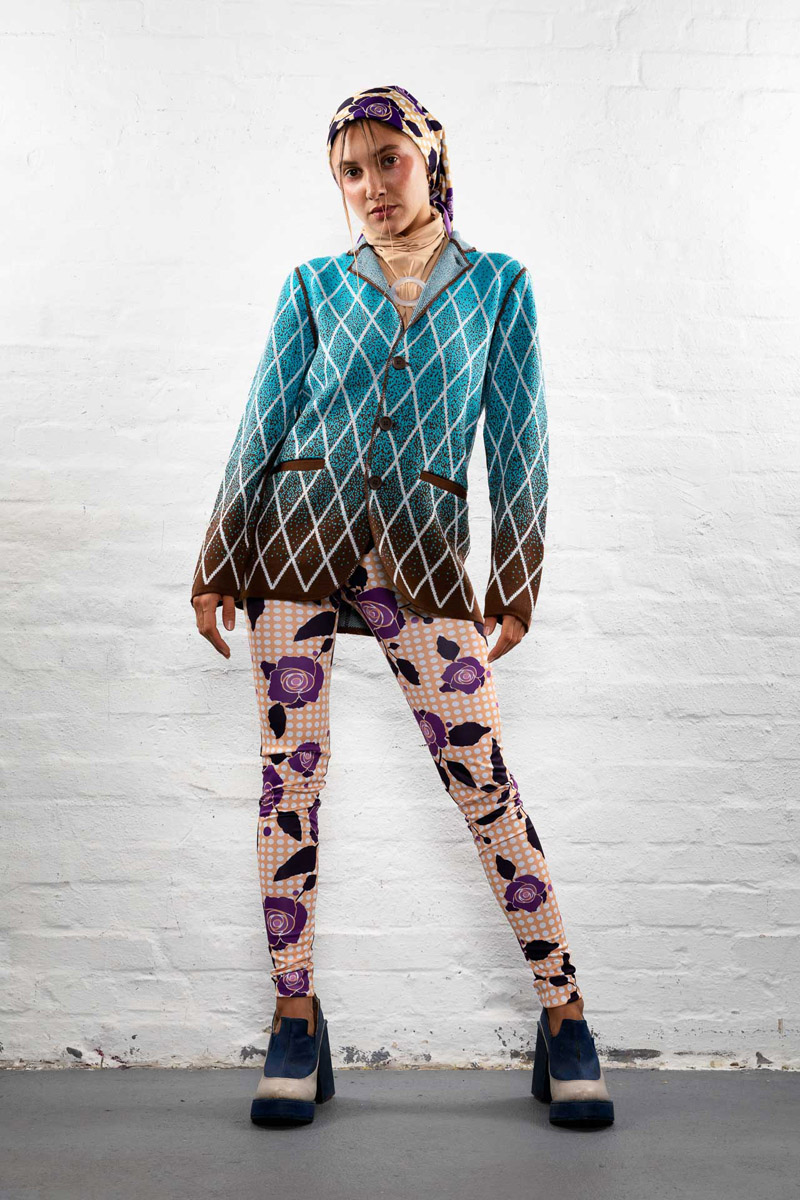 London-based 23-year-old Swedish designer Linus Leonardsson has focused on combining fun and glamor with a focus on central social issues. Firstly, it is the destruction of gender expectations in fashion, and secondly, it is a push to create a completely sustainable industry. The main purpose of his collections is to create feast and fantasy for the eyes - and a relationship to the world in which we all live.
The partnership with THE GUESTLIST began in the form of an award from the Südwolle Group, The Woolmark Company, Peterseim Strickwaren and THE GUESTLIST, following his graduation show at the Royal Academy of Fine Arts. The combination of technical and industrial know-how with fresh ideas straight from school is innovative and forward-looking. Linus' debut collection was shown at Mercedes-Benz Fashion Week Russia in Moscow at the invitation of Russian Fashion Council as part of the Global Talents program in October 2019. In his works, adolescent problems arising in connection with the desire not to fit into the adult world were considered. The collection was presented at a forest rave in Stockholm, combining contemporary rave culture with new ways of conservation and handicraft. Striving to create an environmentally sustainable future, Linus was originally concerned with finding fabrics from non-recyclable waste.

In a new collection for THE GUESTLIST, the designer shares a vision of how to work against the core of an industry already famed for its environmentally unsustainable practices. Working with THE GUESTLIST is instrumental to that goal - by creating the highest quality fashion for the future that can be loved, worn over and over again, and revived at THE GUESTLIST's Cashmere Spa.
Small details like frames or covered ribs add texture to each piece. They are eye-catching and designed to be admired - both visually and conceptually. The Linus Leonardsson collection for THE GUESTLIST is based on the idea of ​​merging the new world with the old perception of exclusivity and luxury. In the collection, these ideas are achieved through the use of color and a printer in knitwear. Linus combined traditional plaid with color gradients, combining these pieces with modern versions of classics like a white shirt or suit pants, modernity and heritage merge to create a modern silhouette with a romantic nod to the past.
This colorful and bright collection, shown through a series of voguing dance routines, elegant, beautiful and vibrant, with eclectic knitwear and a green/blue color palette, complete with silk scarves, tights and sweaters, all adorned with timeless geometric prints reminiscent of New York in the 1990s.
Lookbook: https://tinyurl.com/y4w758wg
Videopresentation: https://tinyurl.com/yxl84hsq
11. TSIGANOVA & Konyukhov Art
Designed by Viktoria Tsiganova
Founded in 2004
TSIGANOVA garments are handcrafted at the highest level, with a refined style and subtle attention to modern trends. These are clothes for an exquisite soul, in which the artist lives. Bohemian style for an absolute individualist, for the one who hears and sees the world in a particular way. This is the color of mood and harmony of feelings. Love for your work in every product, in every line and in every stitch. Jewelry work, refinement of thoughts and details.

Collection
"The Artist's Way" - this is how the collection feels. The designer does not sew dresses and suits from spring to autumn, from winter to summer, but lives from inspiration to inspiration. The designer's collection was inspired by the travels and paintings of classical Russian artist Fyodor Konyukhov.
The collection, consisting of applique dresses of shimmering satin, complete with light coats and capes and colored in tones of coral and fuchsia, also featured jackets with prints of horses and women by Konyukhov himself. The jackets, in fact, were a defining feature of the collection, some bright and sparkly, others understated and adorned with floral prints by the artist.Puffy coats in a classical Russian style were accompanied with turbans of silk - all bright, sparkling and vivid.
Lookbook: https://tinyurl.com/yyqvbdk2
Videopresentation: https://tinyurl.com/y2sf5tm3
12. SVARKA
Designed by Tatiana Glebova and Leila Nasrutinova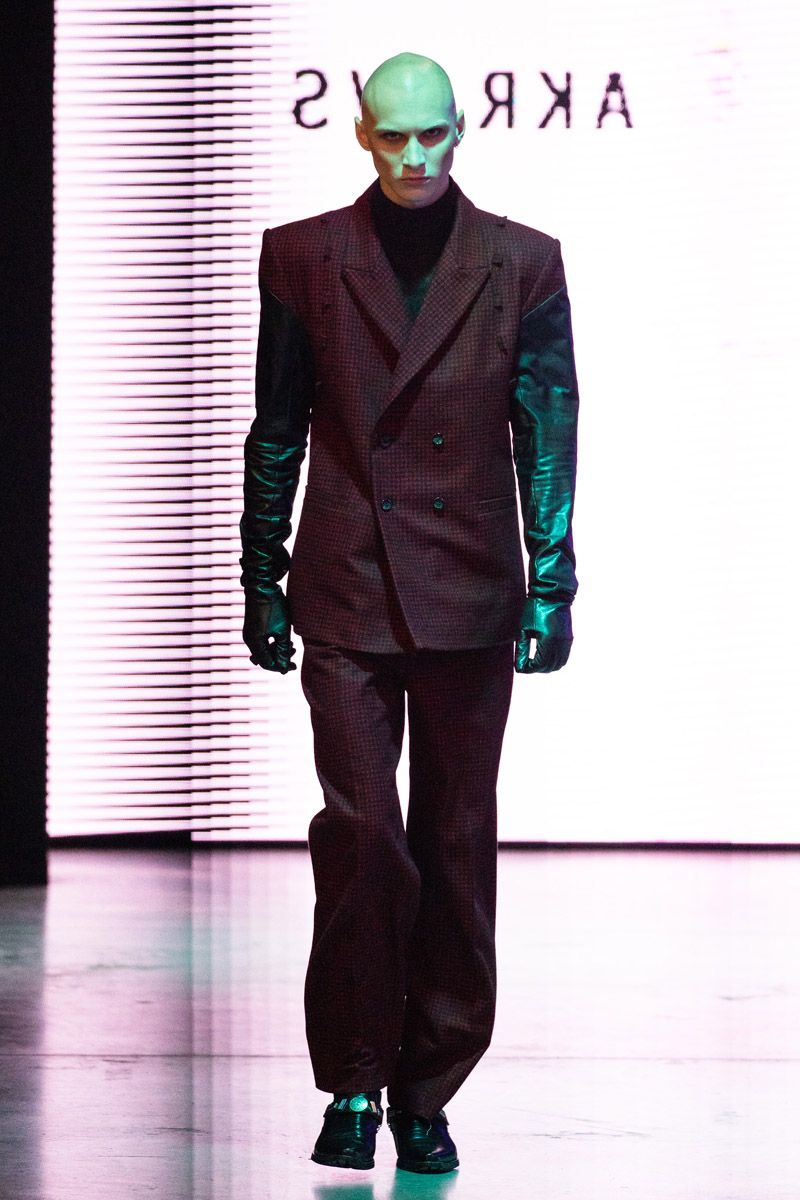 SVARKA is a Russian brand of avant-garde clothing. They do not drive themselves into frames, do not refer themselves to any of the existing styles and trends: personal underground culture, raves, catwalk chic, historical references - the composition of the alloy does not stagnate, allowing you to sculpt without borders and forget that clothes are just a cover body. The brand makes it possible to stop being ashamed of your contradictions and learn more about yourself through clothes. "Aim higher to the endless expanses of constructive abstraction, inspire us and be inspired by us."

"Experiment" (from Lat. Experimentum - trial, experience) - a procedure performed to support, refute or confirm a hypothesis or theory. Experiments also include natural research - actions aimed at satisfying curiosity. "

A person loves to experiment with himself. The irrepressible desire for knowledge sometimes leads to terrible consequences. In the course of the implementation of goals and ideas, the boundaries of moral norms are erased. This is a story about an unquenchable curiosity that knows no pity for itself or for others.

The dark universe is inhabited by insane cruel creators and beautiful freaks - their creations. This is a grotesque reflection of objective reality through the prism of fashion. Every cell here breathes and pulsates, and the balance is never disturbed. This story cannot be tied to a specific time - it is about the past, present and future.

Closing off the day was an environment-conscious collection, accompanied by an art film - SVARKA brought the guests into its own dark little world, filled with vampiric teenagers in a warehouse rave setting. The collection itself could also be called rave-inspired, bringing to mind the opening scenes of the vampire slasher movie 'Blade'. Dark crimson shirts and jumpers, blood-red checkered jackets and classic rave essentials like psychedelic lycra shirts with a high collar - it was all very Dracula goes to Amsterdam.
Black coats, high shoulders, futuristic silhouetting and an overall future gothic look was looking great in this collection.

Accompanied by shoulder-high black faux leather gloves, leather boots and patterning that reminded one of the circulatory systems, this bloodthirsty collection was a perfect finisher to the second day of Mercedes-Benz Fashion Week Russia's spooky Halloween fashion season.

Catwalk: https://tinyurl.com/y2kcgy2j
Video: https://tinyurl.com/y29446js


Hits: 8705 | Leave a comment