5-th International Gifts Exhibition
* Direct exhibitors from Bulgaria, Greece, India, Portugal and Scotland

The 5-th International b2b Gift Exhibition REGALO will take place on 12 – 14 March, 2009, Sofia, Bulgaria.

The success of the previous editions definitely showed that the recently established gift market in Bulgaria is quickly developing and expanding. A lot of gift shops are still appearing in order to meet the growing demand for all sorts of gift items for any occasion, from business and luxury to original and amusing ones.

The total consumption of gifts, decorative articles, jewelry, household articles, toys, sports, camping goods and stationery in 2007 in Bulgaria amounted to ? 364 million and is continuing to grow steadily. This process is highly favored by the EU membership of the country and the whole economic growth in the Region.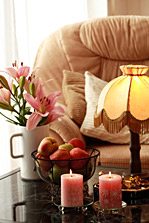 The increasing interest towards REGALO provoked us to present a broader range of products and its 5th edition will span across the following 3 categories:

- business, luxury, souvenirs, party & seasonal, tableware, stationery, toys & games

- foux bijoux, jewelry, watches, cosmetics, sunglasses, fashion accessories

- home and seasonal decorations, glass and crystalware, ceramics, porcelain, lamps, candles, pictures, home textile



Hits: 6075 | Leave a comment