10 Dreamy Winter Wedding Photo Ideas
If you've already decided to have your dream wedding take place during the winter, you may be scratching your head and wondering what kinds of photographs to take during winter. You both will be sparkling all the way in beautiful wedding jewelry, a dreamy wedding dress and sharp tuxedo, but you're not sure how to photograph you and your beau's look when it's below freezing.
Whether you're asking an experienced photographer to help guide your photoshoot or your cousin with a really nice camera, it may be helpful to bring some ideas to your photographer so they can help make your winter wedding vision come to life. Read on to get inspired by these 10 dreamy winter wedding photos ideas.
1. Put on Snow Gear – According to Wedding Wire, although winter months like December, January and February are the least popular to book weddings, there are plenty of benefits to having a winter wedding. One of those benefits is that you and your guests will love having a fun event to attend when it's cold and dreary outside.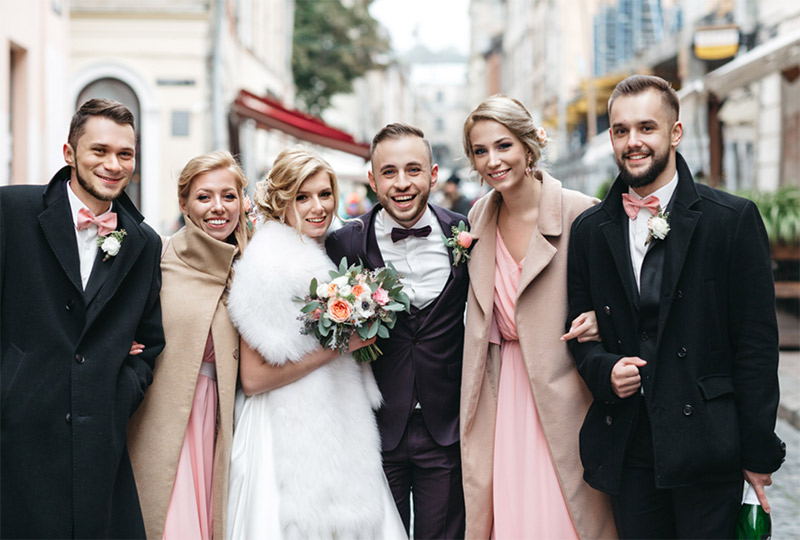 Source: Myronovych/Shutterstock.com
You can get your bridal party and your guests excited about photographing during your winter wedding by having everyone put on snow gear. It can be warm and cozy hats and ski jackets. It can be the little ring bearer in a bunting bag. It can be a faux fur scarf and a long winter coat. There are so many ways to layer up and have fun with a snowy photo shoot.
2. Use Winter Props – Besides the practical winter outerwear everyone will be wearing to the wedding anyway, have fun by using winter props in the photoshoot. If you're having a wedding near the mountains, you can put on snowboards and skis. Hop on a sled or slip into some snowshoes. Have an active photoshoot by renting out an ATV and having the photographer snap photos of you and your partner riding out in the snow. You may also contact a professional wedding photo editing service if you want to add some objects to your pictures.
3. Rock Customized Accessories – Don't just get any kind of wedding accessories. Rock customized accessories with your initials or ones that really showcase your personality. Wear custom leather jackets with your name on them so you can wear them during the photo shoot.
You'll even be able to wear that custom jacket after the wedding. Cozy knitted hats with the date of your wedding or both of your initials will be something you and your partner will love to look back on in the years to come. You and your beau can wear wedding ring sets for him and her that will look beautiful against a snowy backdrop.
4. Have a Snowy Kiss – Ask your photographer to take a romantic, almost candid photo of you and your partner kissing in the snow. You two can embrace in a sweet hug as you look into each other's eyes. Keep each other warm by snuggling up close. You and your partner can talk to each other, make jokes, laugh and smile as the photographer takes photos of those sweet moments.
5. Winter Wonderland Forest – Trek through the wintry forest with your loved one. You can hold hands as you walk side by side. You can frolic and jump in the snow. Take those snowy kisses and have those warm embraces in the forest. Have a beautiful contrast with a wintry bouquet of flowers in deep jewel tones like ruby red and emerald green against the snowy forest. You'll look so regal going through the winter wonderland forest. You may even get a few deer in your photoshoot.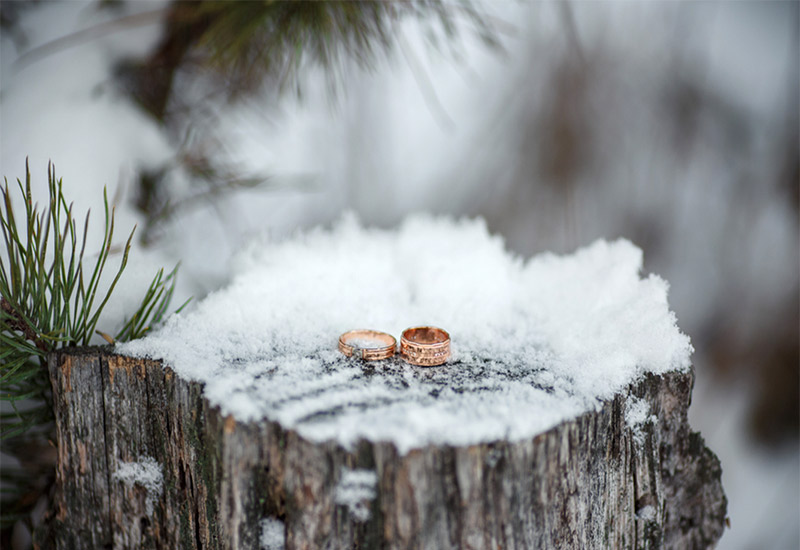 Source: Wedding and lifestyle/Shutterstock.com
6. Detailed Macro Shots – Macro shots are a beautiful way to capture all the little details of your wedding day. Have the photographer take a close-up shot of your jewelry such as your bridal necklace. You'll definitely want shots of your rings together. The jewelry can be in the snow or placed gently on top of pine tree leaves or pinecones.
7. White Gown and White Snow – Nothing looks as glamorous as a bride in a white gown walking through the pure white snow. If you're planning an outdoor ceremony, exchange your vows outside as it's snowing, and the photographer will capture the beautiful moment of you expressing your love as snowflakes fall upon you both. Make sure your guests are bundled up in blankets and other snow gear.
8. Snowstorm in the Streets – You don't have to just be in the mountains to enjoy a wintery landscape. If you're getting married in a city during winter, a beautiful cityscape in the snow will look really chic in photos. A romantic snowstorm stroll hand-in-hand will look positively cosmopolitan.
Source: pink panda/Shutterstock.com

9. Portraits with Animals – Have any furry family members? Have them join in on the photo shoot. Your best dog can wear a little dog sweater or jacket in your wedding portraits. Hug your cat and put on those reindeer antlers. If you don't have any of your own pets, you can still incorporate animals into your shoot. If you're getting married on a farm, you'll have opportunities to take photos with horses and other animals.

10.  Winter Accessories – Beyond your jewelry, you can also spruce up your winter photoshoot with a winter flower crown with spruce. The winter flower crown can also include evergreen branches, roses and dahlias. You can make your own DIY winter floral crown with some branches, flowers, florist scissors, wire and a hot glue gun.


Hits: 6235 | Leave a comment