United Colors of Benetton Spring/Summer 2009 Woman collection
Delightfully glamorous with minimalist passions. This is the United Colors of Benetton woman for next spring-summer. A collection of carefully-studied elegance which is deceptively simple. A collection of sophisticated colours, definitive moods, details that are never banal, styles that are carefully cut and constructed and always very now with a clear feeling for changing fashions.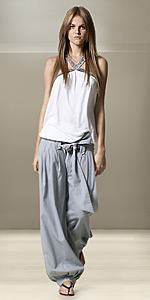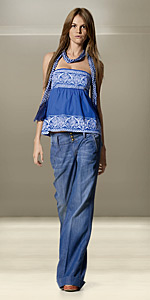 City Harmony
A relaxed formal: the urban wardrobe allows itself a few diversions. The suede trench and short leather jacket are worn with flowing linen trousers and wide pleated skirts. Casual trousers team up with shirts with a plastron, flounces and balloon sleeves. Short, gathered skirts combine lace and jersey. Plain or striped cotton or cashmere knitwear is ultra-light. The palette is neutral and pale, restful and soothing.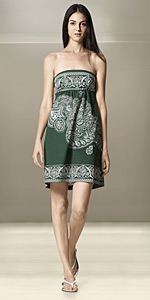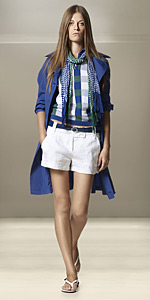 Softly Light
The look of Audrey Hepburn on "Roman Holiday". Haute couture coats and little dresses from the Fifties. Frilly little floral chiffon skirts. A-line short jackets and flowing knitted dresses. Textured linens and cottons together with sheer silks in palest pastels just a shade away from white.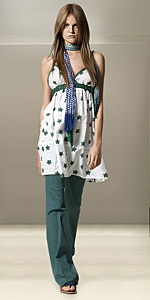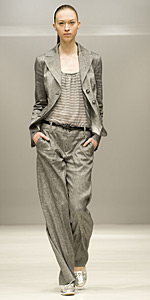 Energy Cosmic
Strong colours, technical fabrics. Bright, sunny stripes, ginghams or plain colours. Glazed or micro-sanded raincoats, cabans or windcheaters with casual, soft lines. Comfortable shorts, Bermudas and pedal-pushers. All shades of denim given all kinds of treatments.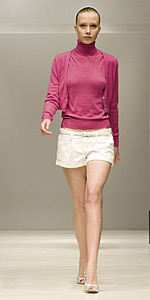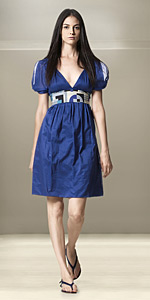 St. Tropez
The BB mood and colours are back after fifty years. White and mint and white and cornflower blue colour a wardrobe dominated by bubble shapes. Beachwear outfits in fabrics as light as voiles, in cotton muslin which imitates organza. Backgrounds are in plain colours or with bandanna-style Provençal patterns.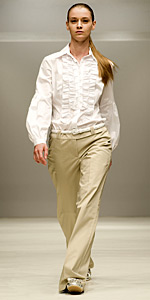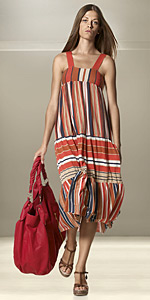 Country Style
Fruity colours and floral designs: the romantic style turns to nature. Central-printed soft overwear and empire-line dresses. Pinks are matched with magnet grey, pinenut-white and almond-beige. Soft fabrics and textured linens create a classic, retro style.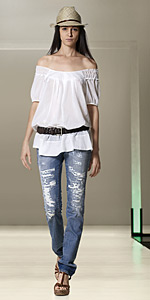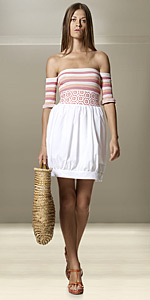 Hits: 30981 | Leave a comment