Fashion imposes blue summer
During the last summer month, fashion pointed its categorical winner: the blue colour. It become a trademark of holidays and tints them in the colour of the sea. Designers give you as a present some fashion incarnations in blue.
Sexy siren
John Galliano challenges women to forget inhibitions and to become a real sexy sea siren. Transparent fabrics with fine embroidery are the fairy accent. The rich bottom part of the dress and asymmetrical shoulders makes it perfect for the summer nights.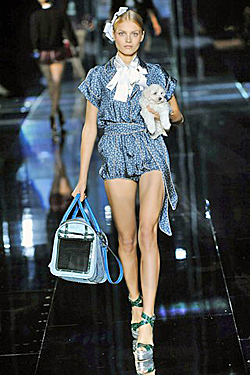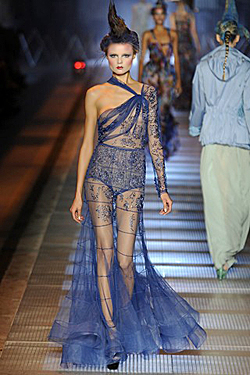 Sea Lolita
Mini cami-knicks conquered summer 2009. Dolce and Gabbana have more to say: the Italian duo plays with Lolita's innocence by spreading little dots on the clothes. The satin shawl gives a feminine accent.
Tender coquette
Versace decreases the length of the dresses. The sheer transparent fabrics and the wild flounces are really in style with the hot season.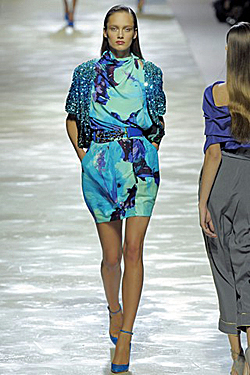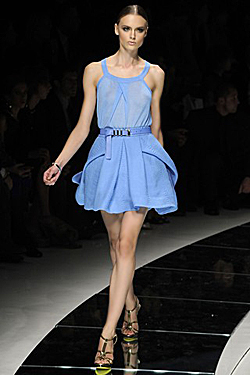 Elegant chic
Blumarine puts blue colour in formal wear's palette. The turquoise base of the fabric is diversified by decorations in different shades of blue. A short cut jacket is an obligatory accent.

Fairy seductress
Calvin Klein presents the fairy seductress by volumetric, asymmetrical cuts. The tender satin bring the sense of summer freshness.

Photos:
1. Design by John Galliano, collection spring-summer 2009.
2. Design by Dolce and Gabbana, collection spring-summer 2009.
3. Design by Versace, collection spring-summer 2009.
4. Design by Blumarine, collection spring-summer 2009.
5. Design by Calvin Klein, collection spring-summer 2009.

Photo: www.vogue.co.uk

Read more in Fashion Lifestyle Magazine


Hits: 15051 | Leave a comment