Triumph Inspiration Award '09 shooting with top model Jourdan Dunn and fashion photographer Giovanni Gastel
Munich, August 31, 2009 - Super model Jourdan Dunn set in scene this year's inspirational lingerie designs from 28 young designers around the world at the Triumph Inspiration Award campaign shooting. The creative pieces worn by the star model were photographed by the Italian fashion photographer Giovanni Gastel.
At the shooting Jourdan Dunn and Giovanni Gastel slipped into the different creative ideas of each individual design to emphasize this year's design motto "icons". "For a perfect picture, I just need poetry and beauty. All these designs gave me both. The creative burst of the young talents gave me a lot of inspiration", said Giovanni Gastel about the shooting.
For the Triumph Inspiration Award '09 the design talents were challenged to come up with a lingerie interpretation of their personal icon. Unlimited in the creative vision the designs included icons such as Charlie Chaplin, Frida Kahlo, Sleeping Beauty, Swan Lake, Sydney Opera House, Light, Hula-hoop, the horse Milton.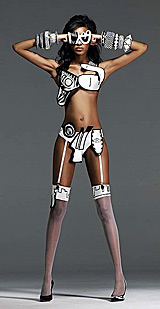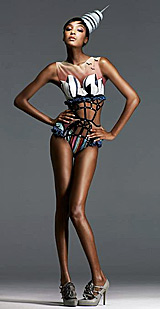 The winner of the Triumph Inspiration Award '09 will be elected in September 2009 at the international final during the Milan Fashion Week by a high-profile fashion jury. "The awards are a great opportunity to recognize new talent", says model Jourdan Dunn about the Triumph Inspiration Award.

Consumers worldwide can vote for their favourite design from August 31 - to September 13 online at //www.triumphinspirationaward.com/ and win a trip to Milan to the final. At the final, the winner will hand over the result of the online voting to the judging panel who will consider this as a fixed vote.

Inaugurated in 2008, the Triumph Inspiration Award is an annual contest that challenges design students around the world to create a unique lingerie showpiece, using all their talent, artistic vision and inspiration within their reach -each year with a different design theme. The winner of the competition is rewarded with a cash prize of 15.000 Euro, and will see his/her design go into production as a limited edition and on sale in selected Triumph stores worldwide.

Triumph International is one of the world's largest underwear manufacturers. The company enjoys a presence in over 120 countries with its core brands Triumph®, sloggi®, Valisère® and HOM®. Triumph employs more than 44,500 people and achieves a turnover of CHF 2.37 billion (2008).


Hits: 15796 | Leave a comment