The Love Ball, supported by De Beers
Natalia Vodianova and De Beers create The Magic Moment Necklace in support of the Naked Heart Foundation


Following the success of last year's inaugural Love Ball in Moscow, Natalia Vodianova has joined forces with Lucy Yeomans, Editor-in-Chief of Harper's Bazaar UK, to host The Love Ball London on 23 February 2010. De Beers is proud to be the lead sponsor of this event in aid of the Naked Heart Foundation.

The centre piece of the auction at the event is The Magic Moment Necklace designed by Natalia and created by De Beers. This one of a kind piece of stunning diamond jewellery will be auctioned alongside bespoke pieces of art by artists such as Jeff Koons, Marc Quinn and Anselm Reyle.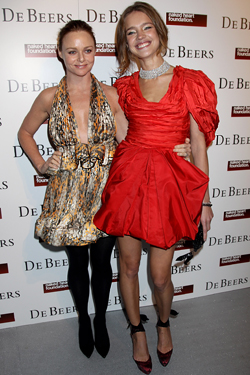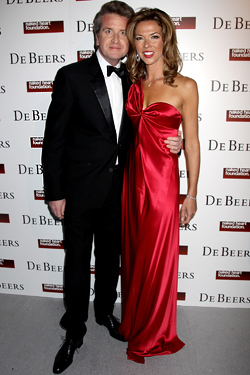 "The Magic Moment Necklace was inspired by that precious instant when two people meet and immediately connect. Two stunning De Beers diamond hearts fit perfectly together becoming one - symbolic of a great love. I was reminded of the famous love poem by Pushkin and also of the first playground we opened when I saw the children's happiness and excitement.

That was a magic moment I treasure and I instantly knew that the Naked Heart Foundation would be an integral part of me. It was a delight to collaborate with De Beers on this beautiful piece and I thank them for their generous support of the Naked Heart Foundation." - Natalia Vodianova, on her inspiration behind the design.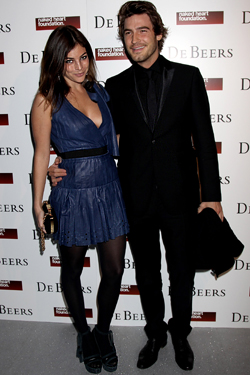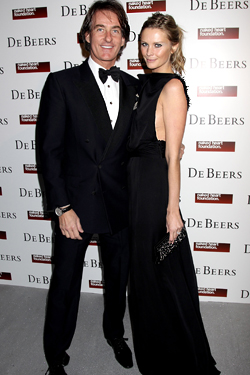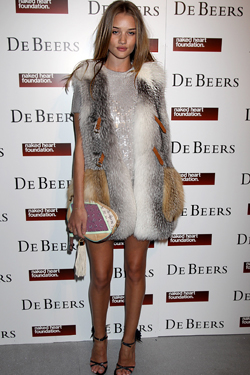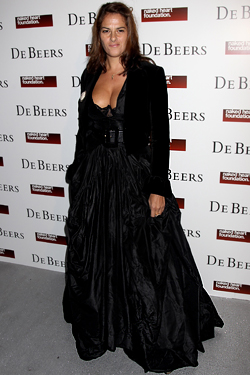 The delicate diamond studded chains of The Magic Moment Necklace daintily encircle the body and capture the two heart shaped pink and white diamonds, a reference to love ensnaring and seizing a heart at that magical moment.

Stylish, modern and feminine, The Magic Moment Necklace delicately flows. The central pendant features a 1.10 carat fancy intense pink heart- shaped diamond seamlessly paired with a 3.06 carat white heart-shaped diamond and hand set in delicate micropavé adding texture and depth. The pendant dances elegantly on a chain of white gold studded with white, pink and yellow diamonds, part of the chain is detachable for versatility. The Magic Moment Necklace can be worn either as an intricate statement or a sophisticated pendant.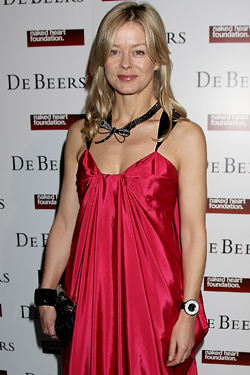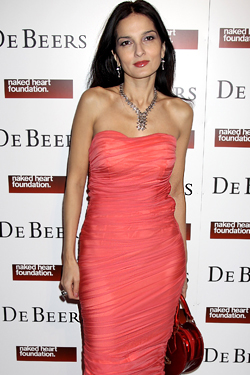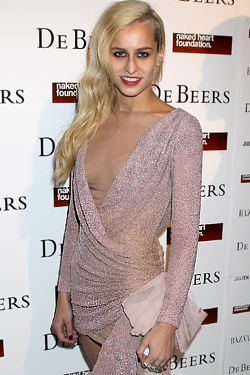 "Natalia is synonymous with style and elegance and De Beers is delighted to have the opportunity to collaborate with her on this exquisite piece. Her generous spirit and passion for the project is inspiring.

The Naked Heart Foundation is a cause we are honoured to support and we wish Natalia every success." François Delage, CEO of De Beers Diamond Jewellers. Combining the stylish flair and passion of Natalia with De Beers' peerless heritage in the selection of diamonds and their expert craftsmanship, The Magic Moment Necklace is a stunning piece of jewellery with an inspired story.

The De Beers Magic Moment Necklace, and all other lots for auction will be showcased on February 6th and 7th at a preview at Christie's. Along with select artworks the Necklace will then be displayed in the De Beers' Old Bond Street Flagship Store from the 10th until the ball on the 23rd of February.

Featuring a 1.10 carat Fancy Intense Pink heart-shaped diamond set in pink diamond micropavé and a 3.06 carat F VS1 heart shaped diamond set in white diamond micropavé. The delicate white gold chain is studded with 1.81 carats of white round brilliant diamonds, 1.65 carats of fancy pink round brilliant diamonds and 1.94 carats of fancy yellow diamonds.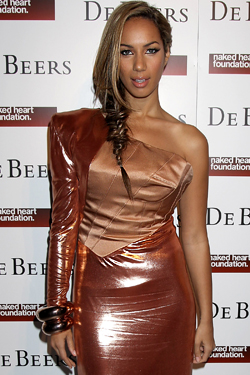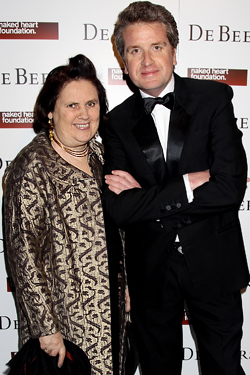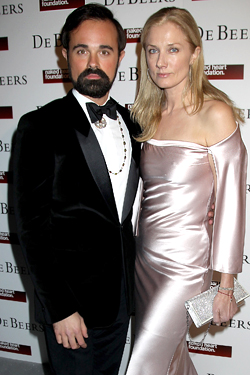 Photos: image.net
Hits: 14176 | Leave a comment