Tag: Natalia Vodianova
World fashion
The 29th season of Mercedes-Benz Fashion Week Russia takes place in Moscow from 22nd to 26th October. Over 70 participants will show their collections for Spring-Summer 2015.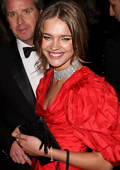 Accessories
Following the success of last year's inaugural Love Ball in Moscow, Natalia Vodianova has joined forces with Lucy Yeomans, Editor-in-Chief of Harper's Bazaar UK, to host The Love Ball London on 23 February 2010. De Beers is proud to be the lead sponsor of this event in aid of the Naked Heart Foundation.

The centre piece of the auction at the event is The Magic Moment Necklace designed by Natalia and created by De Beers. This one of a kind piece of stunning diamond jewellery will be auctioned alongside bespoke pieces of art by artists such as Jeff Koons, Marc Quinn and Anselm Reyle.