SWAROVSKI AND CINEMA: A Match Made In Heaven
Crystal and cinema work their magic. For the eleventh consecutive year, Swarovski is taking its place at the Hotel Martinez for the fortnight-long Cannes Film Festival. This year, the company is customising its new "Star Collector", the "Mybag" clutch, for actresses. Only 80 of these eye-catching clutch bags have been created to ensure their exclusivity.

This Crystal Mesh piece features more than 700 crystals to give it an incomparable shine. And as the ultimate finishing touch, the name of the actress to be presented with this sophisticated gift will be hand-engraved on each bag. Created in gold, silver and black, "Mybag" is the must-have accessory to complement any outfit and attract the attention of photographers. The bag will be available from September 2010 in select Swarovski boutiques.


Besides the "Star Collector 2010", the actresses at Cannes will be able to choose from a very glamorous collection where the delicate nature of the evening clutches is set against opulent jewellery pieces. The iconic "Kiosque" and "Power" bags are now available in ten different colours, from the most electric to the softest of shades, incorporating the key colours of gold and silver.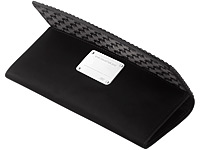 As far as the jewellery collection is concerned, outrageousness and poetry reign. Spectacular sets combine vintage pieces with those from the latest Spring/Summer 2010 collection and, as a preview, some of next Autumn/Winter novelties.

Like every year, Swarovski has designed a special collectors' item for the select few who visit the Swarovski suite and its sparkling selection of jewellery, exclusively reserved for celebrities. The 2010 souvenir is a refined black Crystal Mesh cord meant to carry the accreditation. This is adorned by two charms: a little black dress and a replica of the iconic "Power" bag. These are also available for purchase in Swarovski boutiques.

Behind the scenes at the festival, Swarovski ensures that actresses shine under the spotlight.


They have all worn Swarovski
Sharon Stone, Madonna, Marion Cotillard, Kate Winslet, Penelope Cruz, Jennifer Lopez, Beyoncé Knowles, Charlize Theron, Hilary Duff, Emma Thompson, Meryl Streep, Zhang Ziyi, Eva Longoria Parker, Jennifer Aniston, Andie MacDowell, Teri Hatcher, Aishwarya Rai, Audrey Tautou, Mélanie Laurent, Emmanuelle Béart, Isabelle Adjani, Sandra Oh, Diane Kruger, Christina Aguilera, Faye Dunaway, Michelle Yeoh…and many others.

Hits: 10589 | Leave a comment